The Fastest And The Furiousest Moment From Every Fast & Furious Movie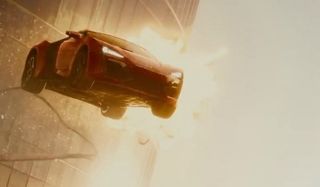 The Fate Of The Furious has now roared into theaters, and anyone who likes seeing preposterous action that defies logic and gravity, but is always tremendously entertaining, is overjoyed to have it back. After eight films, the franchise continues to just get better with age, as those involved revel in taking its set-pieces to new heights. Which is quite an accomplishment considering what has come before.
With that in mind, and to commemorate the release of The Fate Of The Furious, CinemaBlend has decided to celebrate the rollicking history of The Fast And The Furious by taking a look back at the fastest and most furiouest scenes from each movie. There's plenty to choose from, too, and you can have a gander at our choices below. For those of you that are looking for clarity, "Fastest" is the film's most dangerous and nimble moment, while "Furiouest" is its most aggressive and thoughtless. Also, if you were looking for clarity, I still love you, but you need to calm down.
Warning: spoilers for all the Fast And The Furious movies are ahead!
The Fast And The Furious
Fastest: The debut Fast And Furious outing actually stands up better than I thought it would as a film, even if its action scenes pale in comparison to what were to come after. That being said, the first ever street racing scene is particularly remarkable, as director Rob Cohen creates a vivid and visceral purview into this world and these races, especially when Dom (Vin Diesel) and Brian (Paul Walker) deploy their NOS to try and gain an advantage. It's almost enough to make you forgive the use of Limp Bizkit in the soundtrack.
Furiouest: When it comes to the film's most aggressive moment, there aren't really too many to choose from. The opening scene is underwhelming, while its biggest set-piece sees the gang go up against one man, a truck and a shotgun; a far cry to what they'd go on to tackle. Instead, its most furious moment sees Dom and Brian taking part in a quarter-mile drag race over a railway crossing, with the pair then barely managing to evade a speeding train. The race ends in a dead heat, and even though Brian has the opportunity to arrest a stricken Dom, he decides against it, and their bromance is born.
2 Fast 2 Furious
Fastest: Recognizing that the first film's best moment was the street-racing sequence, 2 Fast 2 Furious looked to eclipse its predecessor with a more high-octane and excessive version. Something that it was able to achieve thanks to the very last moment of its opening scene, which see Tej (Ludacris) raising a bridge, and then Brian speeding over the top of Slap Jack (Michael Ealy). Close behind is the scene where Roman (Tyrese Gibson) and Brian are giving each other the finger in increasingly over the top manners on the freeway, just because that's the exact moment Fast fans fell in love with Tyrese Gibson.
Furiouest: The Fast And The Furious franchise's first outrageously over the top set-piece unfolds right at the end of 2 Fast 2 Furious, as Brian and Roman crash into the escaping Verone's (Cole Hauser) yacht by driving their Yenko Camaro off a ramp and into the water. It is actually left to Monica (Eva Mendes) to apprehend Verone, as Brian and Roman are left incapacitated following their exploits, but that doesn't stop it being cool as funk to look at.
*The Fast and the Furious: Tokyo Drift *
Fastest: The annoying, flatulent cousin of the Fast And Furious franchise, even though Tokyo Drift lacks the bravado of its brethren, you still have to acknowledge it because of the family mantra that runs throughout the franchise. But before it is truly waylaid by the drifting and atrocious acting, the opening drag race through a housing estate provides the most pulsating moment of The Fast and the Furious: Tokyo Drift, as Sean Boswell (Lucas Black) and his all-American adversary destroy it as part of their huge pissing contest.
Furiouest: At the time, the ramming of Han's car, and the subsequent explosion that led to his death, seemed like an honest mistake from a random Tokyo driver. But Fast & Furious 6's post-credits scene revealed that it was actually the vicious actions of none other than Deckard Shaw (Jason Statham), who went out of his way to murder Han so that he could get the attention of Dom and gain revenge for the injuries to his brother Owen (Luke Evans). The Fate Of The Furious suggests that bygones are well and truly bygones now, though.
*Fast & Furious *
Fastest: While the first proper reunion of The Fast And The Furious gang is widely regarded as the least popular of the franchise, it still includes some pretty impressive moments. Most notably when Dom drives him and Letty (Michelle Rodriguez) underneath an exploding tanker that's spinning towards them at an alarming rate in a tight canyon, and saves them from a certain and very fiery death.
Furiouest: The supposed death of Letty turns Dom borderline feral, though, as he sets out his stall to find her murderer. But while the sight of Dom barely even flinching after being shot in the back is particularly startling, clearly the most Furiouest sight of the entire movie is Dom pulling a wheelie with his car and then obliterating Fenix (Laz Alonso), who had previously admitted to killing Letty personally. OK, the fact that Fast Five shows Letty alive and well probably means that Dom overreacted and shouldn't have killed Fenix, but that doesn't stop it being any less cathartic.
*Fast Five *
Fastest: Fast Five is where critics finally started to be won over by the franchise. And how could they not be entranced after watching Dom and Brian tear apart the city of Rio De Janeiro by dragging a bank vault tied to the back of their two cars on a wire? It's the sort of wanton violence and destruction that you can't help but immediately be impressed by, especially when Dom starts using the vault as the equivalent of a baseball bat to pummel the corrupt cops of the city. I still don't buy that they were able to switch the vaults under a bridge with just a ten-second window, though.
Furiouest: While the fistfight between Luke Hobbs (Dwayne Johnson) and Dom feels particularly ferocious, especially considering the transgressions during Fate's production, I'm going to pick Dom saving Brian during the heist on the train for Fast Five's most furiouest moment. After Brian jumps on the back of his Ford GT40, Dom has no other option but to drive off a bridge leaving the pair to then fling themselves into the water, way, way, way down below. It's in the moment, reckless, with total disregard for their futures and utterly captivating.
*Fast & Furious 6 *
Fastest: Those of you looking for a single image that sums up the Fast And The Furious franchise won't find one more apropo than the sight of Dom driving a car through the front of an exploding plane that's entirely on fire. No further words can really do this sight justice, and only the addition of Roman Pearce screaming his heart out would have made it even more impressive. The same can really be said for any moment in movie history, though.
Furiouest: What's more aggressive and thoughtless than saving the love of your life? While most of us would only be willing to punch and maybe kick a rival to protect the object of our affections, Dominic Toretto crashed a car that then flung him towards a plunging Letty, who was about to fall off a bridge to her certain death, and caught her in his arms. Just remember that when someone says Vin Diesel doesn't have what it takes to be a romantic lead.
*Furious 7 *
Fastest: So. Many. Choices. But when you think about it, there was only going to be one winner, because the sight of Dom, Brian, Letty (Michelle Rodriguez), Roman and Tej dropping out of a plane down on to the winding Caucasus Mountain road a mile below, before then embarking on a flat-out enthralling car chase to rescue Ramsay (Nathalie Emmanuel) from Jakande (Djimon Hounsou) isn't just one of the best scenes that the franchise has ever produced, but what cinema is all about.
*Furiouest: *In the world of Fast And Furious, you have to admit that Abu Dhabi's three Etihad towers were just asking for it. With a little help from Deckard Shaw's gun, Dom drives from the tallest, to the second tallest, then realizes that his brakes don't work, so he does the only logical thing and then drives through to the next tower, too. At that point, though, he gets cold feet and jumps out, leaving the car to plummet down to the ground below.
The Fate of the Furious
Fastest: Those of you wondering how The Fate Of The Furious would ever top Furious 7's most outlandish scenes hadn't considered Vin Diesel driving a car engulfed in flames in reverse in a street-race in Havana, before then narrowly escaping just before it explodes. It's the sort of sequence that you could only really find in a Fast movie, which is exactly why it's so imperative that the franchise continues on for many more years to come.
Furiouest: Sorry, Vin Diesel, but the prison break sequence in The Fate Of The Furious is the ultimate proof yet that you're not as integral to the future of the franchise as you once were. It's not just that Deckard Shaw and Luke Hobbs pummel those around them with the ease and poise of a Ferrari speeding past a Mini, but it's the mix of styles, the banter between the pair and the anger and entertainment that they have while doing so. But while Vin might be simmering with rage, spare a thought for Han, who is almost certainly spinning in his grave at the rise of his murderer.
Your Daily Blend of Entertainment News
Thank you for signing up to CinemaBlend. You will receive a verification email shortly.
There was a problem. Please refresh the page and try again.