How Fantastic Beasts Is Responsible For Katherine Waterston's Wild Alien: Covenant Haircut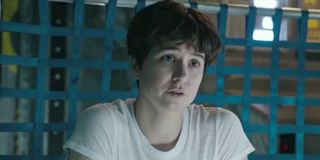 Katherine Waterston had to undergo quite a mental alteration when she went straight from shooting the family-friendly flick Fantastic Beasts And Where To Find Them to Ridley Scott's sci-fi horror tale Alien: Covenant. Rather than going overly method to aid this transformation, Waterston has now admitted that a simple change of hairstyles helped to turn her into Daniels. Instead of leafing through countless books trying to find the right bouffant, though, Waterston also revealed that she made the much simpler choice of just ripping off Ezra Miller's haircut from Fantastic Beasts And Where To Find Them for her Alien Covenant character. Waterston recalled:
Of course, what you really want to do now is compare and contrast the two haircuts. You can do just that by having a gander at Katherine Waterston's hair in Alien Covenant in the image above, while you can remind yourself of Ezra Miller's dweebish do as Credence in Fantastic Beasts And Where To Find Them by looking at the picture below.
You can certainly see how Katherine Waterston drew inspiration from her Fantastic Beasts And Where To Find Them co-star. However, clearly Waterston's Daniels has allowed her hair to gain a bit more volume during her trek across space in Alien: Covenant, as Credence's is much sharper on the fringe.
Haircuts will be the least of Katherine Waterston's worries in Alien: Covenant, as Daniels and the rest of the crew find themselves traumatized when they land on a dark and dangerous world that's only inhabited by Prometheus' David (Michael Fassbender) and monstrous creatures that soon start to hunt them. You can get yourself suitably excited, and even a tiny bit terrified, by checking out the trailer for Alien: Covenant below.
Alien: Covenant is now only a few weeks away, as it will finally be released on May 19. After that, Katherine Waterston will reprise her role as Tina Goldstein in Fantastic Beasts And Where To Find Them 2, which will start production later this summer and is due out on November 16, 2018.
Your Daily Blend of Entertainment News
Thank you for signing up to CinemaBlend. You will receive a verification email shortly.
There was a problem. Please refresh the page and try again.