How The Superman Comics Just Paid Tribute To The Christopher Reeve Movie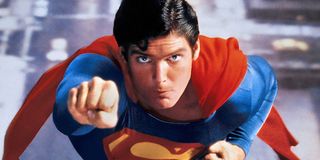 Even though we're currently in a time when Henry Cavill carries the honor of playing Superman on the big screen, there are plenty of people, both longtime fans and casual moviegoers, who still look back at Christopher Reeve's time as the Man of Steel fondly. Like the tagline from the 1978 movie promised, he made us believe a man could fly, and there are still plenty of times when other Superman stories have paid tribute to his tenure. The most recent instance of this comes from the upcoming issue of Action Comics, where the story closely recreated the moment from Superman: The Movie when Superman saves Lois Lane from a big fall.
Thanks to recent events from the Superman comics line and the overall DC Rebirth relaunch, Superman as been going through some...changes. To put it as simply as possible, the Superman from the New 52 and pre-Flashpoint Superman (who was able to make it into this new DC universe with his wife Lois Lane and their son Jonathan) have been combined into one individual. As a result of these changes, the histories of these two Supermen (Supermans?) have been melded together so he has one definitive origin again. Action Comics #977 from a few weeks ago showed Kal-El being launched from Krypton and growing up as Clark Kent, and this week's Action Comics #978 shows what happened when he arrived to Metropolis and debuted as Superman. The pages provided by 13th Dimension show the Kryptonian hero catching Lois Lane as she falls from a helicopter that malfunctioned as it was taking off. Not only that, but just like in Superman: The Movie, he carries Lois in one arm while holding the helicopter with his other hand. Sadly, the comics interpretation failed to have Lois ask the Man of Steel, "Who's got you?" as he's flying.
No background is given in this Action Comics issue about how Lois Lane ended up in the helicopter predicament, but it's not like we need an elaborate setup. The important thing is that it was a charming homage to one of the most memorable moments from Superman: The Movie. No doubt Superman's origin will be altered yet again in several years given DC's penchant for continuity changes, but for now, the helicopter rescue if officially part of his past, kicking off his heroic career.
After taking a look at the Action Comics #978 preview pages, compare it to the theatrical scene below.
You can see Henry Cavill's Superman back on the big screen when Justice League arrives on November 17. As for the comic book Superman, you can follow along with his adventures in Action Comics, Superman and more either digitally or at your local comic book store.
Connoisseur of Marvel, DC, Star Wars, John Wick, MonsterVerse and Doctor Who lore. He's aware he looks like Harry Potter and Clark Kent.
Your Daily Blend of Entertainment News
Thank you for signing up to CinemaBlend. You will receive a verification email shortly.
There was a problem. Please refresh the page and try again.