4 Great Emma Watson Movies You Probably Haven't Seen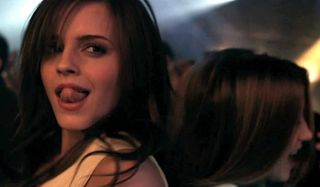 In the subsequent years since Emma Watson bid farewell to both the Harry Potter franchise and the character of Hermione Granger, the 27-year-old actress has done a pretty good job of expanding her repertoire and standing on her own two feet as an actress. 2017 is proof of just how far Emma Watson has come. Not only did she portray Belle in Beauty And The Beast, which has so far grossed $1.103 billion at the box office, but The Circle, which saw her team up with acclaimed director James Ponsoldt, has just been released into theaters, too. But this is far from the first time that Emma Watson has looked to broaden her horizons since Harry Potter And The Deathly Hallows -- Part 2 brought the franchise to a close.
Some of her efforts have been hugely impressive, too, but they sadly flew just under the radar to make an impact. In fact, here are four great Emma Watson movies that you probably haven't seen, but that almost certainly need your attention.
The Bling Ring
Released back in 2013, the anticipation and hype surrounding The Bling Ring suggested that it was going to be the film that paved the way for Emma Watson to become a bona-fide Hollywood A-lister. It didn't quite materialize in that fashion, although Beauty And The Beast's success means that is firmly a reality now. But while The Bling Ring grossed just $19.1 million, which considering its $8 million budget was still a good haul, the film mostly went unnoticed as it was released on the same week as Man Of Steel and This Is The End. That doesn't diminish the fact that The Bling Ring is still probably the best proof yet of Emma Watson's capabilities as a comedic actress, while she is so deliciously evil that she was able to instantly emerge from the shadow of Harry Potter, even if not too many people were around to see it.
Noah
Ok, the fact that Noah grossed $362.6 million at the box office means that plenty of people actually got around to watching it. However, it is a film that you can easily forget Emma Watson actually stars in. Instead, it is mostly remembered for Darren Aronofksy's titanic direction and interpretation of the story of Noah's Ark from the Book Of Genesis. But even after that Emma Watson's performance is merely a footnote, as Russell Crowe's seismic portrayal as Noah, Ray Winstone's villain and the supporting efforts of Jennifer Connelly, Logan Lerman and Anthony Hopkins deserve more attention than Emma Watson's efforts. All of which just underlines how utterly superb Noah's ensemble is, while it shouldn't be forgotten that the film itself is rather tremendous, too.
The Perks Of Being A Wallflower
If handled poorly, The Perks Of Being A Wallflower could easily have been a sycophantic and overly sentimental coming-of-age drama. Yet, Stephen Chbosky's adaptation of his own novel, which he also directed, is a touching, often hilarious and very much relatable film. Even though it was met with impressive reviews, to the tune of an 86% score on Rotten Tomatoes, and grossed $33.4 million from a $13 million, it isn't heralded enough. Part of that might be down to Emma Watson's casting, as it has all the hallmarks of a melodramatic role that an actor uses to prove their chops and credentials. That couldn't be further from the truth, though, as she puts in a gripping and mesmeric performance without hogging the screen, as she gives her co-stars Ezra Miller and Logan Lerman enough room to shine, too.
My Week With Marilyn
Released just a couple of months after the second part of The Deathly Hallows, it's understandable why audiences might overlook My Week With Marilyn, especially Emma Watson's performance in it, as Michelle Williams was nominated for Best Actress Oscar for her portrayal of Marilyn Monroe. But there are two reasons to see it. First of all, My Week With Marilyn is a compelling look at both Marilyn Monroe, which while it doesn't quite master or reach the depths or drama to be considered a classic, is still uniquely charming. Secondly, the pairing of Eddie Redmayne and Emma Watson made for the most ridiculously English couple of that year. Which is hugely impressive when you consider that My Week With Marilyn came out within the same 12 months as The King's Speech, which not only featured Colin Firth and Helena Bonham Carter as a married couple, but as the King and Queen, too.
Your Daily Blend of Entertainment News
Thank you for signing up to CinemaBlend. You will receive a verification email shortly.
There was a problem. Please refresh the page and try again.