Kingsman 2's Matthew Vaughn Says He Already Has Kingsman 3 Planned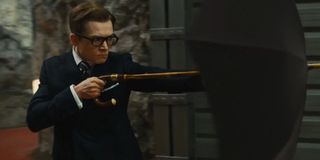 You might have noticed that Hollywood loves a good sequel. Why have one film when you can have two, three, four, or a cinematic universe full of them? That was obviously at the forefront of Matthew Vaughn's thinking when he was hard at work developing Kingsman: The Golden Circle, the sequel to the 2014 hit spy action-comedy. Because the director has now admitted that while they were writing the follow-up, they couldn't help but start thinking about Kingsman 3 too, and how the films will eventually link-up. Matthew Vaughn explained,
That really does make Kingsman: The Golden Circle sound like a tantalising prospect. Clearly Matthew Vaughn decided against trying to outdo the R-rated manner in which the original Kingsman ended, which saw Eggsy about to get particularly intimate with a Swedish princess, and instead it has gone for a surprising conclusion. Will Eggsy suffer a fate similar to that of Colin Firth's Harry Hart, who was seemingly shot dead in the head in the first film but has returned alive and well for the sequel? We'll just have to wait and see.
CinemaBlend's very own Conner Schwerdtfeger learned the above while watching the first act for Kingsman: The Golden Circle at a special 20th Century Fox event, which also saw Matthew Vaughn discussing the film and its potential sequel. But in order for Kingsman: The Golden Circle to actually be followed by another film, it will have to perform at the box office, hopefully surpassing, the $414.4 million worldwide sum that The Secret Service grossed. The first trailer for The Golden Circle suggested that it will possess the requisite amount of action and spectacle to put a substantial amount of bums on seats, and you can remind yourself of what the film has in store for us by clicking below.
Stellar stuff. In order to try and up the ante, Kingsman: The Golden Circle will see Taron Egerton, Mark Strong, and Colin Firth jet across the pond to join forces with the American contingent, known as the Statesmen. This posse includes Jeff Bridges, Halle Berry, Pedro Pascal, and Channing Tatum, while Julianne Moore has joined the fray as the film's antagonist. We'll get to see how Kingsman: The Golden Circle deals with these new recruits when it is finally released on 22 September.
Those of you that want to know what the summer blockbuster season has lined up for moviegoers before then should check out CinemaBlend's full 2017 movie schedule for some tips.
Your Daily Blend of Entertainment News