Before He Was Famous, Pierce Brosnan Once Asked Roger Moore For His Autograph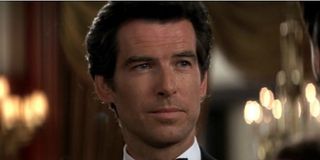 The death of Roger Moore last week at the age of 89 immediately provoked movie fans to reminisce about the actor's tenure as James Bond, which lasted for seven films between 1973 and 1985. It isn't just regular moviegoers that have been deeply affected by the death of the actor, as Pierce Brosnan, who would start to portray the character a decade after Roger Moore left the part, has now penned a moving tribute to Roger Moore. And in it he reveals that he once asked the actor for his autograph. Pierce Brosnan wrote,
During the piece, which Pierce Brosnan wrote for Variety, the Irish actor also recalled several other occasions when their paths crossed. The next time they met was during the production of the 1981 spy film For Your Eyes Only, which actually starred Pierce Brosnan's then wife Cassandra Harris as Countess Lisl von Schalf, the mistress to Chaim Topol's Milos Columbo. While Pierce Brosnan was only on set in Corfu for less than a week due to his other filming commitments, he revealed that during this time Roger Moore "was most gracious" to himself and his children.
Of course, their names will forever be linked together because of the fact that Pierce Brosnan went on to become James Bond himself. During production on GoldenEye, which marked Pierce Brosnan's debut as the legendary character, Roger Moore even came down to the set of the film just so he could wish him well. Even though Pierce Brosnan had now stepped into Roger Moore's shoes he "was still in awe of the man." Clearly this feeling never went away, and Pierce Brosnan went on to admit that the last time he ever saw Roger Moore was a tribute to Cubby Broccoli in the Albert Hall.
Even though Pierce Brosnan more than excelled himself as James Bond across four films, especially considering GoldenEye helped to reboot the franchise after a six-year hiatus and the end of the Cold War, he never quite reached the heights of Roger Moore, who endeared himself to an entire generation of moviegoers thanks to his stint as the 007. Sure some of his efforts as James Bond were frankly preposterous, but he still injected his charm and cool into the role in such an effortless manner that his mark on both the franchise and cinema in general is indelible.
Your Daily Blend of Entertainment News