Watch Chris Hemsworth Complain About The Lack Of Thor In Funny Infinity War Video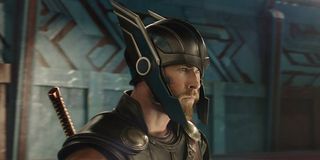 Like nearly every other hero in the Marvel Cinematic Universe, Thor will be participating in the craziness that is Avengers: Infinity War. However, as we saw last year close to Captain America: Civil War's release, Chris Hemsworth is sensitive when it comes to the God of Thunder being left out of major MCU moments. If you needed more proof of that, check out the funny video below of him showing his disapproval at one of the big Infinity War moments being planned out.
Waling into the room as an important Avengers: Infinity War scene is being choreographed using action figures, Chris Hemsworth is dismayed to see that while the likes of Ant-Man, Vision, Black Widow, Hawkeye (or as Hemsworth calls him, guy who rolled in from a Berlin techno rave at 3 a.m.) and more are represented, Thor is nowhere to be found. Hemsworth takes his character's absence in stride at first, noting that directors Joe and Anthony Russo left him out of Captain America: Civil War, too, but soon he calls the mighty Mjolnir to his hand and starts knocking aside the action figures to simulate what would happen if Thor was fighting the other Marvel heroes.
The only heroes "left standing" from this massacre are Winter Solider, Falcon and Hulk. Hemsworth ends the Instagram video by telling the Russos, "Thanks for nothing." Since there's still half a year to go to wrap up work on Avengers: Infinity War and Avengers 4, the Russos should find a way to smooth things over with Hemsworth, because the awkwardness left after the actor's hissy fit is not conducive to a good work environment.
Chris Hemsworth's faux outrage over the lack of Thor is always fun to revisit every now and again, but as far as real life goes, he doesn't have anything to worry about for the God of Thunder. After taking a brief hiatus following Avengers: Age of Ultron, Thor cameoed last year in Doctor Strange, and this November, he'll be back in the spotlight for Thor: Ragnarok, which will see the Odinson battling Hela and trying to prevent her from destroying Asgardian civilization. Months later, Avengers: Infinity War will show Thanos finally coming to the forefront as he aims to rewrite reality with the Infinity Stones.
Since Thor wasn't around when the events of Captain America: Civil War occurred on Earth, it will be interesting to get his perspective on the conflict that tore Earth's Mightiest Heroes apart. But more importantly, he'll be one of the many heroes attempting to defeat the Mad Titan. So while it's fun to make fun of Thor's "lack of screen time," rest assured, he'll have plenty to do in the team-up movie next year, including fighting next to Rocket Raccoon.
Avengers: Infinity War hits theaters on May 4, 2018.
Connoisseur of Marvel, DC, Star Wars, John Wick, MonsterVerse and Doctor Who lore. He's aware he looks like Harry Potter and Clark Kent.
Your Daily Blend of Entertainment News
Thank you for signing up to CinemaBlend. You will receive a verification email shortly.
There was a problem. Please refresh the page and try again.