Fantastic Beasts 2 Is Casting Teen Versions Of Dumbledore And More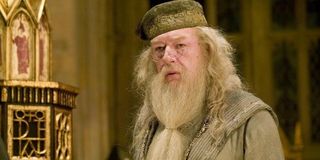 We all got very excited when we learned who would be playing a young Dumbledore in the sequel to Fantastic Beasts and Where to Find Them, but it turns out there will actually be more than one actor in the role. An open casting call was just announced that is looking for actors to play teenage versions of several key characters including Dumbledore, Grindelwald, Newt Scamander, and Leta Lestrange as well as at least one new character.
The open casting call was announced on Pottermore, the online home of all things belonging to the Wizarding World of Harry Potter. Based on the announcement, it would appear that Fantastic Beasts and Where to Find Them 2 will have at least two significant flashback sequences. If Jude Law is playing the version of Albus Dumbledore that is a contemporary of Eddie Redmayne's Newt Scamander, then we'll have one flashback that will show teenage versions of Dumbledore and Johnny Depp's Gellert Grindelwald. If we're also going to see a teenage Newt Scamander, one would assume that will be a separate scene, since Dumbledore is significantly older than Newt. Since Dumbledore is actually quite a bit older than Newt, we'd guess Jude Law will still play Dumbledore during the teenage Newt scenes.
Just like Jude Law will be playing the primary role of Dumbledore, we also know that Zoe Kravitz has been cast as Leta Lestrange, meaning that both characters will likely be a significant part of the main story, we won't simply see them in these flashbacks.
One additional character is mentioned in the open casting call. A character named Sebastian is also being cast, who will apparently be a contemporary of the teenage Newt and Leta, as they're looking for an actor in about the same age range, but this is one role where no "adult" version of the character has been announced as cast, so it's unclear if Sebastian will be an important part of the larger story or just a school chum of Newt and Leta.
While Fantastic Beasts and Where to Find Them started out as an adventure story of a wizard attempting to recapture errant pets, the story slowly grew into something much grander, involving one of the darkest wizards to ever be mentioned within the greater Harry Potter lore. It seems clear that this is where the rest of the franchise is heading, as we know we're getting four more films in the Fantastic Beast franchise before it's all said and done. Now, we know we're going to be getting at least a little bit more backstory on all of these key characters, even beyond what the proper timeline of the sequel shows us.
If you'd like to put yourself in the running for one of these roles and are between the ages of 13 and 16 (for the roles of Newt, Leta, and Sebastian) or 16-18 (for Dumbledore and Grindelwald) you can hop over to the Pottermore website for information on how to apply.
CinemaBlend's resident theme park junkie and amateur Disney historian. Armchair Imagineer. Epcot Stan. Future Club 33 Member.
Your Daily Blend of Entertainment News
Thank you for signing up to CinemaBlend. You will receive a verification email shortly.
There was a problem. Please refresh the page and try again.