Colin Trevorrow Already Knows What He's Doing After Star Wars 9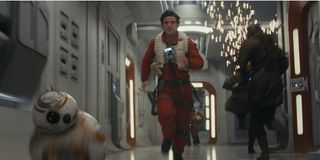 Star Wars 9 might still be just under two years away from release, but director Colin Trevorrow has already figured out exactly what he's going to do when he's finally shot, edited and promoted the film. He's going to go to Europe. This won't just be for vacation, though. Trevorrow wants to go to the continent and visit all of its film festivals, something that he did while out promoting Safety Not Guaranteed. Clearly Trevorrow had a glorious time when he embarked on this adventure, because he's already decided that once his Star Wars: Episode IX duties are over, he will return and do exactly the same. He admitted as much when he was asked about how he got involved in his new film The Book Of Henry, which led to him gushing about his past trek around Europe. Trevorrow at first recalled:
That sounds like an absolute hoot. Colin Trevorrow made this admission to me when I sat down to talk to him about The Book Of Henry earlier this week in New York City. The director, who will move straight back on to Star Wars: Episode IX after he finishes promoting The Book Of Henry, took in plenty of sights and sounds during his adventure across Europe, too, as he visited cities and film festivals in Germany, Hungary, France, Greece, Netherlands, Belgium, Sweden, Poland and Iceland. Colin Trevorrow even picked up an award when he attended one of these festivals, too, as he and writer Derek Connolly were awarded the Iron Herring: Best Feature Film at the Leiden International Film Festival.
It's unlikely that Star Wars: Episode IX is going to need the film festival route to try and garner attention, as quite a few people have already heard of the franchise. However, that could all easily change when Star Wars: The Last Jedi is released this winter. If it doesn't quite match up to Star Wars: The Force Awakens' box office total, then maybe Kathleen Kennedy and the Lucasfilm team will decide to take a new approach to get some more bums on seats for Star Wars 9.
In the meantime, Colin Trevorrow is currently out spreading the good word about his latest film The Book Of Henry, which is scheduled to hit theaters on June 16. Once that's done, he should be straight back to work on Star Wars: Episode IX, which is due to begin production on January 2018 ahead of it hitting theaters on May 24, 2019. There's every chance he might plan a sneaky jaunt across the pond to check out some European delights before then, though.
Your Daily Blend of Entertainment News
Thank you for signing up to CinemaBlend. You will receive a verification email shortly.
There was a problem. Please refresh the page and try again.