Watch Josh Brolin Get Majorly Jacked For Cable In Deadpool 2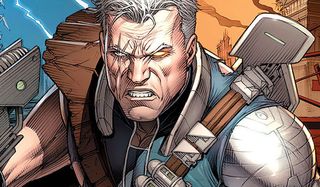 Not content to just antagonize the Marvel Cinematic Universe as Thanos, Josh Brolin joined the X-Men franchise this past April when he was cast as Cable for Deadpool 2. Cable is one of Marvel Comics' most notorious badasses, and while Brolin will surely handle channeling the mutant's serious attitude with ease, taking the role also meant bulking up significantly. Fortunately, Brolin has accomplished that, too, as you can see in the video below showing him in an intense workout.
Deadpool 2 is scheduled to begin shooting later this summer, and we can breathe a sigh of relief knowing that Josh Brolin will be ridiculously jacked when he steps in front of the camera as Cable. Those forward dumbbell raises are one of the many exercises he's been doing to ensure that he's in the right shape to play the mutant who will be the straight man in the Merc with the Mouth's next movie. But as Brolin noted in his Instagram video's caption, he didn't build this physique just by exercising. He's also restricted himself to a diet of fish, rice, eggs, vegetables, water and some caffeine in the morning. All sugars, breads, pastas and "drugs" are out, and the end result is impressive, especially to Dave Bautista, Brolin's fellow MCU actor.
While Josh Brolin's muscles are the primary draw in this video, we also saw a quick look at him rocking Cable's trademark haircut. Between that and his body, this is our best look yet at what Brolin's Cable will look like. Now we just need to see him with the cybernetic eye, robotic arm and body armor. If that doesn't come through an officially released still from 20th Century Fox first, we can count on the Deadpool 2 trailers to show the mutant from the future in action.
Cable's exact role in Deadpool 2 hasn't been revealed yet, although it's been confirmed sequel won't delve too heavily into his backstory. Josh Brolin signed a four-picture deal to play the character, and he's expected to return in the X-Force movie. Along with Josh Brolin and Ryan Reynolds reprising Wade Wilson, Deadpool 2's main cast includes Zazie Beetz as Domino, Morena Baccarin as Vanessa, T.J. Miller as Weasel, Brianna Hildebrand as Negasonic Teenage Warhead, Stefan Kapicic as Colossus, Leslie Uggams as Blind Al, Karan Soni as Dopinder and Jack Kesy as the main villain (who is rumored to be Black Tom Cassidy). John Wick's David Leitch is taking over as director from Tim Miller, while Reynolds, Rhett Reese and Paul Wernick worked on the script with The Martian's Drew Goddard.
Deadpool 2 hits theaters on June 1, 2018.
Connoisseur of Marvel, DC, Star Wars, John Wick, MonsterVerse and Doctor Who lore. He's aware he looks like Harry Potter and Clark Kent.
Your Daily Blend of Entertainment News
Thank you for signing up to CinemaBlend. You will receive a verification email shortly.
There was a problem. Please refresh the page and try again.