Why Cameron Diaz Hasn't Made A Movie In Years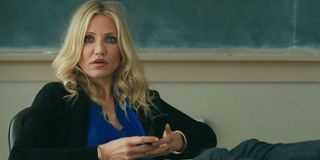 You might have noticed that Cameron Diaz has been conspicuously absent from the big screen over the past few years. In fact, the last time we saw the blonde actress in a film was all the way back in 2014's Annie. But it turns out that Cameron Diaz had a very good reason for reducing her roles all the way down to zero. That's because Cameron Diaz had lost sight of who she was, and she needed to take some time off so that she could spend some quality time with herself. The actress recently explained,
Clearly, Cameron Diaz hasn't quite managed to make herself completely whole again, too, because she still has no projects on the horizon, and from the comments she made at Cameron Diaz at the Goop Wellness Summit (via E Online), and the fact she hasn't signed on for a project in 2017, it could be a while before we see her again. You can kind of see why Cameron Diaz needed to take some time off, because after making her stunning debut in The Mask back in 1994 opposite Jim Carrey she has been ridiculously prolific. In fact, between 1996 and 2014, three Cameron Diaz films were released over a single year nine times. She also had two films hit cinemas over 12 months five times, and then she restricted herself to just one film a year on another five occasions. Still, that's a lot of movies.
This is actually the first prolonged period that Cameron Diaz has been off the big screen since 1994, but considering that she is still just 44 years old we can only hope that she will return and wow audiences again with her talents sooner rather than later. Plenty of writers, directors, and studios would likely be eager to sign Cameron Diaz up for a returning role, too. That's because her box office receipts have totaled over $3 billion at the box office in America alone, while her worldwide total surpasses $7 billion. Until 2016 Cameron Diaz was actually the highest grossing actress domestically, but Scarlett Johansson's roles in The Jungle Book and Captain America: Civil War that year meant that she moved above her.
It's not just financially that Cameron Diaz has been championed, as she has previously received four Golden Globe Award nominations thanks to her performances in Being John Malkovich, Vanilla Sky, Gangs Of New York, and There's Something About Mary. All of which suggests that, if Cameron Diaz can pick the right role to mark her return, then she might suddenly be in with a shout of an awards season push. Especially because Hollywood loves a comeback story. Just look at Sylvester Stallone and Mickey Rourke's Golden Globe victories for Creed and The Wrestler in 2015 and 2008, respectively. Fingers crossed we'll get to see her in action again in the very near future, because it'll be interesting to see the type of roles that she takes once she has found her new lease on life. Until then, you'll just have to watch your favorite Cameron Diaz films over and over again. I'll be starting with the criminally underrated The Counselor.
Your Daily Blend of Entertainment News
Your Daily Blend of Entertainment News
Thank you for signing up to CinemaBlend. You will receive a verification email shortly.
There was a problem. Please refresh the page and try again.