Avengers: Infinity War Has Added Another Black Panther Actor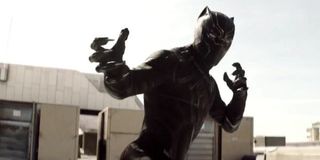 We knew that Avengers: Infinity War was going to bring together all corners of the Marvel Cinematic Universe, but now it's looking like literally anybody with a speaking role in an MCU movie is going to be back. While all of the franchise's major characters have been confirmed, we're also learning that several supporting characters will also appear, and that list now includes another Black Panther actor. Danai Gurira has now been confirmed to be reprising her role from next February's Marvel movie in the film that will follow it that May.
Ok technically, all Deadline is confirming is that Danai Gurira will be in Avengers: Infinity War, not specifically that she will be playing the role of Okoye, the leader of Wakanda's elite fighting force known as the Dora Milaje. Still, it would make little sense for the actress to appear in two Marvel films released so close together playing different parts, so we can probably safely assume she'll be playing the same character, even if that hasn't technically been confirmed. Gurira joins Chadwick Boseman, the Black Panther himself, as well as Winston Duke, who will be playing the role of Black Panther villain M'Baku, who will also make the jump from the Black Panther movie to the next Avengers film. Boseman was to be expected, but these other two additions to the cast are more surprising.
Based on the fact that we now have a couple of Black Panther supporting characters making an appearance in Avengers: Infinity War, it would appear that Wakanda may have a larger role in the next Avengers film than we would have expected. Seeing Wakanda at all isn't necessarily a shock. We would expect that it's where T'Challa will be as the events of Infinity War unfold, and at some point, someone or something will draw him from his home into the events of the film. However, the more we learn that additional supporting characters will be appearing, the more it seems that we won't simply be getting a brief scene with T'Challa getting ready to go fight. These additional characters wouldn't be necessary if that was all that was happening. It's true that Danai Gurira could still only be in one scene, but with both Okoye and M'Baku appearing, it would have to be a significant scene.
This is only good news so far, as the first trailer for Black Panther has us incredibly excited for the new film, and the fact that we won't need to wait for a Black Panther 2 to see these characters again will likely be a very good thing. Black Panther arrives in theaters February 16, 2018. Avengers: Infinity War will follow on May 4.
CinemaBlend's resident theme park junkie and amateur Disney historian. Armchair Imagineer. Epcot Stan. Future Club 33 Member.
Your Daily Blend of Entertainment News
Thank you for signing up to CinemaBlend. You will receive a verification email shortly.
There was a problem. Please refresh the page and try again.