Valerian Has Screened, Here's What Critics Think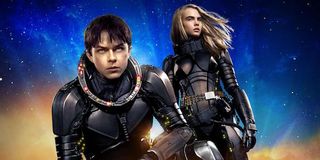 The trailers for Luc Besson's adaptation of the beloved French sci-fi comic Valerian And The City Of A Thousand Planets have increasingly made the film look like a visual treat for the senses that will blend together Guardians Of The Galaxy, Star Wars and The Fifth Element. The first reactions to Valerian And The City Of A Thousand Planets have now started to drip in, and they have confirmed that the film builds upon this promise and then some. Some of the lucky souls who saw it early have even called Valerian one of the best films of the summer. Starting with CinemaBlend's own Eric Eisenberg:
Germain Lussier over at io9 also heaped praise on Valerian's visuals, even going as far as to call it "gorgeous." However, he did add the caveat that its story and characters weren't the strongest.
Peter Sciretta of SlashFilm uploaded a number of posts detailing his thoughts on Valerian, and while he opined that the 2nd half of the film became "more formulaic, far less exciting" he was still unequivocal in his praise for the film, declaring that he wants "to experience more of this world," insisting that it "needs to be experienced in 3D on the biggest screen possible," while also remarking of its first half:
Fandango's Erik Davis was another reporter who heaped praise on the film's action sequences, before then declaring that Valerian is "batshit" crazy. But in the best possible way.
Finally, Steve Weintraub from Collider again declared Valerian And The City Of A Thousand Planets to be a triumph, citing its "inventive sci-fi, epic action" and "insane visual effects" as the main reasons why it got his seal of approval.
While Valerian And The City Of A Thousand Planets seems as though it has its faults, it sounds as though these flaws are clearly dwarfed by its action, sci-fi and visual effects. You'll be able to judge this for yourself when Valerian And The City Of A Thousand Planets is finally released on July 21st. And don't forget to browse through our 2017 movie guide to find out what other theatrical offerings are coming out over the rest of the summer.
Your Daily Blend of Entertainment News