The Weird Way Spider-Man: Homecoming Called Back To The Amazing Spider-Man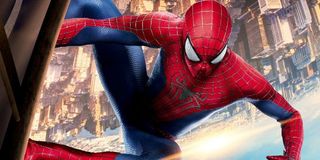 Warning: spoilers ahead for Spider-Man: Homecoming. Read ahead at your own risk!
Opinions on Marc Webb's The Amazing Spider-Man movies vary wildly, but most people generally seem to agree that the Marvel Cinematic Universe's version of the Web-Head represents a notable step forward for the teenage hero. That said, we cannot ignore the existence of these films, and apparently, neither can director Jon Watts. Despite existing in an entirely new timeline and continuity, Spider-Man: Homecoming is chock full of bizarre Easter eggs, and it even features a reference to one of The Amazing Spider-Man's fishier scenes.
As pointed out by a recent report from Vulture, Spider-Man: Homecoming features one of those "blink and you'll miss it" references to Marc Webb's Amazing Spider-Man films. Specifically, the latest Spider-Man adventure features a subtle reference to branzino during a scene in which Flash Thompson (Tony Revolori) sends the fish back to the kitchen while on a date. This is notable because branzino is the same fish served by the Stacy family when Peter Parker stops by their New York apartment to see Gwen for a delightfully awkward dinner scene.
Check out the branzino scene from The Amazing Spider-Man below:
As bizarre as it may seem, this branzino scene highlights the one particular thing that The Amazing Spider-Man movies arguably did better than Sam Raimi's films: the teenage romance. Regardless of how you feel about the plots, villains, or pacing in the middle child of the Spider-Man franchises, the fact of the matter is that Marc Webb, Andrew Garfield, and Emma Stone nailed the relationship between Peter and Gwen. For Jon Watts to honor those movies respectfully, highlighting the favorable "romantic-comedy" qualities seems like a perfect creative choice.
Although The Amazing Spider-Man films don't necessarily have the most sterling reputation in Hollywood, I have to say that I would love to see the franchise continue to honor them. For all of their missteps, Marc Webb's films delivered some solid action scenes and strong performances -- particularly from Andrew Garfield. Spider-Man: Homecoming shows that Jon Watts and Marvel Studios have a clear passion for Easter Eggs, so our hope remains high that we will see more little moments like this as Tom Holland's Peter continues to make his mark in the Marvel Cinematic Universe.
Spider-Man: Homecoming is currently in theaters, and Peter Parker will make his next major appearance in the Marvel Cinematic Universe when Spidey joins the rest of Earth's mightiest heroes in The Avengers: Infinity War. For more information related to the remainder of this year's major theatrical releases, check out our comprehensive 2017 movie premiere guide.
Originally from Connecticut, Conner grew up in San Diego and graduated from Chapman University in 2014. He now lives in Los Angeles working in and around the entertainment industry and can mostly be found binging horror movies and chugging coffee.