Wonder Woman 2 May Be Set In The '80s, With One Major Twist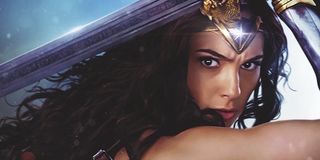 Update: At this year's CinemaCon, details about Wonder Woman 2 being set in the 1980s were confirmed. So now it's a definitely and not a "may," making us even more pumped for the movie's November 1, 2019 release date!
While Wonder Woman was bookended with scenes featuring the heroine in the present day the majority of the movie turned its gaze to the past, when Diana of Themyscira was fighting in World War I. With development on Wonder Woman 2 now underway, Patty Jenkins (who hasn't officially signed on to direct the sequel yet) has expressed interest in keeping the next movie set in the past rather than in the modern era. Well if a new report is to be believed, moviegoers may see Diana adventuring in the 1980s for her next solo movie, but what's even weirder is that she could reunite with Steve Trevor.
Supposedly Wonder Woman 2 will be another prequel set before the events of Batman v Superman: Dawn of Justice, but this time we'll see Diana going up against the Soviet Union as the Cold War is on its last legs. Screen Rant also reported that Chris Pine, who signed a multi-picture deal when he joined the DC Extended Universe, will reprise Steve Trevor, although the website did not provide details on this is possible given that Steve died in Wonder Woman.
Although Patty Jenkins previously implied she was considering setting Wonder Woman 2 around the 1930s, the 1980s would also be a good setting for a sequel. It's long enough away from World War I that you imagine that Diana has changed considerably, but leaving enough time for her to evolve further before meeting Batman and Superman. Plus, putting Diana behind Soviet lines is a great way to give audiences a thrilling, espionage-themed superhero movie.
_Warning: SPOILERS for _Wonder Woman are ahead! _As for Steve Trevor miraculously returning, that's harder to swallow. In _Wonder Woman, Steve sacrificed himself to prevent Doctor Poison's gas from being dispersed across London, and it was his death that ultimately pushed her to defeat Ares. While resurrecting characters is common in the world of superheroes, bringing Steve back from the dead would be an odd creative decision. On the slim chance he didn't die in the plane explosion, then you would not only have to explain why he is still alive in the 1980s and still looks youthful, but again, there's also the problem of diluting the emotional impact of his sacrifice.
Assuming this Wonder Woman 2 information is correct, what could end up happening is that Chris Pine would not be playing the Steve Trevor that we met in Wonder Woman, but one of his descendants. Fans of the 1970s Wonder Woman TV series will remember that Lyle Waggoner originally played Steve Trevor in Season 1, which was set in World War II, and when the show jumped forward to the 1970s in Season 2, Waggoner stayed on as Steve Trevor Jr. Perhaps something similar could happen in the DCEU, and the Steve Trevor Pine is playing this time is either a grandson (it's possible Steve the First could have fathered a child sometime before the Great War began) or a great-nephew. The Trevor lineage can continue, and it wouldn't affect the noble decision the original Steve made.
Wonder Woman is still playing in theaters, and stay tuned to CinemaBlend for more news about Wonder Woman 2 as it comes in.
Connoisseur of Marvel, DC, Star Wars, John Wick, MonsterVerse and Doctor Who lore. He's aware he looks like Harry Potter and Clark Kent.
Your Daily Blend of Entertainment News
Thank you for signing up to CinemaBlend. You will receive a verification email shortly.
There was a problem. Please refresh the page and try again.