Where You Can Watch That Godzilla Reboot That Almost No One In America Saw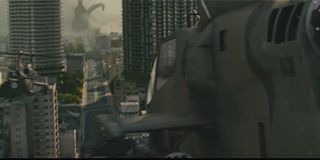 While here in the good 'ol U.S.A. fans have been gearing up for the 2019 release of Godzilla 2, fans of the kaiju monster in Japan saw the character on the big screen fairly recently. In 2016, Japan saw Shin Godzilla, a movie directed by Hideaki Anno and Shinji Higuchi, get released. While the film was a modest hit in Japan, it only received a short release here in the States, which means that most people haven't been given the opportunity to see the movie. Until now.
This week, Shin Godzilla was released onto Blu-ray, DVD and Digital via several retailers, including the likes of Amazon and Best Buy. The release hit shelves on August 1, and if you haven't caught the movie, there are several reasons to do so. The biggest--literally--is that the monster in Shin Godzilla is the largest we've seen in a movie, yet. The kaiju stands at 118.5 meters tall. Godzilla has been growing since he hit the big screen at 50 meters in 1954. I guess time will do that to a growing monster.
A little less than a year ago, Shin Godzilla came to the United States and Canada for a brief theatrical run. The film only played in fewer than 600 theaters, but still ended up banking over a million dollars at the box office--not too shabby for a limited release film. Critics, too, seemed to be all over the movie, noting that its plot, which parallels bureaucratic incompetence after a disaster similar to the Fukushima nuclear reactor meltdown, was more political than what we usually get with a Toho-produced film.
It did really well in Japan, making more than $75 million dollars there and receiving limited runs elsewhere. But particularly in the United States and Canada, the movie wasn't a huge deal. Likely Funimation, which distributes the movie in the U.S., is hoping to change that with this Blu-ray and Digital release.
Toho has been making Godzilla-based films for a long time, including the original 1954 film. The character is Toho's most popular creation, but the previous two projects featuring the monster came out more than a decade ago. (Godzilla: Final Wars was 2004 and Always: Sunset on Third Street 2, which features a Godzilla cameo, came out in 2007.)
Shin Godzilla is already a bestseller on Amazon, and if you haven't nabbed your copy yet, it may be exactly what you are looking for while we wait for the next Hollywood Godzilla movie to hit theaters. Take a look at what we know about the upcoming Godzilla: King of the Monsters or take a look at what is hitting theaters coming up with our full movies schedule.
Amazing Race & Top Chef superfan with a pinch of Disney fairy dust thrown in. If you've created a rom-com I've probably watched it.
Your Daily Blend of Entertainment News
Thank you for signing up to CinemaBlend. You will receive a verification email shortly.
There was a problem. Please refresh the page and try again.