Which Indiana Jones Film Is Steven Spielberg's Least Favorite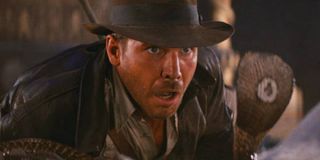 It makes perfect sense that Indiana Jones inspired one of Disneyland's best rides; after all, the series itself is a total roller-coaster. Henry Jones Jr. has gone through a series of ups and downs ever since the incomparable Raiders of the Lost Ark debuted in theaters back in 1981, and fan opinions towards each film have varied widely over the years. Although many Indy enthusiasts may feel Kingdom of the Crystal Skull is the worst film in the series, it now appears that franchise mastermind Steven Spielberg is not a fan of Indiana Jones and the Temple of Doom.
This revelation comes to us courtesy of filmmaker Susan Lacey, who recently spent hours interviewing the filmmaker for her upcoming documentary, Spielberg. That said, for him to choose Indiana Jones and the Temple of Doom as his favorite entry in the series doesn't necessarily shock us. In many ways, the film feels the least like a traditional Indiana Jones movie. Several fundamental Indy tropes (such as his revolver and his friend Marcus Brody) are missing from the majority of the film, and the oddly small-scale story feels distinct from the other globetrotting adventures in the series. Beyond that, Temple of Doom opening scene cribs a little bit too much from the James Bond franchise, which lends a palpable sense that the franchise was going through a bit of an identity crisis at the time.
Perhaps more importantly, Temple of Doom also features two of the franchise's more annoying characters: Willie Scott and Short Round -- neither of whom ever appeared in the series again.
Susan Lacey's comments to New York Daily News about Steven Spielberg's distaste for Temple of Doom also helps us further contextualize why he made certain creative decisions as the franchise progressed in the 1980s. Following the release of Temple of Doom, the franchise returned to familiar territory with Indiana Jones and the Last Crusade. Unlike the second outing in the series, The Last Crusade utilized many of the same story elements that made Raiders work so well, such as gunfights, Nazis, a broader scale, and the hunt for a better known biblical artifact.
Knowing that Spielberg doesn't care for Temple of Doom, it will be interesting to see how that particular opinion guides him as the franchise moves forward. As some of you may already know, plans are still in place for the filmmaker to once again team up with Harrison Ford for another installment in the Indiana Jones franchise. While we don't know much about the particular plot or MacGuffin that our favorite archaeologist will hunt, we can assume that it probably won't resemble the series' sophomore outing.
We will know for sure when Indiana Jones 5 debuts in theaters in 2019. As for this year's theatrical releases, check out our movie premiere guide to keep yourself up to date on 2017's latest and greatest silver screen outings!
Originally from Connecticut, Conner grew up in San Diego and graduated from Chapman University in 2014. He now lives in Los Angeles working in and around the entertainment industry and can mostly be found binging horror movies and chugging coffee.
Your Daily Blend of Entertainment News
Thank you for signing up to CinemaBlend. You will receive a verification email shortly.
There was a problem. Please refresh the page and try again.