The Han Solo Movie Cast List: All The Confirmed Actors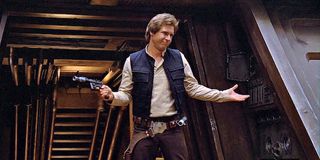 Since finding a new home with Disney, the Star Wars franchise has been expanding its cinematic reach. In addition to the main saga movies, Anthology spinoff movies are also being released to tell standalone stories set in that galaxy, far, far away. Rogue One: A Star Wars Story kicked off the trend last year, and in 2018, we'll reunite with fan favorite Han Solo to learn what he was like long before he met Luke Skywalker and Obi-Wan Kenobi in the Mos Eisley cantina and started aiding the Rebellion.
The Han Solo movie hasn't had the easiest production, but by all accounts, it's still set to be released on May 25, 2018. Just like with previous Star Wars movie, Lucasfilm has been tight-lipped about what the next Anthology spinoff will be about, but one thing there's been plenty of information about is the faces you'll see in the space opera blockbuster. With that in mind, we've gathered together all of the confirmed actors (and a few rumored performers and characters) who will appear in the Han Solo movie next summer. So put on your black vest, secure your DL-44 blaster and take a look at who will show up in the young smuggler's tale.
Alden Ehrenreich / Han Solo
After stealing the show in Hail, Caesar! and appearing in movies like Beautiful Creatures, Blue Jasmine and Rules Don't Apply, Alden Ehrenreich was selected to play Han Solo in his younger years. The spinoff will see the smuggler establishing his notorious reputation across the galaxy, and it's also been reported we'll see how he obtained his trusty ship, the Millennium Falcon. As the second actor to play Han Solo in live action, there's a lot riding on Ehrenreich's shoulders to play the protagonist uniquely while also making sure he matches up with Harrison Ford's performances.
Donald Glover / Lando Calrissian
In the world of movies and television, Donald Glover has built an impressive resume through projects like Community, The Martian, Magic Mike XXL, Spider-Man: Homecoming and the Emmy-nominated Atlanta. For the Han Solo movie, he's succeeding Billy Dee Williams as Lando Calrissian. All that's been officially mentioned about the younger Lando so far is that he's "a scoundrel on the rise in the galaxy's underworld." It's unclear if he and Han already know each other when the movie starts or if this will depict their first meeting, but judging by Glover's comments about why Lando is such an appealing character, Han may not want to keep a close eye on the future Cloud City administrator.
Woody Harrelson / Beckett
Cheers, The Hunger Games, True Detective, Zombieland, War for the Planet of the Apes, these are just some of the notable credits Woody Harrleson has accumulated over the years. Harrelson boarded the Han Solo movie as Beckett, who is so far the only confirmed new character. Beckett will be Han's criminal mentor, which means we'll see how Han learned the tricks of his illegal trade. However, we already know that Han has the heart of a hero buried deep down, just because this Beckett is one of Han's allies at the start doesn't mean that they might not find each other at odds later in the story.
Joonas Suotamo / Chewbacca
Peter Mayhew will always be remembered as Chewbacca, but since Star Wars: The Force Awakens, Joomas Suotamo has been Mayhew's body double. The Han Solo movie marks Suotamo's first time playing Chewie during all of shooting, which ideally means he'll see a lot of action. Chronologically, the Han Solo move takes place years after Chewbacca helped Yoda escape Kashyyyk during Revenge of the Sith, and just like with Lando, we don't know if Han already knows the Wookie or if they'll be meeting for the first time. Either way, we're looking for to seeing this cinematic duo together again.
Emilia Clarke
Most know Emilia Clarke as Daenerys Targaryen on Game of Thrones, and in 2015, she took over as Sarah Connor in Terminator Genisys. Now she's contributing to a third geek-friendly franchise by joining the Star Wars universe as one of the Han Solo movie's integral characters. Officially, no details about her character have been revealed yet. Unofficially, it was reported that there is a character in the movie referred to as Val who has "top billing." It's possible that Clarke may be playing the mysterious Val, though we can't discount that the role could belong to one of the other main actresses.
Phoebe Waller-Bridge
Phoebe Waller-Bridge is best known for showing off her comedic chops in the Amazon series Fleabag, and her other notable work includes Man Up, Broadchurch and the upcoming Goodbye Christopher Robin. When her casting for the Han Solo movie was originally announced, it was said she would be delivering a "CGI-drive performance." This is similar to Alan Tudyk's K-2SO in Rogue One: A Star Wars Story, and now we know for a fact that Waller-Bridge will be playing a droid companion to Lando named L3-37 in the Star Wars movie.
Thandie Newton
Over the last year, Thandie Newton has been impressing TV audiences as Maeve Millay on HBO's Westworld, and looking back further, you may remember her from Crash, Mission: Impossible 2, ER, The Pursuit of Happyness and W., to name a few. No details have been revealed about her character in the Han Solo movie yet, other than the fact that her character is named Val, but the trailer makes it seem like she'll be one of Han's criminal cohorts instead of being on the other side of the law.
Paul Bettany
Michael K. Williams, best known in television for playing Omar Little on The Wire and Chalky White on Boardwalk Empire, originally filmed the role of Dryden Vos for Solo. But, after Ron Howard took over directing duties and reshoots were needed, Williams had already moved on to his next project and was unable to get away. His role was then recast, with Avengers: Infinity War actor Paul Bettany in the newly reimagined role. Bettany hasn't played a lot of villains, but his character has already been billed as a "big shot gangster" and someone in the galactic underworld who's a piece of work. It's incredibly likely that Vos is, in fact, the main bad guy in Solo, but there is another possibility. Star Wars: The Clone Wars and EU fans will remember Quinlan Vos as an active Jedi during the final days of the Old Republic. Could this Dryden be related to him? Could Dryden be Quinlan's alias, much like how Obi-Wan Kenobi called himself Ben Kenobi? Or is Vos just the 'Smith' of the Star Wars universe, and a lot of people have that last name? We'll have to wait and see.
Ian Kenny
If you caught last year's Golden Globe-nominated movie Sing Street, Ian Kenny played the bully Barry. Well now he'll make his big American debut in the Han Solo movie. As has become the norm, Lucasfilm isn't saying who Kenny is playing, but it was reported back in May that his character is named Rebolt. Assuming this is true, a name like that suggests that this isn't someone who's part of the Empire in some capacity. If we had to guess, this Rebolt is either one of Han's criminal associates or some kind of bounty hunter or enforcer who is sent after the smuggler.
Warwick Davis
Warwick Davis has been a member of the Star Wars family for nearly all of his life, starting with when he played the Wicket the Ewok in Return of the Jedi. He was brought for 1999's The Phantom Menace, and starting with 2015's The Force Awakens, he's performed in all of the new Star Wars movies (as is also voicing Rukh in Star Wars Rebels Season 4). However, if these non-Wicket Star Wars roles are any indication, it's doubtful that Davis' role will be a major one, and he'll likely just be cameoing as an alien.
Clint Howard
When Ron Howard took over the Han Solo movie directing gig from Phil Lord and Chris Miller, he decided to turn it into a family affair by adding his brother Clint to the cast. Howard revealed this when a fan questioned if he'd found a role for Clint, to which Howard responded, "You won't be disappointed." We can only hope that Clint Howard will be made up to look like one of this galaxy's more colorful denizens, but regardless, it's great that he'll contribute to another one of his brother's films.
Richard Dixon
Rounding out the actors on this list is Richard Dixon, who was most recently seen in the FX series Taboo as John Pettifer. Unlike the other performers on this list, there's been no official announcement or report about Dixon's involvement in the Han Solo movie. IMDB credits him as playing "Elite Citizen," but that website isn't always dependable when it comes to upcoming movies, so for now, treat his appearance as unconfirmed. That being said, if he's playing a person of wealth, that would make him a good target for Han on one of his adventures.
Jabba the Hutt
Given how Han had already pulled many jobs for Jabba the Hutt before A New Hope, it's not shocking to hear that the disgusting, slug-like crime lord could appear in the Han Solo movie. It was reported that Jabba is a "major polite point" in the story, and will be partly CGI and partly animatronic. Jabba's inclusion is only a rumor right now, but it would be interesting to see how Han came across Jabba's radar and seeing what it was like when the young scoundrel was in the Hutt's good graces.
Other Rumored Characters
Other than Jabba the Hutt, all of the characters who have been rumored for the Han Solo movie are people who haven't appeared in the Star Wars franchise. We've mentioned Val and Rebolt already, and some others are Moloch, Moloch's henchmen and Mother Proxima (the latter supposedly a puppet character). But working off just names, it's impossible to discern how they fit into the story.
Your Daily Blend of Entertainment News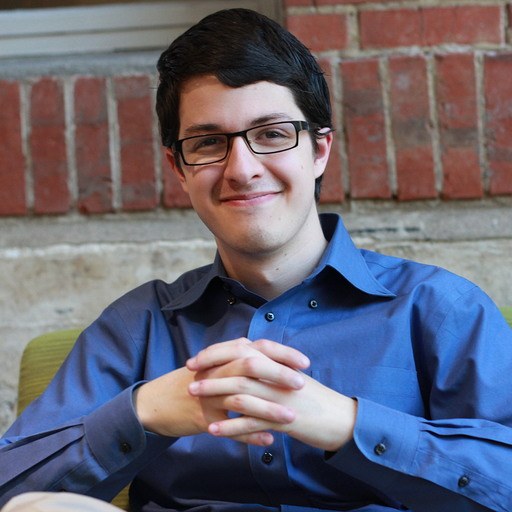 Connoisseur of Marvel, DC, Star Wars, John Wick, MonsterVerse and Doctor Who lore. He's aware he looks like Harry Potter and Clark Kent.