Ant-Man And The Wasp: What We Know So Far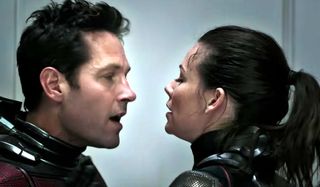 In 2006, the folks at the newly formed Marvel Studios began mapping out a plan of attack for a movie franchise. This endeavor included discussions about films for Iron Man, Hulk, Thor, Captain America, and Ant-Man. The last name on that list didn't get his own solo adventure until four years after Captain America's first solo film debuted, but it was such a big hit that Ant-Man is now getting his own sequel in the form of Ant-Man And The Wasp.
The new film is set to be the first Marvel Studios feature with two titular heroes, but that's the least exciting thing about it in comparison to everything else it has going on. As we regularly do for upcoming major blockbusters, we've constructed this What We Know So Far guide to keep track of everything going on with Ant-Man And The Wasp, so read on, learn, and keep checking back for future updates!
What Have We Seen From Ant-Man And The Wasp?
Luckily, since we don't have much longer to wait until Ant-Man and the Wasp is released, we finally have a trailer that lets us in on some of what we can expect from the new film. The above trailer shows off The Wasp's powers, gives us a look at villain Ghost and lets us know that the film takes place after Captain America: Civil War, along with telling us that, because of Scott's actions in that film, Hope and Hank have had to make themselves (and their work) scarce. All in all, it looks like this sequel has a good shot at being as much fun as its predecessor.
What Is Ant-Man And The Wasp's Release Date?
Marvel Studios began a tradition of releasing three movies a year starting in 2017, and that tradition will continue in 2018. The year kicks off with Ryan Coogler's Black Panther in February, and it will be followed by Joe and Anthony Russo's The Avengers: Infinity War in May. Ant-Man and The Wasp will be title number three for Marvel, and is set to come out on July 6, 2018.
Of course, this release date puts the film in a fascinating position. The Avengers: Infinity War is expected to be a two-parter that concludes its story with the untitled Avengers 4, but it's unclear exactly how the movies released in-between will be impacted (especially Ant-Man And The Wasp, given that Scott Lang will participate in Infinity War). Captain Marvel, directed by Anna Boden and Ryan Fleck, is the only other title set to be released in this specific timeframe, and since it's a prequel set in the 1990s, it won't be impacted by what happens in Infinity War, although Carol Danvers is confirmed to appear in Avengers 4.
What Is Ant-Man And The Wasp's Rating?
The MPAA doesn't get its hands on any movie until shortly before its release -- mostly because the version of the film they are viewing is the one that is likely going to be hitting theaters. Because of this, we can't say with absolute certainty what the rating of Ant-Man And The Wasp will be, but you can feel free to bet every cent you have on it ultimately being labeled with a PG-13 score.
Why? For starters, it wouldn't make a ton of sense for Ant-Man And The Wasp to be R-rated simply because it's not a rating that really fits the character (even if Paul Rudd can be really funny when allowed to curse as much as he wants). More importantly, however, it's been firmly stated by higher-ups at Disney that despite the success seen by titles like Deadpool and Logan, there are no plans to make an 18+ movie in the Marvel Cinematic Universe. For something closer to that, fans are much better off checking out the Marvel Netflix shows like Daredevil, Jessica Jones, or Luke Cage.
The Director
In case you don't remember, there was a bit of a kerfuffle regarding the director job on the first Ant-Man. Writer/director Edgar Wright had been attached to the project for years and years, co-writing the script with partner Joe Cornish, but just a few months before the start of production the filmmaker and Marvel Studios parted ways over creative differences. Director Peyton Reed, who was once almost brought on to make Guardians of the Galaxy, was hired as Wright's replacement -- and the studio was so happy with his work that they brought him back for the sequel.
Pulling in $519 million globally, Ant-Man made a strong showing when it was in theaters back in the summer of 2015, and Peyton Reed was able to ride that success to a gig directing Ant-Man And The Wasp. Of course, an important difference in the making of the sequel is that Reed has had much more than a few weeks for pre-production, and instead has had a much greater amount of time to construct the comic book adventure film he really wants to make.
What Is The Story Of Ant-Man And The Wasp?
Taking place after the events of Captain America: Civil War, where Scott Lang was last seen being broken out of The Raft prison with his other Team Captain America allies by Steve Rogers, Ant-Man and the Wasp will follow Scott as a fugitive. Although he is keeping up his responsibilities as Ant-Man, he is also trying to balance them with his family life. Cue Hope van Dyne and Hank Pym re-entering his life, as they need Scott's help on a new mission, which will require him to learn how to fight in the field alongside Hope, who is now officially The Wasp.
The other plot thread we expect the sequel to explore is the mystery behind the original Wasp, a.k.a. Janet Van Dyne. As we learned in Ant-Man, she and Hank Pym (Michael Douglas) used to operate as a spy duo for S.H.I.E.L.D. -- but she disappeared forever when she exceeded safeguards and overrides her suit's regulator, disappearing into the Quantum Realm (a.k.a. the Microverse). When Scott Lang (Paul Rudd) is in the alternate dimension, the shadow of Janet Van Dyne can be seen, and it's been heavily suggested that Ant-Man And The Wasp will follow the endeavor to try and rescue her.
Another plot thread the sequel will have the opportunity to follow concerns the fate of Martin Donovan's Mitchell Carson. He got away with a vial full of Pym Particles at the end of Ant-Man, and while there was a deleted scene that featured him being captured by Scott Lang, that's not officially canon. As a result, we may learn what happened to Carson and his sample of shrinking molecules in Ant-Man And The Wasp.
Scott Lang
Thanks in large part to the never-ending charm of Paul Rudd, Scott Lang has quickly emerged as a fan-favorite character in the Marvel Cinematic Universe, and the simple promise of seeing him back on the big screen again is exciting. We not only got to see his origin story play out in the original Ant-Man -- which chronicled his path from thief ex-con to shrinking superhero -- but in 2016 fans also got to see him fight as part of Team Cap in Captain America: Civil War (where he made his debut as Giant Man). Of course, that film had some pretty serious consequences for the character, and we'll have to see how Ant-Man And The Wasp deals with them.
Last we heard from Scott Lang, he was being kept as a prisoner on the underwater prison known as The Raft -- but his incarceration didn't last very long. Along with Hawkeye (Clint Barton), Scarlet Witch (Elizabeth Olsen) and Falcon (Anthony Mackie), Scott is released by Captain America -- though we don't know where he went from there. This answer very well may come in The Avengers: Infinity War, but there may wind up being so many questions that some of them need to be answered in Ant-Man And The Wasp. For example, what has been up with his ex-wife (Judy Greer) and daughter, Cassie (Abby Ryder Fortson)?
Hope Van Dyne
Hope Van Dyne was originally written to have a role in Joe and Anthony Russo's Captain America: Civil War, but actress Evangeline Lily's pregnancy at the time of production wound up making this a bit impossible. As a result, we've had to wait for her to start flying around while the size of deadly bee -- but, no matter what, we expect our patience to be rewarded in the summer of 2018. Hope is also sitting out Avengers: Infinity War so as not to draw attention away from her big superhero debut in Ant-Man and the Wasp. From the trailer we know that we'll be treated to Hope's standard Wasp incredible shrinking abilities, and see that she'll also some nice offensive weapons to help fight baddies in addition to the hand to hand combat skills she showed off in the first film. What we don't know yet is how long she's been acting as The Wasp (if at all) since the original film.
Hank Pym
It looked like Hank Pym (Michael Douglas) might have been a goner in the third act of Ant-Man -- having been shot trying to save his daughter, Hope -- but that proved not to be the case. Instead, he revealed that the tank he keeps in his pocket is no ordinary key chain, and with the use of some Pym Particles he and his daughter rode the military vehicle to safety and medical care.
Of course, the end of Ant-Man also saw the destruction of Hank Pym's famed company, Pym Technologies, but we now know, thanks to the trailer, that he was able to continue his work courtesy of the building that he can shrink into what is essentially carry-on luggage. Even though Hank and his daughter had to go on the run because of their association with Scott, he continued to work with both of them to help them with their costumed hero work. It was, after all, confirmed in Captain America: Civil War that he had been working with Scott on the whole "Giant Man" trick.
Janet Van Dyne
Going into San Diego Comic-Con 2017, one of the biggest bits of news that could have been revealed was whether or not we'd actually see more than a costumed glimpse of Janet Van Dyne when Ant-Man And The Wasp hits theaters. Well, Marvel did not disappoint fans when they announced that we would, in fact, be treated to a storyline that somehow included the first Wasp. It was revealed that Michelle Pfeiffer had been cast as Hope's mother, meaning that we can likely expect to see some major scenes from her in the film.
We've mentioned Janet Van Dyne a few times now, but this is where we will really dig into the details of who she is. While not actually a spy herself, Janet was Hank Pym's wife and partner during his S.H.I.E.L.D. spy days, and worked with him wearing a special flying shrinking suit. During one particular mission, she and Hank found themselves desperate to stop a launched missile, and Janet sacrificed herself by shrinking too far and entering the Quantum Realm (you can read our full explainer of that dimension HERE). She's been there for decades, but if a rescue narrative plays out in Ant-Man And The Wasp, that may be what results in her return.
Of course, there's no way to know right now if a rescue mission will be what brings Michelle Pfeiffer's Janet to the sequel. It's possible that we could only see her as a figment of Hank or Hope's imagination. But, considering how important the character is to their history and the history of the tech that they and Scott use, it's a lot more likely that an attempt will be made to free her from the Quantum Realm. Right now, we'll just have to wait and see what Ant-Man And The Wasp has in store for her.
Luis & The Gang
The promise of every Marvel solo film is not just the return of a titular hero, but also the return of specific ensembles of supporting cast members. In the case of Ant-Man, this means the big screen return of Luis (Michael Pena), Dave (Tip 'T.I.' Harris) and Kurt (David Dastmalchian). All three of them operate as Scott Lang's thieving partners in crime, and we suspect that they will be given at least one big job to do in Ant-Man And The Wasp.
As is the case in all classic cinematic heist gangs, each member has their own specific job on any given gig. Luis is the man with the plan, always knowing somebody who knows somebody who has a line or a possible mark. Kurt is an expert with computers, able to remotely hack systems and help the man on the inside. And Dave is the reliable wheel-man, who, unfortunately, has to sometimes drive Luis' ratty van around. Together they provided some of the comedic highlights of the first Ant-Man, and we fully expect them to do the same in Ant-Man And The Wasp.
Maggie Lang
In case you were wondering if we'd see Scott's family again, it's been confirmed that Judy Greer is returning as his ex-wife, Maggie, and Abby Ryder Forston will reprise his daughter, Cassie. Maggie will likely be aware of how much trouble Scott has been in, seeing as how we see him with his daughter in the trailer, and also as he gets fitted with an ankle monitor so the authorities can track him. You can bet Maggie will be wary of any open attempts Scott makes to see their daughter, but it looks like she'll be sympathetic enough to let him continue to have a part in Cassie's life, even if it is limited.
The Newcomers
Everybody loves a sequel because it means the returns of characters that audiences fell in love with -- but they're also great because it provides opportunity to introduce some fresh faces to the mix. This is most definitely true when it comes to Marvel movies, as there are thousands of characters from the comics just waiting to be brought to life for the first time. We don't yet know how many we can ultimately expect to appear in Ant-Man And The Wasp, but news out of SDCC 2017 did reveal a few key new players outside of Janet Van Dyne.
Hannah John-Kamen, whose credits include the series Killjoys, as well as episodes of Black Mirror and Game of Thrones, has signed on to be in the Marvel blockbuster as Ghost. In the comics, Ghost is an industrial saboteur for hire who wears a suit of his own design which allows him to become intangible so that he can phase through things, which is a skill the film seems to have kept. As you've probably noticed, the comic book version of Ghost is also male, so clearly Ant-Man And The Wasp is going to reimagine the character a bit. The comic character has also never had his secret identity revealed even though he's been around for 30 years, so it'll be interesting to see if this Ghost has a name or history that we find out about during the course of the film.
Laurence Fishburne
Laurence Fishburne has also joined the cast as Bill Foster, a scientist who would come to be known as the superhero Goliath. In the comics, Foster worked with Hank Pym, and created his own version of Pym's growth formula which led to him using it to become Goliath. Since we've seen Scott use Pym's suit to grow in size in Captain America: Civil War, it's possible that Ant-Man And The Wasp will see Foster show up to lend some assistance with this new found ability. I have to admit, though, that it would be a shame if we didn't also get to see Laurence Fishburne suit up as Goliath, even if it's only temporary. Along with Ant-Man and the Wasp, Fishburne also has another Marvel project in the works, though he hasn't provided any details about it yet, including whether or not it will involve Bill Foster.
Randall Park
Joining in on the fun in the new film as longtime S.H.I.E.L.D. agent Jimmy Woo is Randall Park (Fresh Off the Boat, Veep). In the comics, the former FBI agent specialized in infiltration and information gathering, making him a great asset for covert operations. He's also known for helping take down Godzilla by using Pym Particles to shrink the beast, which worked as a temporary fix. While we don't know exactly what Park's Jimmy Woo will be doing in Ant-Man And The Wasp just yet, it's unlikely that we'll see him fight Godzilla. That would be cool, though, wouldn't it?
Walton Goggins
Some pleasantly surprising casting news came down when we found out that Justified, Vice Principals and The Hateful Eight actor Walton Goggins was joining Ant-Man And The Wasp as Sonny Burch. The character is chairman of Cross Technologies in the comics, and since Ant-Man saw Darren Cross (also known as the first film's big bad, Yellowjacket) die, Burch is likely trying to run the company in his stead. Seeing as how Burch is a bad guy in the comics, we can probably count on his desire to win at business leading to some questionable decisions that put lives in danger.
A big part of creating this guide is to keep up with new casting announcements, so keep checking back to this page as more news comes in about Ant-Man And The Wasp.
Your Daily Blend of Entertainment News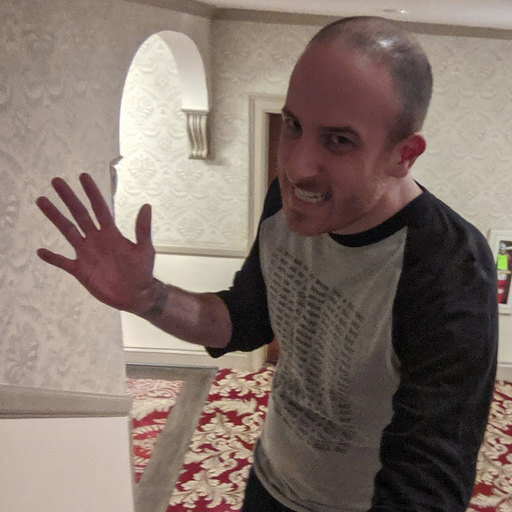 Assistant Managing Editor
NJ native who calls LA home and lives in a Dreamatorium. A decade-plus CinemaBlend veteran who is endlessly enthusiastic about the career he's dreamt of since seventh grade.