All Of The Female Superheroes Who Are Getting Movies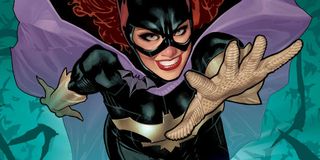 Now that Patty Jenkins' Wonder Woman has debuted in theaters, the game has officially changed. Female-driven superhero movies are now a proven commodity, and Gal Gadot's portrayal of Diana Prince will undoubtedly have a massive impact on the comic book movie genre for years to come. Wonder Woman is the first major superhero film led by a woman, but it definitely won't be the last. We've gone through every major cinematic universe and compiled a list of the upcoming comic book films that will center on classic female characters. On that note, let's dive in and see what's on the horizon for these ass-kicking ladies. (And go here for 12 female superheroes who need their own movies, soon!)
Captain Marvel
The Marvel Cinematic Universe already has a number of female heroes who could easily headline a movie, but as of right now Captain Marvel is the only female-fronted MCU film confirmed for the Phase 3 slate. Captain Marvel will feature Brie Larson as Carol Danvers, and the project recently locked down Anna Boden and Ryan Fleck to direct the project. Captain Marvel in many ways feels like the Marvel Cinematic Universe equivalent of the DCEU's Wonder Woman. As the first woman-centric superhero in this particular universe, the MCU now finds itself in somewhat uncharted territory, and the success (or lack of success) of this film will likely play a massive role in how Marvel chooses to develop future projects.
Release Date: March 8, 2019
Batgirl
The DCEU's Bat Family is about to get considerably larger when the Nightwing movie and solo Batman film finally debut, but it's Barbara Gordon who will get the first shot at silver screen glory. Joss Whedon is currently in the process of developing the upcoming Batgirl solo movie, and it seems like his next priority after the Justice League reshoots. Although details about a specific release date for the project remain scarce (at best) at this point, recent rumors have hinted that Warner Bros. generally expects Batgirl to be one of its next films to debut after the release of Aquaman in December 2018 -- along with Justice League Dark. As of right now, however, the biggest question on everyone's mind is: who will play Babs?
Release Date: N/A
Gotham City Sirens
Following the positive reception to Margot Robbie's Harley Quinn in David Ayer's Suicide Squad, DC and Warner Bros. decided to double down on that success by developing a Gotham City Sirens movie. Although very few details related to the film's production schedule and release date have been released yet, we do know that Ayer will once again step behind the camera for this project, with Robbie returning as Harley Quinn to lead the Sirens against the more heroic Birds of Prey team of vigilantes. Sirens is expected to debut after Batgirl, so the film will likely boil down to an ideological battle between Harleen Quinzel and Barbara Gordon as they lead two distinct teams of classic DC characters.
Release Date: N/A
Wonder Woman 2
Unlike many of the projects on this list, Wonder Woman 2 hasn't received an official announcement from the folks at DC or Warner Bros. yet. However, ideas for potential stories, characters, and settings have been consistently suggested by some key Wonder Woman insiders, and the immense critical and commercial success of the first film makes a sequel a no-brainer. Gal Gadot's DC contract has specific provisions for a sequel, and DC is expected to bring Patty Jenkins to the bargaining table to discuss her involvement in Wonder Woman 2 once the fervor of the first film has died down. Considering what she managed to pull off the first time around, we have a feeling that her asking price just went up.
Release Date: N/A
X-23
Technically no real plans have been established for an X-23 movie starring Dafne Keen as the titular child mutant. However, people involved in the production of Logan have made no secret of the fact that they wish to bring her back for another outing. Based upon comments made by Logan's producers, it sounds like the primary desire is to craft stories around Laura (effectively making her the new Wolverine) rather than introduce her to the proper X-Men continuity. Keen's young age will make it easier for the X-Men folks to put this project on the backburner for the foreseeable future, but wouldn't be surprised to see Laura hack and slash her way into a solo film within the next few years.
Release Date: N/A
Your Daily Blend of Entertainment News
Originally from Connecticut, Conner grew up in San Diego and graduated from Chapman University in 2014. He now lives in Los Angeles working in and around the entertainment industry and can mostly be found binging horror movies and chugging coffee.