Should Zack Snyder Return To Justice League?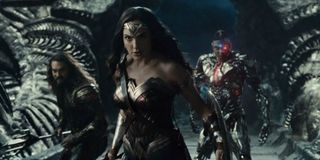 Behind the scenes, Justice League's production has arguably become just as fascinating as the movie itself. The film has gone through numerous shifts in the face of the DCEU's creative overhaul (plus some unforeseen personal tragedies), but now it seems that the changes may not be over just yet. Even with the film nearing completion, new rumors have suggested that Zack Snyder could return to finish what he started. Now only two questions remain: how credible are these rumors, and should Snyder return at all?
The story in question posits that, while Zack Snyder stepped down from Justice League earlier this year following his daughter's suicide, he may, in fact, return to the project to put the finishing touches on the movie. As many of you already know, Snyder was replaced by Joss Whedon as the Justice League director earlier this summer (though Snyder is reportedly still getting full credit), and WB allegedly has shelled out a small fortune to retool the entire film. However, if this rumor turns out to be true, then Snyder will return to carry the film across the finish line and become the man at the helm as the promo campaign kicks into high gear.
It's tough to make heads or tails of this Reddit-based rumor, but my first inclination is to approach the scale of his involvement with a healthy dose of skepticism. First of all, Justice League comes out on November 17, which means Joss Whedon doesn't have much time to put the finishing touches on the final cut of the film. After all, Warner Bros. cannot afford more creative pivots if Zack Snyder returns to the project. Beyond that, a huge fuss has already been made about the tonal and narrative shifts that have taken place in Snyder's absence. With Joss Whedon's cut of Justice League aiming for a lighter tone and a non-cliffhanger ending, there's a certain sense that it's not Snyder's baby anymore -- even if he remains the credited director. If Snyder returns, it could be more to give interviews and put on a good face than to actually direct the film.
Furthermore, it's also worth remembering that Zack Snyder and the DCEU have already started to go their separate ways. Following his departure from Justice League, multiple reports suggested that the Snyders (Zack and Deborah) would take significantly reduced roles in the future of this franchise. From there, newcomers like The Batman's Matt Reeves, Wonder Woman's Patty Jenkins (who reportedly is about to sign on for Wonder Woman 2), and Joss Whedon (who also is about to take on Batgirl) have stepped up to take over future solo movies on the DC slate.
Then again, nothing about the DCEU has fit the traditional franchise mold since its inception. Justice League's production has overcome some fairly unprecedented hurdles in the grand scheme of superhero filmmaking, so there's no telling what could happen between now and November 17. Conventional wisdom seems to dictate that Zack Snyder likely won't hold much influence over a project this close to completion and release, but we also can't presume to know what to expect from this universe anymore.
For now, Joss Whedon remains the current director at the helm of Justice League, but we will have to wait and see whether or not that changes. The film hits theaters later this year on November 17.
This poll is no longer available.
Your Daily Blend of Entertainment News
Originally from Connecticut, Conner grew up in San Diego and graduated from Chapman University in 2014. He now lives in Los Angeles working in and around the entertainment industry and can mostly be found binging horror movies and chugging coffee.
Your Daily Blend of Entertainment News
Thank you for signing up to CinemaBlend. You will receive a verification email shortly.
There was a problem. Please refresh the page and try again.