How Wonder Woman's Boobs Could Have Been More Accurate, According To Gal Gadot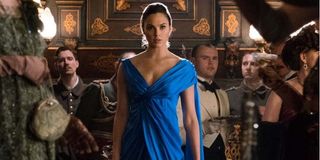 We spent a lot of time talking about Gal Gadot's boobs in relation to the Wonder Woman character prior to the release of Patty Jenkins' dynamic film. This happened because there were myriad opinions about what Wonder Woman--a typically busty comics character--should look like on the big screen. Some thought Wonder Woman should fit her comics counterpart, meaning Gadot wasn't busty enough for the gig. Some believed that the actress made the character and not the other way around. But Gal Gadot has some thoughts about the great boob debate of 2017, and it may be an opinion you haven't considered. She said:
If you look back in time, before the Warner Bros. and DC movie and even before Wonder Woman was introduced into the world of comics, the myth of the Amazons was very much alive. The Greeks believed the Amazons were the daughters of Ares and Harmonia, named Amazons because the etymology of the word referred to one breast. Reportedly, the name indicates their other breasts were cut off or maybe even burnt off. Still, plenty of artwork from the time period contradicts this and simply shows women with one breast covered.
Before this article gets too historical, I think the point Gal Gadot was trying to make in her interview with Rolling Stone is that the movie wasn't going to be the same as the comics just like the comics aren't the same as the ancient myths and so on and so forth. There are probably a lot of like-minded people out there who really didn't give a hoot about what Gal Gadot's rack looked like on the big screen. Still, there are plenty of people out there who have presented the argument on our site and elsewhere that Wonder Woman should look like this:
Because of this, Gal Gadot's thoughts on the matter are still important to point out, although we daresay we thought it was funnier when she was singing about her chest. As for that other Wonder Woman, above, Lynda Carter has also been quite open about the superheroine's boobs, noting that boobs are a fact of life, and that they don't define who a character is.
Wonder Woman 2 has already been announced, and now that Gal Gadot has proven herself to be a rather vivid and memorable superhero, maybe we can lays this breast conversation to rest at last. As much as I enjoy the sophomoric nature of typing the word "boobs" out like 10 times in an article, hopefully this conversation will have pretty much played out before the next movie hits theaters. To see what other movies DC has coming up, head here.
Amazing Race & Top Chef superfan with a pinch of Disney fairy dust thrown in. If you've created a rom-com I've probably watched it.
Your Daily Blend of Entertainment News
Thank you for signing up to CinemaBlend. You will receive a verification email shortly.
There was a problem. Please refresh the page and try again.