How We'll Be Able To Find Out More About 15 New Star Wars: The Last Jedi Characters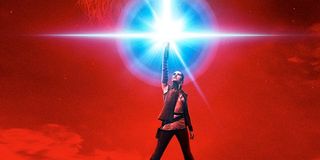 While details regarding this December's hugely anticipated Star Wars: The Last Jedi have been few and far between, next week could open the floodgates. Anticipated by fans for some time, Force Friday II has been officially announced today by Disney and Lucasfilm for September 1st. The date will not only see the first Last Jedi merchandise go on sale, but will mark the launch of a worldwide augmented reality event that will introduce 15 characters from a galaxy far, far away.
Dubbed "Find the Force," the Star Wars: The Last Jedi event operates through the official Star Wars App. When Force Friday hits next week, the app will transform into a virtual scavenger hunt. When fans visit any one of 20,000 participating retailers, they will be able to scan a special graphic that will then reveal one of 15 characters. The characters will actually appear on devices via augmented reality and Star Wars fans will be able to take photos and video of whoever it is they uncover. All 15 characters won't be available on the first day, but will instead be revealed periodically throughout the weekend. You can see how it works in the video below:
While the official Force Friday II festivities won't begin until next week, the scavenger hunt is already available to try out in the Star Wars app. You won't be able to uncover any of the new characters yet, but fans anxious for a Porg hunt should have no trouble uncovering a few of the franchise's adorable new stars.
Oddly enough, Force Friday II marks the third straight year for the annual event. Last year, a similar release day was dubbed Rogue Friday in support of the big screen release of Rogue One: A Star Wars Story. Previous years have debuted some fun new products, including Sphero's popular app controlled BB-8. Among the toy highlights going on sale at this year's event is a Furby-like interactive Porg.
While the arrival of Force Friday II is an exciting reminder that the Rian Johnson helmed latest chapter in the Star Wars saga is nearly upon us, Force Friday has not always been the most organized event. Despite celebratory midnight openings at stores like Toys R Us and Target, distribution problems meant that every store didn't get every item and fans have spent a lot of time in line hoping to get items that were not available. Here's hoping this year is different. It should already be a whole lot more fun with the Find the Force app in play, especially since the new characters will be rolling out over several days. It will be interesting to see if some of those characters are more difficult to find than others and how quickly fans are able to track them all down.
Then again, Star Wars fans are a devoted breed and an interactive Porg may be just what it takes to melt the heart (and wallet) of even the most cynical collector.
Your Daily Blend of Entertainment News
Thank you for signing up to CinemaBlend. You will receive a verification email shortly.
There was a problem. Please refresh the page and try again.