How Watching The Rock's San Andreas Saved A Little Boy From Drowning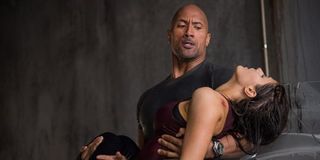 The Rock has been known for heroics in his many high-octane, action-oriented movies. Recently, his onscreen heroics actually seem to have saved a young boy's life. In Detroit, a 10-year-old boy was able to save his brother from drowning thanks to some handy tips he learned while watching Dwayne Johnson save the day in the 2015 disaster film San Andreas.
Last month, a two-year-old boy named Dylan was curious and figured out how to open the screen door at his grandmother's house. The boy's grandmother has a pool in the yard and Dylan fell trap to it, falling under the water for more than a minute. Luckily, his brother Jacob O'Conner noticed him missing rather quickly and jumped into action, pulling Dylan from the water and starting compressions on his brother to get him breathing again. Jacob told WXYZ Detroit that he wouldn't have known how to do it if it wasn't for San Andreas. Jacob says he learned this from watching The Rock's movie.
In San Andreas, Dwayne Johnson is tasked with saving lives after a huge earthquake hits, causing all kinds of secondary damage, including a tsunami that rushes through cities, causing water to leak into even tall buildings. In the flick, his daughter gets stuck in a building that is quickly flooding and through a series of circumstances, Johnson's character and that characters ex-wife happen upon the scene in just the nick of time. Jacob watched this scene, during which Johnson performs CPR and it stuck with him.
Dylan ended up heading to the hospital, where his family says things were tense for a while and they weren't totally sure right away if he would fully recover after the time he had spent in the pool. Luckily, according to reports, he was only hospitalized for a day. Despite almost drowning, upon being released, his family says he simply wanted to get right back into the pool. The young man certainly doesn't scare easily.
After this story started to go viral, Dwayne Johnson himself caught wind of what happened in Detroit. The actor took to social media to share his thoughts about what happened, noting on Twitter,
It's not often that someone learns something so practical from the movies, but in this case, Dylan and his family are likely very grateful that young Jacob was paying attention when he saw San Andreas. Being a real-life hero is way cooler than just playing one in the movies.
Amazing Race & Top Chef superfan with a pinch of Disney fairy dust thrown in. If you've created a rom-com I've probably watched it.
Your Daily Blend of Entertainment News
Thank you for signing up to CinemaBlend. You will receive a verification email shortly.
There was a problem. Please refresh the page and try again.