Why Thor: Ragnarok's Hela Is Different From Other Marvel Villains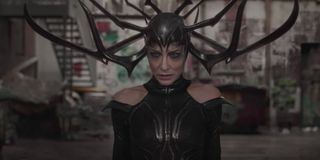 With Thor: Ragnarok debuting in theaters this November, we are about to see a massive change in the world of MCU villains. Cate Blanchett's Hela is the first ever female villain in a Marvel Cinematic Universe adventure, and if sources close to the film are anything to go by, she's going to be one of the most memorable. In fact, director Taika Waititi sat down with CinemaBlend and other outlets during a set visit last year and explained that Hela's complexities are going to help her stand out compared to other Marvel baddies. The director said:
So, we can officially look forward to a Thor villain who has more on her mind than wanton destruction and chaos. Sure, those are perks of the job, but it sounds like Hela is looking for more than power when she returns to Asgard to wreak havoc. Based upon everything seen on the set of the film, the core crux of this argument seems to be that she has a very personal gripe against Odin and Asgard, and it will be something that audiences can empathize with in the film.
It's also worth mentioning that Taika Waititi's remark sounds like a direct reference to the last solo Thor movie. Thor: The Dark World has become regarded by some fans as the worst entry in the silver screen Marvel Cinematic Universe, and some of that has to do with the use of Malekith the Accursed as the film's villain. Although Malekith and his Dark Elves were certainly good to look at, he was more of a zealot with in his quest to obtain the Aether -- which we eventually learned was an Infinity Stone. By contrast, Hela has more nuanced reasons for going after Thor, and those reasons should help her to be a more compelling villain in the long run.
This positive sentiment about Hela was further emphasized by Valkryie actress Tessa Thompson, who noted how Thor: Ragnarok (like Captain America: Civil War) is about deeper issues than a simple fight between good and evil in the way it treats its villain. According to the actress,
Of course, the added layers of character to Hela's personality don't answer one other vital question about the character: is she a stand-in for Lady Death? Given the fact that Thanos historically courts Death in the Infinity War arc, and considering his arrival on Earth in next year's The Avengers: Infinity War, some fans have begun to theorize as to whether or not Cate Blanchett's role in the Marvel Cinematic Universe is far greater than anything we ever anticipated.
Check out the San Diego Comic-Con trailer for Thor: Ragnarok below to get a closer look at Hela and her (yet endlessly awesome) evil ways!
Cate Blanchett's Hela will make her grand debut in the Marvel Cinematic Universe when Thor: Ragnarok debuts in theaters this fall on November 3, 2017. Looking ahead to the future, Thor will reunite with Earth's mightiest heroes when The Avengers: Infinity War debuts in theaters on May 4, 2018.
With anticipation for Thor: Ragnarok officially ramping up, Marvel Studios has released some fantastic new character posters the accompany the film. Take a good, hard look at them, below.
Image 1 of 7
Your Daily Blend of Entertainment News
Originally from Connecticut, Conner grew up in San Diego and graduated from Chapman University in 2014. He now lives in Los Angeles working in and around the entertainment industry and can mostly be found binging horror movies and chugging coffee.