All The Big Budget Movies Left To Look Forward To In 2017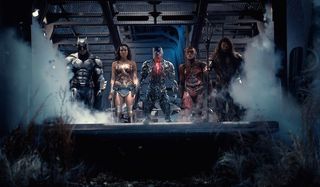 The summer movie season is behind us, and now we enter into the final months of 2017 and the remaining theatrical offerings. For this weekend, the only major release that's in the public consciousness is IT, which has earned excellent reviews and is projected to be the biggest opening September release of all time. However, moviegoers won't have to wait long for more major motion pictures to follow, and looking ahead, the rest of the year is going to be a doozy.
With that in mind, we've gathered together all the big budget releases to look forward to for the rest of 2017, in order of when they will arrive. Make no mistake, there will be plenty of other movies you'll be able to enjoy during this time, but the following entries are the most prominent of the bunch.
Kingsman: The Golden Circle
Release Date: September 22
Blending over-the-top spy action with black comedy, Kingsman: The Secret Service was a fun comic book movie hit that took the core elements of Mark Millar and Dave Gibbons' original comic book series and put a unique spin on them. Its sequel, Kingsman: The Golden Circle, will see Eggsy and his allies traveling to the United States to team up with Kingsman's American counterpart, Statesman, after Kingsman's headquarters is destroyed. Working alongside familiar faces like Merlin and a surprisingly-still-alive Harry Hart, as well as new characters like Tequila and Chap, Eggsy will battle the criminal mastermind Poppy, one of the top members of the Golden Circle organization.
The LEGO Ninjago Movie
Release Date: September 22
As evidenced by the success of 2014's The LEGO Movie and The LEGO Batman Movie earlier this year, Warner Bros made a wise decision bring this brick-constructed animation to the big screen. Next up in the LEGO movie series is The LEGO Ninjago Movie, which is based off an original LEGO property that's already enjoyed popularity as a Cartoon Network TV series. For many moviegoers, this will be their first experience with the Ninjago characters, but judging by the previews, they can look forward to the same blocky action and humor its predecessors had. Oh, and while the main conflict in The LEGO Ninjago Movie will be between the benevolent team of ninjas and Lord Garmadon, at one point the heroes will have to battle a cat. Seriously. Not a LEGO cat, a regular house cat.
Blade Runner 2049
Release Date: October 6
It's been 35 years since the original Blade Runner was released, and if you think things have changed a lot in the real world since the '80s, just look at what's happened to this fictional, Replicant-packed version of Earth from 2019 to 2049. Instead of Ridley Scott returning to direct the sequel, the helming duties were passed to Arrival's Denis Villeneuve. Blade Runner 2049 will see Ryan Gosling's character K, an LAPD officer, stumbling across a dark secret that eventually leads him to cross paths with Harrison Ford's Rick Deckard, who disappeared after the events of Blade Runner. The sequel is primarily packed with new faces, like Jared Leto's Niander Wallace and Robin Wright's Lieutenant Joshi, although accompanying Ford's Deckard as a returning Blade Runner character is Edward James Olmos' Gaff.
Geostorm
Release Date: October 20
If you're a fan of movies involving the near-destruction of Earth like Independence Day and The Day After Tomorrow, October will be a great month for you. Dean Devlin, best known as Roland Emmerich's producing partner, is making his directorial debut with Geostorm. Set in the near-future when satellites control the climate, someone has sabotaged the satellite network to start attacking Earth with natural disasters. Gerard Butler's Jake Lawson and his team must work quickly to shut down the satellites before the entire planet is consumed by the giant geostorms, and the only to do that is to obtain the kill codes that the President of the United States has. So we have a save-the-world mission and a kidnap-the-president caper blended into one story. This should be interesting.
Thor: Ragnarok
Release Date: November 3
It's been four years since Thor led his own Marvel Cinematic Universe solo adventure, though we haven't been completely out of contact with the God of Thunder thanks to Avengers: Age of Ultron and his cameo in Doctor Strange. Thor: Ragnarok will dive back into the Asgardian corner of the MCU by following Thor attempting to stop Hela, the goddess of death, and her allies from unleashing the apocalyptic event known as Ragnarok. But the threequel is also taking a cue from the Guardians of the Galaxy movies and adding more cosmic flair by stranding Thor on the gladiator planet Sakaar, where he'll reunite with his work friend Hulk and meet Valkyrie. Thor: Ragnarok looks like it could be the craziest Thor movie yet, and that's definitely a good thing.
Murder On The Orient Express
Release Date: November 10
Agatha Christie's Murder on the Orient Express is considered one of the finest mystery novels of the 20th century, and it's already enjoyed more than 40 years of cinematic fame thanks to the movie directed by Sidney Lumet. Now Kenneth Branagh is putting his own spin on the train-based tale as both the director and by playing detective Hercule Poriot. Featuring a star-studded cast that includes Johnny Depp, Michelle Pfeiffer, Judi Dench, Josh Gad, Daisy Ridley and Willem Dafoe, among others, the Murder on the Orient Express remake looks like it will remain a largely faithful re-telling, but as with any adaptation, it will take its own creative liberties to better ensure it will appeal to contemporary audiences.
Justice League
Release Date: November 17
After four years and just as many movies, the DC Extended Universe is releasing its biggest entry yet with Justice League. Following months after the explosive events of Batman v Superman: Dawn of Justice, DC's superhero team-up movie will see Batman, Wonder Woman, Aquaman, The Flash and Cyborg joining forces to stop Steppenwolf and his Parademon army from retrieving the three Mother Boxes and laying waste to Earth. On top of that, Superman will also somehow be resurrected, though his role in the movie is still shrouded in mystery. This is without question the biggest DCEU movie yet, and while the franchise is already set to continue with the likes of Aquaman, Shazam and more, here's hoping that Justice League delivers as an epic event that fans have been waiting years to see.
Coco
Release Date: November 22
Pixar has always been good about coming up with weird ideas, from showing a world populated by talking cars to personifying emotions. The studio's latest release, Coco, is continuing this trend by exploring the Day of the Dead holiday. In defiance of his family's decades-long ban on music, a young boy named Miguel aspires to be a world-famous musician, like his idol, Ernesto de la Cruz. But Miguel's life takes a turn for the bizarre when he and his dog accidentally find themselves trapped in the Land of the Dead, where they'll meet the trickster known as Hector and learn the real story about Miguel's family history. If the Coco trailers are any indication, Pixar once again has another movie that will appeal to audiences of all ages.
Star Wars: The Last Jedi
Release Date: December 15
It's been nearly two full years since Star Wars: The Force Awakens was released, and while Lucasfilm fortunately kept our Star Wars movie appetites whetted with Rogue One, The Last Jedi will finally reunite us with Rey, Finn, Poe Dameron and the rest of the sequel trilogy gang. As is traditionally the case with Star Wars movies, Disney and Lucasfilm have been careful not to disclose too many plot details about The Last Jedi, but what has been revealed so far sounds intriguing, from Rey training under Luke Skywalker on Ahch-To to Finn being sent on a special mission for The Resistance. Like its immediate two predecessors, you can count on The Last Jedi being the biggest movie of the winter.
Jumanji: Welcome To The Jungle
Release Date: December 20
Originally believed to be a reboot of the original Jumanji movie, Welcome to the Jungle actually serves as a sequel to the 1995 movie. However, rather than a board game being responsible for the unleashed chaos, this time around it's a video game. Even weirder, the four high school students who find themselves trapped in the game have become the avatars they selected beforehand. It's fortunate that Welcome to the Jungle chose to use its own twist rather than completely rehash the original Jumanji concept, and if all goes well, it will be a fun combination of action and humor.
The Greatest Showman
Release Date: December 25
Months after concluding his tenure as Wolverine earlier this year with Logan, Hugh Jackman is helping close out 2017 by playing PT Barnum in The Greatest Showman. This musical biopic will follow how Barnum started his famous circus and gathered its talented performers using show-stopping tunes and elaborate dance numbers. Jackman's Greatest Showman costars include Zac Efron, Zendaya, Rebecca Ferguson and Michelle Williams, and the movie is arriving eight years after it began development. So if you've been itching to see a new theatrical musical, you'll get your wish right before the year is over.