This Rotten Week: Predicting American Assassin And mother! Reviews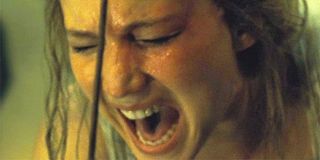 This week have two movies so wildly different from each other that it's almost like they shouldn't even be featured in the same article. But I don't make the release calendar, and few people make stuff as weird as Darren Aronofsky anyway. Get ready for American Assassin and mother!
Just remember, I'm not reviewing these movies, but rather predicting where they'll end up on the Tomatometer. Let's take a look at This Rotten Week has to offer.
Um, what? Man, the trailer for Darren Aronofsky's mother! was tough for me to get through, and not because it made the movie looked bad. It's mostly because it's such a weird mind-fuck. Aronofsky already has multiple movies on his resume that may make you physically ill - Pi (87%), Requiem for a Dream (78%) - and his latest looks like it might have the same psychological effect. It appears part horror movie, part thriller, and 100% sure to make you squirm in your seat.
Aronofsky has an impressive resume when it comes to critical reaction, with other movies like The Wrestler (98%) and Black Swan (87%) providing very different watching experiences. The dude has range. Mother! has a fantastic cast (led by Jennifer Lawrence and Javier Bardem), and is sitting at 78% through 40 reviews. While it's scoring pretty positive, the critics who didn't like it, hated it. It's polarizing nature makes me think the score will drop significantly once more eyeballs see it.
It's hard to not be a sucker for these kinds of Jason Bourne-esque, super soldier assassin movies, sporting a ramped-up pulse and a few emotional storylines. When done well, they make the best kind of weekday cable viewing. That being said,"if done well" is a key phrase here, because they also can be a dime a dozen and stink. But American Assassin looks pretty darn good.
Based on the novel of the same name, American Assassin follows Mitch Rapp as he's recruited by the C.I.A. and trained by Michael Keaton's character to get better at killing. It's farfetched, but who really cares with this genre? Director Michael Cuesta has some critical success on his resume with Kill The Messenger (77%) and Roadie (67%) both scoring well with critics. This one probably has a little too much boom-boom to really crush the Tomatometer, but should score above 50%.
We went one for two on the Rotten Watch last time around, starting with a close call for IT (Predicted: 76% Actual: 86%). The remake of the Stephen King horror classic has been a big hit with critics, crushing the box office and making crowds across the country nearly lose control of their bodily fluids out of fear. That's a horror trifecta! It's difficult enough pulling off just one of those categories for any genre movie. For a scary flick to get there it needs to be really damn good. And IT, driven by the terrifying Pennywise, checks all the boxes.
Meanwhile, Home Again (Predicted: 50% Actual: 35%) was a miss, and I really don't know what I was thinking with this prediction. I basically ragged on the movie for my whole write up, and still scored it right at the middle. What a mistake. It looked like just your typical Hollywood romantic drama drivel with an inane premise and a boring trailer.
Next time around we've got Friend Request, Kingsman: The Golden Circle and The LEGO Ninjago Movie. It's gonna be a Rotten Week!
Doug began writing for CinemaBlend back when Terminator: The Sarah Connor Chronicles actually existed. Since then he's been writing This Rotten Week, predicting RottenTomatoes scores for movies you don't even remember for the better part of a decade. He can be found re-watching The Office for the infinity time.