The Best Disney Movies On Netflix Right Now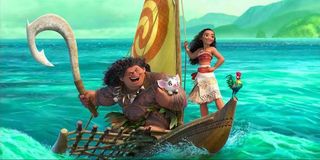 Netflix junkies (and probably Netflix itself) were rocked by the news that Disney is terminating its business with the streaming service. The Mouse House is taking off all of their movies and TV shows from Netflix and will be creating its own streaming platform which will be the exclusive home to its massive library of content. Come 2019, Netflix subscribers won't have access to any Disney titles, including those of Pixar, Marvel, and Star Wars. 2019 is still far off, so take this time now to treasure what we've got and binge your way through the best Disney movies still on Netflix.
Netflix still has a wide variety of Disney titles that would please lots of different fans. A casual search will lead to animated 90s classics, modern day hits, blockbuster favorites, and crummy direct-to-DVD sequels as far as the eye can see. So enjoy not needing to buy another monthly subscription for just a little longer by checking out the best Disney movies Netflix currently has to offer.
Zootopia
The fourth-highest grossing film of 2016, Zootopia was both a critical and commercial success for Disney. The movie was something of a spiritual throwback to the studio's talking animal-centric classics, but with a modern spin and a relevant message. The film follows the first bunny police officer of Zootopia as she teams up with a con man fox to uncover the disappearance of a key animal. The main draw of Zootopia is the city itself, a clever look at what a city run by animals would be like and a fun world that audiences would love to explore. Plus, gotta love that sloth scene!
Mulan
Mulan came out in a weird period for Disney Animation. It's not prime Disney Renaissance (from The Little Mermaid to The Lion King) but it's leagues better than most of the films that would soon come after thanks to its music, themes, and funny side characters. Mulan continued a growing trend at Disney of creating well-rounded female characters concerned with bigger things than finding a prince. Mulan's struggle to protect her father by taking his place in a war was a far cry from some of Disney's more popular princesses. She saved all of China! There's a reason that Mulan is next up to get a live-action movie.
Rogue One: A Star Wars Story
Likely to be the only Star Wars movie on Netflix, subscribers better get their fill of Rogue One while they can. The movie was Lucasfilm's first foray into expanding their slate of Star Wars films, to great commercial success. Audiences packed in to see the grubby band of Rebels go on a last ditch mission to weaken the Empire. While the film is by no means perfect, with character and plot issues, it deserves respect for what it tried to do and finally giving Darth Vader a killer action scene.
Moana
Moana may not have set the world on fire as much as Frozen did, but it was still a Disney movie that delivered the goods. All the Disney standards are here: catchy songs (it never hurts to have Lin-Manuel Miranda in your corner); great protagonist; imaginative world; and an animal sidekick. The movie also gets major points for shining a light on Polynesian culture and mythology, something rarely explored in movies. Of course, the cherry on top was finally casting The Rock as the god we all know him to be. You're welcome!
Doctor Strange
The fourteenth film in the MCU, Doctor Strange had the responsibility of introducing the title character and his crazy world of spells and alternate dimensions. While Doctor Strange is filled with lofty exposition trying to explain the rules of this character's magic, the movie is still solid Marvel entertainment. Benedict Cumberbatch proves a worthy addition to the MCU, but the real star of the show is the mind-bending use of special effects to show a multiverse of wonders.
The Jungle Book
This smash hit pretty much solidified Disney's plan to remake their classic animations into live action. Grossing over $966 million, the film became the fifth highest-grossing movie of 2016 -- a very good year for Disney. Incorporating some of the most advanced CGI technology ever, The Jungle Book effortlessly transports viewers to the jungle, barely noticing the fact that young Neel Sethi is the only living creature in the entire movie. You just can't beat this movie's cast either, which includes Bill Murray, Ben Kingsley, Idris Elba, Lupita Nyong'o, Scarlett Johansson, Giancarlo Esposito, and Christopher Walken.
The Nightmare Before Christmas
Without The Nightmare Before Christmas, Hot Topic would have gone out of business by now. This beloved Christmas/Halloween classic has a legion of fans, and for good reason. The movie is rich with imagination and has a great concept: The king of Halloween takes over Christmas. The Nightmare Before Christmas is dripping with beautiful gothic imagery, and despite the undead nature of its characters, it possesses a real beating heart as Jack Skellington learns to find the richness in what he already has. Coupled with a catchy soundtrack, it's one of the few holiday movies you can play twice per year.
Finding Dory
Finding Dory is way more successful than it has any right to be on paper. Pixar didn't exactly have a good track record when it came to sequels centered around the goofy sidekick, but never underestimate the sheer likability of Dory or Ellen DeGeneres. The sequel is the highest-grossing animated film ever, along with a ton of other impressive records. While the movie overly stretches plausibility in the third act climax, that doesn't distract from the emotion of the story or just how fun it is to watch Dory do her thing. Partnered with Ed O'Neill's crotchety octopus (sorry, septipus), you just can't keep a good Dory down.
Pirates of the Caribbean: Curse of the Black Pearl
The first and still the best of the Pirates movies, Pirates of the Caribbean: Curse of the Black Pearl is not to be underestimated. Despite most of its sequels never quite matching it, there's a reason this film launched a billion dollar franchise. It's a fun action-adventure romp set on the high seas with cool characters that we want to follow. The movie had unabashed fun with its complicated tale of cursed pirate doubloons, double crosses, and slick sword fights. While he may have worn out his welcome today, you can't not mention Johnny Depp's Jack Sparrow, who transformed the bumbling captain into one of the most well-known characters in pop culture.
Captain America: Civil War
Not since The Avengers has a Marvel movie been so loaded with such pure spectacle. The movie delivers its promised superhero-on-superhero smackdown big time, all while doing the Herculean task of balancing a huge cast of characters and a worthy story to match. While the Avengers are punching each other, the Russo Brothers are punching our hearts as they tie the story together with a properly emotional final battle between Captain America and Iron Man. Sure, the movie isn't perfect (some minor character decisions don't make sense, the ideological debate is muddled), but when a movie has Giant-Man throwing an airplane while Spider-Man swings around, you're capable of forgiving a lot.
Pete's Dragon
Pete's Dragon is the most underrated movie on this list. Released in 2016 and nestled in between Finding Dory and Moana, Pete's Dragon just didn't make as big of a splash as many other Disney movies made that year. The film did alright at the box office, but critics were more favorable to it. Maybe most moviegoers ignored it because it was a remake of a lesser known Disney film from the 1970s, but the movie stands entirely on its own two feet. Pete's Dragon tells the surprisingly emotional story of a young boy forced to separate himself from his dragon guardian after living together alone for years in the forest. It's touching and sweet, and if you make it through this entire movie without falling in love with Elliot the Dragon, then I don't know what to tell you.
Fantasia
No one should go through their whole lives without seeing Fantasia at least once. Walt Disney's masterpiece, the 1940 animated film was composed of eight segments set to pieces of classical music. The imagery ranges from ballerina hippos, to the devil summoning evil spirits, to the pure abstract. It's animation and sound design is top notch and it can't be understated how much it pushed the envelope back in the 40s. And it was only Disney's third animated feature! The film enjoys a strong legacy to this day and its most popular short, The Sorcerer's Apprentice, can be seen all over Disney parks. It's a pretty unconventional movie that may be hard for some people to get through (I fell asleep my first time), but it's certainly worth the watch while it's still available.
Your Daily Blend of Entertainment News
Matt has lived in New Jersey his entire life, but commutes every day to New York City. He graduated from Rowan University and loves Marvel, Nintendo, and going on long hikes and then greatly wishing he was back indoors. Matt has been covering the entertainment industry for over two years and will fight to his dying breath that Hulk and Black Widow make a good couple.