Why Thor Is Funnier In Thor: Ragnarok, According To Taika Waititi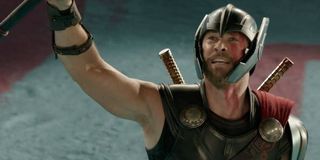 With Thor: Ragnarok debuting later this year, the God of Thunder is about to go through some big changes. In fact, one of the most significant developments in his personality is the fact that he's now a considerably funnier character than ever before, able to crack a joke rather than find himself on the receiving end of one. So what caused this change in his character? Director Taika Waititi sat down with CinemaBlend and other outlets during a Ragnarok set visit last year and explained that Thor's time with Earth's Mightiest Heroes has helped his wit. Waititi addressed the change and said:
So if Thor is Ragnarok's version of Jack Burton, then could an alternate title for this movie be Big Trouble in Little Sakaar? We don't know for sure yet, but I would watch the hell out of that film. The rationale behind this decision certainly makes sense; Thor is smarter than he gets credit for being. His time with the snarky and sarcastic Avengers has had an impact on him, and his experience traveling through the cosmos alone has sharpened his sense of humor even further. His comedy is no longer predicated on the fact that he's a fish out of water; Tony Stark left his mark on this guy.
Looking beyond Thor: Ragnarok, it seems likely that Thor's increasingly obvious sense of humor will continue to play a role in these films. A burgeoning bromance between Thor and Guardians of the Galaxy's Star-Lord has already been hinted at, so Avengers: Infinity War could potentially be packed to the brim with great interplay between these two sarcastic badasses. Things are going to get fairly intense when Thanos comes to town, so a little levity will probably be good for everyone
It's also not hard to imagine that behind-the-scenes circumstances also created the framework to make Thor a funnier character in this film. Taika Waititi is already known for his work in the comedy genre, and Chris Hemsworth's recent foray into the genre in Ghostbusters (not to mention the Team Thor documentary last year) let fans know that he actually has a stronger knack for comedy than many people gave him credit for. Hemsworth has remained vocal about his desire to inject more comedy into the Thor films for quite some time, and it looks like he's getting his chance.
Thor Odinson will bring his newly-honed sense of humor to the Marvel Cinematic Universe when Thor: Ragnarok premieres in theaters on November 3. From there, he will show it off to his former teammates when Avengers: Infinity War hits theaters the following summer on May 4, 2018.
With anticipation for Thor: Ragnarok officially ramping up, Marvel Studios has released some fantastic new character posters the accompany the film. Take a good look at them below.
Image 1 of 7
Your Daily Blend of Entertainment News
Originally from Connecticut, Conner grew up in San Diego and graduated from Chapman University in 2014. He now lives in Los Angeles working in and around the entertainment industry and can mostly be found binging horror movies and chugging coffee.