6 Important Elements The Nightwing Movie Needs To Include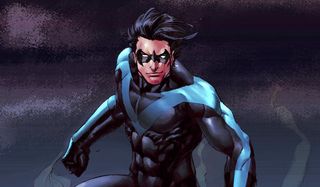 The age of the heroes may have only just come again in the DC Extended Universe, but for Ben Affleck's Batman, the battle against the forces of evil has been going on for more than two decades. And in keeping with the Batman mythology, the latest cinematic Caped Crusader has had several allies aid him in his mission, including Dick Grayson, who we'll soon meet in the upcoming Nightwing movie. That's right, just like in the comics, Dick will have left his life as Robin behind in favor of striking out on his own.
Since Nightwing is one of the many DCEU projects in development, few details have been announced. However, director Chris McKay (who previously helmed The LEGO Batman Movie) recently revealed that Dick Grayson's solo adventure will include a nod to his time at Haly's Circus, where Dick grew up before his parents died and he was adopted by Bruce Wayne. That's definitely worth addressing in Nightwing, but we've compiled several other important elements the movie needs to throw in to make this feel like a proper Nightwing tale for the silver screen.
The Reason Why Dick Became Nightwing
Almost everyone familiar with Batman also knows about Dick Grayson being Robin, but it's safe to say that a lot of folks who don't follow the DC Comics mythology don't know that Dick eventually becomes Nightwing. So for the "regular" moviegoers who sit down to watch the Nightwing movie, it might be weird for them to see Dick wearing his black and blue uniform rather than the traditional red, yellow and green Robin duds. That's why the Nightwing movie needs to set some time aside to explain why Dick decided to take on the Nightwing mantle, be it because he wanted to assert his independence or because he had a falling-out with Batman or some other reason. A flashback sequence would be the best way to shed light on this, but if that's not doable, then Nightwing should at least find a way to have Dick explain the reason for his identity shift to someone.
Bludhaven
Nightwing still works with Batman and the rest of the Bat-Family frequently, meaning he spends a fair amount of time in classic Gotham City. However, for the purposes of the Nightwing movie, it's important that Dick has some distance from his old stomping grounds. Fortunately, he has a city to call his own from the comics: Bludhaven. In 1996, Dick moved to Bludhaven to investigate a series of murders, later becoming the city's official protector. Dick recently moved to Bludhaven in the DC Rebirth continuity, so it only seems appropriate that the DCEU's Nightwing fight crime in that city rather than stick around Gotham City. In Bludhaven, he can step away from his menacing mentor's shadow and establish his own reputation. Having the movie set in a different city also hammers home the point that Batman won't be swinging by to bail Nightwing out of a messy situation.
Dick's Diminished Resources
When you're directly working alongside Batman, you don't lack for resources, from an unlimited supply of Batarangs to a Bat-vehicle for any kind of environment. But if the cinematic Dick Grayson wants to be as independent as his comic book counterpart, then he can't keep using Bruce Wayne as his bank. Thus, he cannot be as dependent on gadgets while fighting criminals like Batman is, even though he does keep some Batarangs and other tools on hand. The Nightwing movie could take a cue from the comics and have Dick depend on a trust fund to supplement his crimefighting activities on top of whatever he's pulling in from his day job (if he has one), but Dick is not rolling around in cash like Bruce is, so it shouldn't be easy for him to replace any of his few gadgets or vehicles if they're lost or destroyed.
The Escrima Sticks
Director Chris McKay has said on numerous occasions that the Nightwing movie will highlight Dick Grayson's gymnastic skills and how they guide his fighting style. So you can expect there to be a lot of jumping around and kicking from the masked Dick Grayson in addition to the normal punches that comic book vigilantes throw. But on top of that, it would be wise for the Nightwing movie to throw in Dick's signature weapons: the escrima sticks. Whether they're just normal batons or have been electrically augmented, not having Dick wield his escrima sticks would be like Daredevil going out without his special billy club. Including these handy weapons is another good way to distinguish how Nightwing battles the bad guys differently compared to Batman.
Dick's Optimistic Personality
Like Bruce Wayne, Dick Grayson's parents were killed by a criminal when he was young. Unlike Bruce, Dick was taken in soon after his parents' murder and was able to channel his anger more healthily than Bruce did at his age. As a result, Dick has grown up to be trusting and optimistic than Batman, as he doesn't shy from cracking jokes while fighting criminals and, more importantly, he's not afraid to let people get close to him. Dick still has his personal demons like everyone else, but he's nowhere near the brooding hero that his cowled mentor is. So while we can count on Matt Reeves' upcoming Batman movie to remain a thoroughly dark affair, ideally the Nightwing movie will be a more lighthearted tale that shows audiences that Dick didn't turn tiny the same kind of man that Bruce did, and instead became a more relatable hero.
Dick's Past With Batgirl
Nightwing isn't the only one of Batman's partners who has their own movie coming up. Joss Whedon is currently working on a Batgirl movie, though it remains to be seen whether Barbara Gordon's solo adventure will arrive before or after the Nightwing movie. Either way, considering that 1997's Batman & Robin didn't do any favors for Dick and Barbara (or the entire Batman mythos for that matter), it would be great if we could see the heroes' relationship adapted properly. In addition to working together well out in the field, these two have also had an on-again, off-again romantic relationship that needs to be highlighted in the DCEU. They don't necessarily need to be together, especially if Dick has already moved to Bludhaven, but it's important that these two are close for reasons other than their connection to Batman.
Connoisseur of Marvel, DC, Star Wars, John Wick, MonsterVerse and Doctor Who lore. He's aware he looks like Harry Potter and Clark Kent.
Your Daily Blend of Entertainment News
Thank you for signing up to CinemaBlend. You will receive a verification email shortly.
There was a problem. Please refresh the page and try again.