The Trippy Kong: Skull Island Scene The Director Had To Cut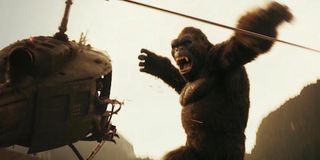 Rather than return to the early 1930s like the original King Kong movie and its 2005 remake were set in, Kong: Skull Island opted to jump forward nearly half a century and set the action in the early 1970s. This wasn't the first time a Kong movie has been set in that decade, but the tale distinguished itself from its predecessors by taking an Apocalypse Now-type tone and hacing the conflict with the giant gorilla parallel the horrors of the Vietnam War. But one '70s callback scene that director Jordan Vogt-Roberts was forced to cut from Kong: Skull Island involved Kong appearing in a psychedelic dream sequence, as you can see below.
Jordan Vogt-Roberts didn't clarify on Twitter whether this sequence he envisioned would have been the product of an actual LSD trip or through a different substance that has similar effects, but either way, this would have made for an incredible visual spectacle. Kong is already a powerful creature who renders most who see him for the first time speechless, but picturing him through an acid-fueled lens would have been an experience equal parts surreal and terrifying. It also would have been especially interesting if John Goodman's Bill Randa or Samuel L. Jackson's Preston Packard were the ones who experienced this vision, as the former already had a taste of these giant monsters and the latter had a grudge against Kong for killing his men. Since Vogt-Roberts has no plans to helm another MonsterVerse entry, maybe he could incorporate a similar kind of sequence into his upcoming Metal Gear Solid adaptation.
Despite the lack of LSD craziness, Kong: Skull Island did a good job of capturing a 1970s war tone. Initially the plan was to set the movie during World War I, over a decade before the traditional 1930s King Kong setting, but when Jordan Vogt-Roberts boarded the project, he successfully convinced the folks at Legendary Entertainment that pushing the story more than 50 years forward would make for a weirder experience. That move, along with having the action take place on Kong's home turf, paid off this past spring, as Kong: Skull Island now ranks at 76% among critics at Rotten Tomatoes and has collected more than $566 million worldwide.
You can now enjoy Kong: Skull Island to your heart's content on Blu-ray, DVD and Digital HD, and the giant gorilla will return to the big screen on May 22, 2020 for Godzilla vs. Kong. But before that, the next chapter of the MonsterVerse will unfold when Godzilla: King of the Monsters is released on March 22, 2019.
Connoisseur of Marvel, DC, Star Wars, John Wick, MonsterVerse and Doctor Who lore. He's aware he looks like Harry Potter and Clark Kent.
Your Daily Blend of Entertainment News
Thank you for signing up to CinemaBlend. You will receive a verification email shortly.
There was a problem. Please refresh the page and try again.