Check Out Daniel Dae Kim's Intense Hellboy Stunt Training In Cool Video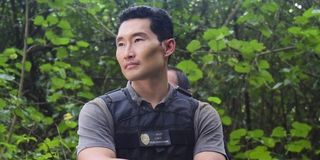 Hellboy is entering a new era under the guidance of The Descent director Neil Marshall, and that means a new cast is about to get into the fray-- among newcomers like David Harbour, Ian McShane, and Milla Jovovich. The film has also cast Hawaii 5-0 alumni Daniel Dae Kim for the role of Major Ben Daimio, and it looks like the actor is taking his prep very seriously. In fact, the TV star has just posted a video of his stunt prep for Hellboy, and it looks like he's about to kick some serious ass. Don't believe me? Check out the video below.
Pretty badass, right? It's obviously hard to visualize what a sequence such as this will look like in the final cut of the movie because there's no set, costumes, or visual effects to work with, but it's fairly clear that Major Ben Daimio is going to take on hordes of enemies in this film. There's a delicate balance of hand to hand combat and gunplay in how Daniel Dae Kim carries himself in that video, and it appears that there's a John Wick-esque quality to how he moves from bad guy to bad guy. Now let's just hope that he doesn't say "bang" every time he fires his gun in the movie.
If you have kept up with the development of Hellboy in recent weeks, then you likely already know that Daniel Dae Kim is a late addition to the cast. He was signed for the film following whitewashing outcry when Deadpool star Ed Skrein was tapped for the role of Major Ben Daimio. Skrein himself actually took himself out of the film when he learned that Daimio was Asian in the comics, and the decision to install Kim as the new actor has generally been met with a positive fan reception.
Watching Daniel Dae Kim perform so well in preparation for this action sequence (even if there's no real narrative context to work with) goes a long way towards helping us get excited about the project. Pretty much everyone involved with the original Guillermo del Toro run of Hellboy movies has moved on from the franchise, and some have voiced concerns about the decision to proceed will a full-blown reboot of the property. That said, with Kim kicking some serious ass in his stunt training, and David Harbour looking like a total badass in the first official look at the move, quite a bit of our anxiety has started to melt away.
What do you think of Daniel Dae Kim's preparation for his role as Major Ben Daimio? Do you think he's the right fit for the role? Give us your take in the comments below! Hellboy is expected to hit theaters in 2018, and we will bring you more information related to the project as new details become available.
Your Daily Blend of Entertainment News
Originally from Connecticut, Conner grew up in San Diego and graduated from Chapman University in 2014. He now lives in Los Angeles working in and around the entertainment industry and can mostly be found binging horror movies and chugging coffee.