Now Tyrese Gibson Is Cropping The Rock Out Of Pictures, Too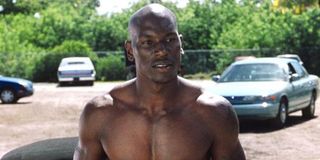 It has been a long few weeks of Fast and Furious drama, mostly coming from Tyrese Gibson's end. The actor has not been very happy on social media since news that Fast and Furious 9 was being delayed broke. His ire has been directed towards Dwayne Johnson, who along with Jason Statham, will star in a franchise spinoff while the ninth movie is delayed. The latest antics that Tyrese Gibson have gotten up to are a little strange, as the actor has started cropping his co-star out of photos and then posting them to social media. Here's what that looks like.
While not the world's greatest picture quality to begin with, Tyrese openly admits he cropped the photo just to cut out Dwayne Johnson, also calling him the "real candy ass." That's a reference to some issues The Rock reportedly had with Vin Diesel during the time when The Fate of the Furious was coming together over at Universal, and Johnson called Diesel a "candy ass." Still, it's interesting that Tyrese Gibson would continue to go to social media with his issues, only a day after he threatened to quit the Fast family as a whole.
This beef between Dwayne Johnson and Tyrese Gibson has been going on for a while, although Johnson has stayed pretty quiet about the whole thing. The news of the spinoff has not been great for Tyrese Gibson, as pushing back a movie in the franchise that gives him the biggest payday is also coming at a time when he is dealing with a custody case in court. Some people on the interwebs have wondered whether or not the beef may in fact be faked for publicity, but the fact that it keeps going on and on and getting weirder and weirder to me indicates it may be legit on Tyrese Gibson's end. Especially when he admitted to TMZ that he's mad the ninth movie is getting pushed back while he's sitting at home, going broke.
Despite his potential money problems, Tyrese Gibson threatened to quit the films yesterday if the producers don't cut Dwayne Johnson from the lineup. In addition, if Gibson is really mad about losing out on a paycheck for roughly a year, that's not really Dwayne Johnson (or Jason Statham)'s fault. Reports have indicated that Fast and Furious 9 was pushed back so that Justin Lin could fit directing the next Fast movie into his schedule. Series lead Vin Diesel also hasn't really backed Tyrese Gibson at all in this issue, noting that it would be "unfair to say it is anyone's fault."
The thing is, even if it sucks for Tyrese Gibson that he's going to have to wait a little bit longer for Fast and Furious 9 to film and even if the actor really does believe in his heart that it is Dwayne Johnson's fault, the fact of the matter is that the deal is done. In the summer of 2019, we're going to get a spinoff starring The Rock and Jason Statham. Now, in 2020, we're going to get the next Fast and the Furious movie. It's what's happening, and the sooner that Tyrese Gibson can move on, the better for all parties involved.
Amazing Race & Top Chef superfan with a pinch of Disney fairy dust thrown in. Theme park junkie. If you've created a rom-com I've probably watched it.
Your Daily Blend of Entertainment News
Thank you for signing up to CinemaBlend. You will receive a verification email shortly.
There was a problem. Please refresh the page and try again.