Why Poe Dameron Wasn't Killed Off In The Force Awakens, According To Oscar Isaac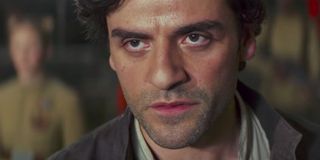 By now many of you may have heard that Poe Dameron was initially supposed to die in Star Wars: The Force Awakens. The film sets him up to be the hero of the story, but once he crashes on Jakku with Finn, he disappears for the bulk of the narrative. However, the character was saved from certain death by the actor alongside Kathleen Kennedy, and it turns out that much of that had to do with the fact that he died a similar death in The Bourne Legacy. Isaac addressed the story change ahead of The Last Jedi's release and explained:
Some of you have probably already heard about the reversal of Poe's death in The Force Awakens, but Oscar Isaac's recent comments to Esquire help put the whole thing into perspective. He expressed some notable reservations about playing yet another character who seemed essential and ended up dying early, and the folks behind the film (specifically Kathleen Kennedy) also saw it his way. Poe Dameron's fate changed, and it is now likely that he will at least survive until the events of J.J. Abrams' Episode IX as the new report notes he'll start filming the next Star Wars movie early in 2018.
Oscar Isaac has become such a recognizable star over the last few years, and it has become difficult to remember that he was even in The Bourne Legacy. By design, his character (merely named Outcome 3) was meant to feel like an integral part of the story until receiving an unexpected, explosive death.
This death occurred during the character actor stage of Oscar Isaac's career with films like Drive and Body of Lies. From there, the longevity of his revised role in The Force Awakens (coupled with his acclaimed turns in films like Inside Llewlyn Davis and Ex Machina) eventually propelled him into full-blown star status and paved the way for appearances in movies like X-Men: Apocalypse and next year's Annihilation. Poe Dameron has arguably become his signature role among all of these changes, and much of that success likely has its roots in that one grisly death in a Bourne spinoff.
In the world of Star Wars, Poe Dameron's survival seems to have helped him break the mold for a typical hero in that universe, as well. Though some have compared him to the late Han Solo, Oscar Isaac has made sure to downplay those comparisons by highlighting his abilities as a leader and a willing member of the Resistance. Star Wars has seldom seen a character quite like him, so I think it's safe to say that we're glad Poe got to stick around after that crash landing.
Oscar Isaac will return as Poe Dameron when The Last Jedi premieres in theaters next month on December 15. Tickets for the film are already available, so make sure to get yours now!
Your Daily Blend of Entertainment News
Originally from Connecticut, Conner grew up in San Diego and graduated from Chapman University in 2014. He now lives in Los Angeles working in and around the entertainment industry and can mostly be found binging horror movies and chugging coffee.