Amber Heard Throws Away Scripts That Use The Word Beautiful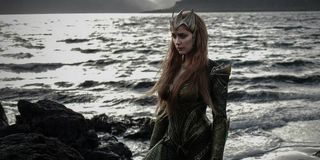 Being an actor isn't all red carpets and fancy vacations. Hollywood A-listers have to read a lot of scripts, and many of them share quite a few bland similarities. In fact, Justice League actress Amber Heard recently opened up about her script-reading process and admitted that she instantly despises screenplays that describe a female character as "beautiful." Heard said:
So if you're an agent or an aspiring screenwriter, then you better make sure to CTRL + F the words "beautiful" or "enigmatic" out of that script before you send it to Amber Heard. Per the actress' recent comments to Allure, she's tired of dealing with scripts that don't dive deep into the inner workings of a character. She comes across too many that highlight her looks first, and then try to cop out of describing her personality by passing her off as mysterious. Oddly enough, she also pointed out that male characters typically don't even get an adjective like that when they are introduced.
Of course, if those are Amber Heard's most significant demands when looking for a proper script, then it makes sense that she has stepped into the role of Queen Mera. Although she's often referred to as a beautiful character, Mera is also widely known as one of the more aggressive, strong and powerful women from the DC Comics pages.
That idea will only continue into the future. Although we still don't know too much about the overarching story of James Wan's Aquaman movie, we do know that the dynamic between Arthur Curry and Mera will factor into the overall story in a significant way. With adventure films like Indiana Jones and Romancing the Stone reportedly playing a major role in the direction of the central relationship, it sounds like Amber Heard's DC heroine will have plenty of moments to show other dimensions of her personality. After all, Mera is no enigma; she speaks her mind.
Amber Heard isn't the only Hollywood heavy hitter to voice her concern over the treatment of female characters in recent weeks. In fact, I recently sat down with Jessica Chastain during the press junket for her new film, Molly's Game, and she talked about her decision to sign on for X-Men: Dark Phoenix. While she wouldn't disclose specific details, she made sure to note that the upcoming X-Men film will definitely treat its female characters in a way that's somewhat atypical of the superhero genre.
As for Amber Heard's next major project, you can catch her as Queen Mera in Zack Snyder's Justice League, which opens in theaters tonight. Make sure to get your tickets (opens in new tab) for the long-awaited DC superhero epic, and catch Queen Mera again when Heard reprises the role in James Wan's Aquaman next year on December 21, 2018.
Your Daily Blend of Entertainment News
Originally from Connecticut, Conner grew up in San Diego and graduated from Chapman University in 2014. He now lives in Los Angeles working in and around the entertainment industry and can mostly be found binging horror movies and chugging coffee.