10 Awesome Movies You Need To Watch Before They Leave Netflix In December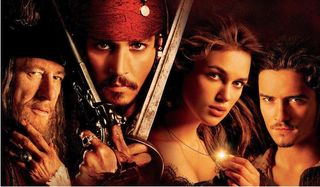 December is the season finale to what we call the yearly calendar, and what would a season finale be without some surprise departures? While November certainly saw some impressive titles dropping off the instant queue, December's departures look like they could give that lineup a run for their money. So if you have some time in the next couple of weeks, you should consult your Netflix queue to see how long these titles will be around, because when December leaves, so will all of the following titles.
Black Snake Moan
Samuel L. Jackson and Christina Ricci are both known for the more blockbuster efforts of their respective careers, but underneath those surfaces is a body of work that's impressive, if not worthy of just as much discussion. Black Snake Moan is a collective win for the two actors, as they, respectively, play a rough and tumble blues musician and the young victim being nursed back to health after being beaten nearly to death. While the film certainly drew controversy back in its time, and more than likely still does, the brilliant efforts of both Jackson and Ricci's performances is something that cannot be denied.
Young Frankenstein
Mel Brooks would have never gotten Gene Wilder to play the lead in Young Frankenstein were it not for one condition the star made of his director. Per Wilder's wishes, Brooks was not allowed to star in the film alongside him, as he would have a hard time keeping a straight face. So Brooks stuck to the work behind the camera, and this comic masterpiece was brought to living, breathing life. Though, as luck would have it, the entire cast, Wilder included, still had problems keeping their laughter in check, as the ranks of Marty Feldman, Madeline Kahn, Peter Boyle and Teri Garr all did their best to break their co-stars at any possible moment. If you need a good laugh, Dr. Frankenstein will see you now.
Holes
Back in the early days of Shia LaBeouf's career, when he was still a Disney Channel star and not yet leading the Transformers franchise, Holes came around and helped build his already-budding career's foundation. A weird, yet sweetly wonderful romp worth of its home studio's name, the film adapts Louis Sachar's novel of a juvenile detention camp that just happens to have a claim to some buried treasure. Which means that it's fun enough for kids to enjoy, but definitely intriguing enough to lure adults into the story as well.
Hoffa
In the history of both New Jersey, as well as the United States on the whole, Jimmy Hoffa is a figure who looms large. So leave it to Jersey boys Danny DeVito and Jack Nicholson to spearhead the film that told the story of the man's rise to power and mysterious disappearance in Hoffa. Written by powerhouse playwright David Mamet, and full of supporting cast members you'll recognize in a blink, this historical drama shows off DeVito's directorial chops in the realm of drama, with himself and Nicholson delivering some of the most effective, yet most subdued, work in their careers.
Pirates of the Caribbean: The Curse of the Black Pearl
It's easy to forget the origins of the Pirates of the Caribbean franchise. Through four sequels, the series has become almost a completely different animal, favoring the character of Captain Jack Sparrow as opposed to the balance trio of Jack, Elizabeth and Will. But after 14 years, Pirates of the Caribbean: The Curse of the Black Pearl still remains an action-comedy adventure that manages to zip along its merry way, entertaining all in its path. It's the perfect type of movie to sit back and relax to during a holiday movie marathon, and there's still time to test that claim out yourself.
The Crucible
No matter what era you're living in, Arthur Milller's classic play, The Cruicible, manages to never lose a step. This film version in particular finds itself in good standing, as Daniel Day-Lewis's John Proctor and Winona Ryder's Abigail Williams are just as impressive today as they were back in 1996. While this is a film adaptation of a watershed work of theatrical drama, the work adapting it for the screen by stage director Nicholas Hytner truly captures the best of both worlds. The personal drama of the film's content is only heightened by opening up the scope of the visuals, turning a great play into an equally great film.
Toys
While there are plenty of Robin Williams movies that have their supporters, there's a select few that have a handful of very vocal supporters. Toys definitely qualifies for that honor, as the '90s head trip isn't particularly popular, but those who remember it tend to do so fondly. Not to mention, the movie's aged rather well, albeit in a dark way, considering the concept of pilots using "video games" to take out military targets is a reality that's seen itself come to life in drone warfare. Though there's still plenty of classic Robin Williams gags, impressions and pratfalls to help balance out the more mature side of things, making this a truly interesting movie to behold.
Bedazzled
Peter Cook and Dudley Moore are a comedy team that still hold up to this day. If you need any proof, just look at Bedazzled, a dry, yet outrageous take on that ever tenuous relationship between God, The Devil and humanity. Moore plays Stanley, a burger cook who longs for the companionship of a special someone, and Cook plays The Devil himself, promising said companionship for a price. That price is several scenarios of not-so-careful wishing, but very carefully-constructed situations that always result in one thing: absolute laughter.
Nightcrawler
With Roman J. Israel, Esq. in theaters this week, Dan Gilroy makes his return to form after shaking up the world with his directorial debut, Nightcrawler. No offense to Denzel Washington or anyone else involved in the former film, but the latter is one hell of an act to follow. Jake Gyllenhaal plays Louis, a sociopathic ladder climber who wants to make a name for himself in the world of around-the-clock journalism. This film has underrated written all over it, as it somehow managed to be vastly overlooked during the awards scrum of the 2014-2015 season. It's a damned shame too, because Gyllenhaal's performance is the stuff of true nightmares in this modern noir thriller.
Amores Perros
This weekend, audiences will get to hear the voice of Mexican actor Gael Garcia Bernal fill their ears as a cast member in Disney/Pixar's Coco. But 17 years ago, Bernal was just starting out with his promising film career, in Alejandro Gonzalez Inarritu's film directing debut, Amores Perros. Just going by the title's loose translation of, "Love's a bitch," you can kind of tell that this collection of stories isn't going to be the rosiest affaie, and the fact that dogs are involved in each of them doesn't mean their presence will be of any relief. But what you will get out of the deal are two fascinating talents making their first steps into the world of cinema proper, and it's an amazing experience to say the least.
CinemaBlend's James Bond (expert). Also versed in Large Scale Aggressors, time travel, and Guillermo del Toro. He fights for The User.
Your Daily Blend of Entertainment News
Thank you for signing up to CinemaBlend. You will receive a verification email shortly.
There was a problem. Please refresh the page and try again.