8 Great Movies Coming To Netflix In December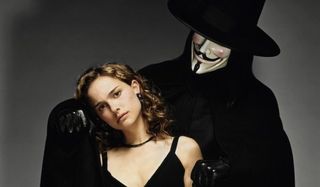 With Thanksgiving mere hours away, and December not too far off itself, it's time for Netflix to make its monthly refresh of content curated to entertain its subscribers. Which means that while some titles will be leaving, others are coming in the door at the same time, and December has some interesting movies that will be joining the streaming giant's digital line-up. If you're interested in seeing what came into play last month, head over to our list of November's best debuts. But here now are the highlights of December's incoming crop of streaming titles.
8 Mile
No one would have ever thought that the director of L.A. Confidential and the man behind some of the most controversial rap hits of the late 90's would have ever made a film like 8 Mile. And yet, the late Curtis Hanson and Eminem did just that, crafting a movie telling the story of doing whatever it takes to make your dreams come true, no matter the odds. The film also won an Oscar for Best Original Song, officially giving Eminem the ability to proceed his name with the words "Academy Award Winner." It's a film that builds a likely success story out of the most unlikely of parts.
Guardians of the Galaxy Vol. 2
There's a good chance you've probably already seen Guardians of the Galaxy Vol. 2, but considering it's one of 2017's most entertaining offerings, who's to say you shouldn't watch it a couple more times at home? And if you haven't seen James Gunn's big Marvel sequel, well, you'll finally get to see what the fuss is about. Sure, spacebound adventures and witty one-liners are as plentiful here as they were in Guardians of the Galaxy, but be prepared with some extra Kleenex, as there are some seriously tender moments of humanity sprinkled in as well.
Ace Ventura: Pet Detective
Fun fact: Jim & Andy: The Great Beyond debuted on Netflix during the month of November, showing the spectacular process that Jim Carrey underwent to almost literally become Andy Kaufman. But before Jim was going Method and pushing the envelope of his career, he was building a brand with some seriously funny content, Ace Ventura: Pet Detective being the first in a line of hits that'd make him a household name. No one else has thought to cross a detective procedural with a pet caper, and we're a poorer species for it, as Ace's search for Snowflake the Dolphin remains one of the legendary comedies of the 1990's.
Full Metal Jacket
Looking at Stanley Kubrick's filmography, casual fans would be forgiven if they didn't immediately recognize Full Metal Jacket as one of his many films. But after watching the film that mashes up part realistic boot camp from Hell and part traumatic meditation on the wages of war, it's hard to deny that the film is one of his masterworks. If you're a student of improv, watch R. Lee Ermey's first monologue, which is totally made up on the fly, without any prior knowledge or meeting being granted to the rest of the cast. It's an experience you really have to observe in order to believe it happened.
V for Vendetta
While Netflix removed V for Vendetta in the month that saw the actual celebration of the British holiday inspired by Guy Fawkes attempted treason, they've actually decided to bring it back at a most opportune time. The adaptation of Alan Moore's legendary graphic novel, which has inspired a filmmaker and would-be anarchist in equal measure, is the perfect film to watch after HBO has aired the full BBC miniseries Gunpowder, which tells the story of Fawkes and his conspirator's efforts. Pairing the two sounds like the ultimate Saturday afternoon, especially when this slick drama is the half that closes out the day.
Disney's The Santa Clause
It really is a surprise that we don't have a musical or a TV remake of Disney's The Santa Clause at this point. Much like Hocus Pocus before it, Tim Allen's first outing as the man who would be Santa Claus has been a holiday staple since the mid-90's, inspiring seasonal joy in those who have watched it over the years. Not to mention, it's a good reminder of just what made Allen famous in the first place, as he combines his unique brand of snark and sweetness to create a Christmas cookie that's as salty as it is sweet. Both sequels are also heading to Netflix, but if you ask us, only the first sequel is worth watching.
Hitch
While Will Smith is back with a new film this month, courtesy of Netflix's Bright, the streaming services is also resurrecting one of his previous credits via their acquisition of Hitch. Playing a relationship expert who is helping Kevin James woo the woman of his dreams, Smith gets in on some of the goofy comedy fun when he meets his match in Eva Mendes. If you really want to mess with your head, watch this one either before or after you watch Smith's latest.
While You Were Sleeping
Apparently, if Bill Pullman is going to end up with the romantic lead in your 90's comedy, someone has to be sleeping. Think about it: the poor guy was stiffed by Meg Ryan in Sleepless in Seattle, yet in While You Were Sleeping, he manages to court the attention of Sandra Bullock, as his on-screen brother Peter Gallagher is in a bit of an inconvenient coma. Of course, it helps that Pullman's Chicago based character in this film is written with more charm and compatibility than his Seattle dwelling counterpart. If you want to see Pullman win against forces other than alien invasion, this charming comedy is where you should be.
Your Daily Blend of Entertainment News
Senior Movies Contributor
CinemaBlend's James Bond (expert). Also versed in Large Scale Aggressors, time travel, and Guillermo del Toro. He fights for The User.