Suicide Squad Director Admits The Joker Probably Should Have Been The Main Bad Guy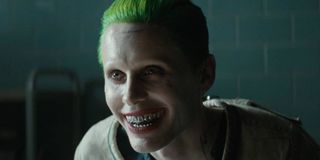 Although Suicide Squad 2 is in the works, at this point many fans are aware that the original Suicide Squad movie had some problems, and one of its biggest issues was the misuse of Jared Leto's Joker. Looking back on the project, many have wondered if Joker should've been the central bad guy of the movie, thus forgoing Enchantress (Cara Delevegine) entirely. It's a view shared by many of the film's fans, and now even director David Ayer himself has stated his use of the Joker may not have been the best. While chatting with fans online about the possibility of honing in on Joker's Suicide Squad role in a more substantial way, David Ayer tweeted:
We have spoken at length about this particular Suicide Squad issue here at CinemaBlend. The DC flick felt bogged down by the fact that it didn't quite know what it wanted to do with The Joker, which arguably neutered him as a character. Did he feature too prominently in the film or not enough? That debate has raged for the last year and a half, but now David Ayer's post seems to have finally confirmed that, if given a redo, he likely would provide The Joker with a more prominent villain role.
It's pretty easy to see why Joker would've made such a good enemy for Task Force X to face off against in Suicide Squad. By its very nature, the titular team is designed more for covert, clandestine operations than big superhero battles. However, the threat posed by Enchantress didn't really fit in with that idea. She was a city-destroying, potentially apocalyptic threat with arguably even more destructive powers than Doomsday in Batman v Superman. In my opinion, she needed the Justice League to take her down; not the Suicide Squad.
It's not too late to beef up Joker's role as a villain as the DCEU moves forward into the future. Justice League's final end credits scene--and minor spoilers if you haven't seen the flick--sets up the Legion of Doom when Lex Luthor (Jesse Eisenberg) meets Deathstroke (Joe Manganiello) after his escape from Arkham, and Joker has appeared as a member of the Legion in the past. If DC wants to refocus the character and allow him to go full bad guy at some point, then teaming him up with other DC big bads could let him become the villain that we all know and love.
On the more heroic side of the DCEU, Justice League is now in theaters. Take a look at our full review of the latest DC superhero adventure and make sure to check it out!
Your Daily Blend of Entertainment News
Originally from Connecticut, Conner grew up in San Diego and graduated from Chapman University in 2014. He now lives in Los Angeles working in and around the entertainment industry and can mostly be found binging horror movies and chugging coffee.