New Deadpool 2 Art Has Cable Pointing A Gun At Wade Wilson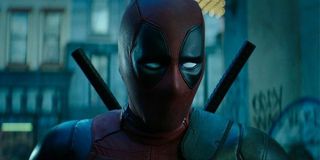 Tim Miller's Deadpool was a bonafide love story about Wade Wilson and his battle to get back to Vanessa. However, next year's Deadpool 2 looks like it is going to switch things up and focus on the antagonistic bromance between The Merc with the Mouth and the time-traveling Cable. In fact, Ryan Reynolds has just posted a brand new (and downright awesome) Deadpool 2 poster to social media, and it looks like Cable isn't going to hesitate to point his gun at Wade in the highly-anticipated sequel. Check it out below.
Of course, the caption to that post alone is worth more than a few chuckles (we can always rely on Ryan Reynolds to play the consummate smartass), but the poster is also worth taking a good, long look at. Recreating Michaelangelo's The Creation of Adam, the poster executes perfect Deadpool shtick by taking something traditionally serious and making a mockery of it. Something tells us that Deadpool is going to annoy Cable enough actually to pull the trigger on that gun, but it's OK because he can just grow his body parts back afterward.
If nothing else, this poster excites us because it continues to reaffirm the idea that Deadpool 2 is playing into the techniques that worked so well for the first film back in 2016. With his constant fourth wall breaks, Wade Wilson is a character that can work wonders as a marketing tool, and it seems that everyone involved in the sequel isn't content to merely rest on the sterling reputation of the original. Deadpool 2 is embracing the edgy viral marketing style that helped the first film open as big as it did, but it's also tweaking the formula to emphasize the bromantic dynamic between these two mismatched mutants.
The benefits of this particular style of marketing also extend to the fact that we still don't know the underlying plot of the film and we have not even heard Cable speak yet. We see that Colossus and Negasonic Teenage Warhead will return to fight alongside Wade, and we also know that Cable and Domino are going to enter the fray as well. However, the specifics of how it all comes together has thus far played second-fiddle to these great posters and Bob Ross-inspired teasers. That said, if this direction allows Deadpool 2 to maintain the integrity of the film's spoilers and best jokes, then that is fine by us.
Wade Wilson and Cable will meet each other when Deadpool 2 premieres on the big screen next year on June 1, 2018. In the meantime, take a look at our Deadpool 2 guide to learn more about the upcoming sequel, as well as our broader X-Men guide to see what other projects are coming in the mutant universe!
Originally from Connecticut, Conner grew up in San Diego and graduated from Chapman University in 2014. He now lives in Los Angeles working in and around the entertainment industry and can mostly be found binging horror movies and chugging coffee.
Your Daily Blend of Entertainment News
Thank you for signing up to CinemaBlend. You will receive a verification email shortly.
There was a problem. Please refresh the page and try again.