The Most Anticipated Movies of 2018, According To IMDB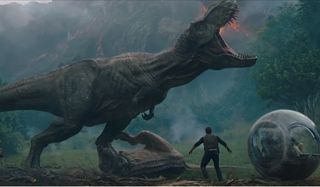 Since the early days of the internet, movie fans have flocked to IMDB to show their fandom for films that are both verified classics and current favorites. Now, through the site's sheer volume in page views, the company has determined what the most anticipated movies of 2018 will be. At least, they're the most popular according to the website's unique metric of measure. So what are the 10 most hyped films of 2018? Well, come with us now, as we run down the list of most anticipate movies coming up.
1. Avengers: Infinity War
If there's a film out there that could have topped Avengers: Infinity War for the most-anticipated film of 2018, you'd be hard pressed to find it. With Marvel's big team-up to stop the menace we've come to know as Thanos only mere months away, people are starting to talk quite a bit about who they want to team up, who might be on their way out, and where that last Infinity Stone is hiding. You know, the usual watercooler talk... Here's what we know about the upcoming venture.
2. Black Panther
Another contender for the hearts and minds of moviegoers in 2018 is Ryan Coogler's Black Panther. A bridge between the introduction of the famed character introduced in Captain America: Civil War, as well as Chadwick Boseman's reprisal of the role in Avengers: Infinity War, this new origin story brings an amazing cast together to bring Wakanda to the life on the big screen. Want to know more? We have you covered.
3. Untitled Deadpool Sequel
Not all heroes wear PG-13 ratings, just ask Wade Wilson. If Deadpool's origin story didn't make enough dough in its theatrical release, the untitled sequel is looking to break that film's financial kneecaps with as many obscenities and nude scenes as it damned well pleases. With Ryan Reynolds already in full swing promoting the film through social media, we'll be getting more Deadpool than we can handle before we know it. For lots of reasons, Deadpool 2 is one of the most highly anticipated movies of the year.
4. Jurassic World: Fallen Kingdom
Dinosaurs sell movie tickets, but if Jurassic World: Fallen Kingdom has its way with its prehistoric cast, it looks like they might not be around for too many sequels. At least, that's if Bryce Dallas Howard, Chris Pratt, and a cast of assorted operatives don't get those dinos off an island that's about to explode in volcanic rage. And you thought the island was dangerous enough when it was perfectly operational. Thank goodness info for this movie is finally coming out beyond what Chris Pratt's snacks are.
5. Tomb Raider
It's been almost two decades since the name Tomb Raider has graced the marquee of a theater. But with a reinvigorated run at the game franchise comes a new run at turning Alicia Vikander into the face of the cinematic variant of Lara Croft and her adventures. One kind of feeds the other, so naturally we're as excited for this new film as we were for the revamp to the game series that inspired it. More info over at IMDB.
6. Pacific Rim Uprising
It's a sequel that technically shouldn't exist, and yet Pacific Rim Uprising is alive and kicking, ready to take the fight to the Kaiju menace again. This time, John Boyega is front and center in the world of man and monster, with Scott Eastwood and Cailee Spaeny rounding out the new blood in this budding franchise. Check out what we know about the upcoming venture.
7. The Predator
Bringing back a long dormant franchise is a fool's errand if you don't know what you're doing. Shane Black knows a thing or two about putting new life into an old saw, and The Predator certainly has enough people hyped that it's made this list. Which means come next August, there's a chance this flick could murder the competition, and camouflage itself to avoid capture. Go ahead and start to get pumped for this one with our full guide.
8. Ocean's Eight
The fact that Sandra Bullock has been hired to play the sister to George Clooney's Danny Ocean makes absolute, solid sense. Funny enough, so does the decision to make Ocean's Eight, and we wouldn't be surprised if more converts will be one over after that first teaser trailer that's just dropped. Though we're still wondering if Danny's really dead, or if he's just faking it to stay hidden in a quieter way of life. More info on that female-fronted flick here.
9. M:I 6 - Mission Impossible
Six films and 20 years on, Mission: Impossible still manages to feel as fun as it's always been at the movies. More Tom Cruise stunts, a continuation of the story started in Rogue Nation, and Henry Cavill's infamous mustache all await audiences when this one opens next summer. Which one of those factors is the most attractive is yet to be seen, but we're betting on the mustache. Despite delays after Tom Cruise was injured, this one is still highly anticipated.
10. Solo: A Star Wars Story
If Star Wars: The Last Jedi is any indication, the brand of adventure in a galaxy far, far away is still as strong as it's always been. Solo: A Star Wars Story will be another test of the Star Wars name, with everyone's favorite scruffy looking Nerf herder being put front and center. Prepare to learn everything you wanted to know about Han Solo, but didn't know you'd have to ask about.
Your Daily Blend of Entertainment News
Senior Movies Contributor
CinemaBlend's James Bond (expert). Also versed in Large Scale Aggressors, time travel, and Guillermo del Toro. He fights for The User.
Your Daily Blend of Entertainment News
Thank you for signing up to CinemaBlend. You will receive a verification email shortly.
There was a problem. Please refresh the page and try again.