Mission: Impossible 6 - What We Know So Far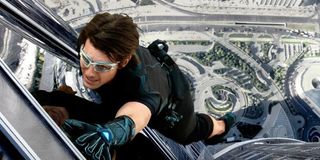 Tom Cruise's Mission: Impossible franchise is the fine wine of action series; it only gets better with age. It's been over two decades since we first saw Ethan Hunt drop down into the CIA headquarters in Langley, Virginia, and each of the five Mission: Impossible films has brought something entirely new and endlessly exciting to the table. It doesn't matter if it's an awesome new stunt or a badass new character; each and every installment in this series has carved out a niche for itself and added to the overall Mission: Impossible mythos. On that note, our hopes are currently sky high that Mission: Impossible 6, now officially titled Mission: Impossible - Fallout, can recapture the excellent balance of style and substance when it finally hits theaters.
With that in mind, if you're anything like us, you've probably been searching high and low for any and all relevant bits of information related to this film. Although we don't currently know much about the upcoming sixth installment in the long-running spy series, we have gone through the recent news reports and compiled everything that we now know about the film. Let's start with the (unsurprisingly) action-packed first trailer!
Click Here to Buy Tickets for Mission: Impossible - Fallout on Fandango!
Damn. That looks...Awesome! Mission: Impossible - Fallout is shaping up to be one of the most compelling sequels in recent memory, so let's kick this list off with one of the most important aspects of any movie: its release date.
What Is The Mission: Impossible - Fallout Release Date?
In keeping with the Mission: Impossible franchise's lack of consistent continuity, the release windows between films has similarly never really made much sense. We sometimes get two Mission: Impossible movies within the span of a few years, and other times it can take the better part of a decade. Mission: Impossible 6 will keep its release window on the shorter side for this franchise, as the current release date for the film is slated for July 27, 2018 -- a mere three years after the release of the wildly popular Mission: Impossible -- Rogue Nation. The franchise is currently riding a hot streak of solid entries, so we will keep our fingers crossed that it can maintain this momentum for the foreseeable future.
Of course, maintaining this release date is largely dependent on one thing at this point: star Tom Cruise staying healthy. During production on Mission: Impossible 6 in mid-August 2017, Cruise broke his ankle while performing a stunt that required him to jump between buildings. While it was thought for a while that his injury would lead to the release date getting pushed back, that didn't happen at the time. Cruise was able to take several weeks off to heal, and director Christopher McQuarrie used the down time in filming to get to work on editing the movie so there would be less of that to do after production finally wraps.
Seven weeks after his injury, Cruise was back at work on the movie, and in January of 2018 he was already filming stunts again. So, what's the problem, you ask? Well, unfortunately, just a couple of days after he returned to stunt work, it appeared that Cruise may have actually injured himself again. Official word on another injury (or re-injury) hasn't come down yet, so it's still a rumor at this point, but if Cruise is hurt again, this might be the injury that leads to Mission: Impossible - Fallout needing to push back its release date. As of right now, with the production finally releasing a photo of one of the death-defying stunts Cruise took part in, it still seems to be on track to hit its July debut.
What Is The Mission: Impossible - Fallout Rating?
Although the Mission: Impossible franchise has changed and evolved considerably since the first installment in the franchise hit theaters back in 1996, the rating has remained consistent. Misson: Impossible has pretty much always been a franchise that has relied on the tried and true PG-13 rating, and we do not see that changing anytime soon. The rationale makes plenty of sense, as PG-13 allows the Mission: Impossible films to utilize quite a bit of brutality and violent content, while still casting a wide enough net to draw in the largest possible demographic for audiences.
Of course, it is worth noting that other franchises have started to become more and more willing to tinker and toy with the concept of an R-rated blockbuster over the course of the last few years. Movies like Logan and Deadpool have proven that major franchises can still be successful with a more restrictive rating, so it is not completely outside the realm of possibility to think that the Mission: Impossible franchise may one day opt for an R-rated adventure. We just don't think that is going to happen for Mission: Impossible - Fallout.
What Will Mission: Impossible - Fallout Be About?
At this point, no specific plot details for Mission: Impossible - Fallout have been revealed. The series maintains a very loose sense of continuity between films, so it's generally pretty difficult to tell where the franchise will go from one entry to the next. Ethan Hunt and his various teams have prevented nuclear winters, the release of deadly viruses, the funding of secret wars, and even taken down mysterious doomsday devices. Clearly, nothing is off the table for this franchise, so it's anyone's guess as to what type of MacGuffin they will chase down next.
However, with the release of the official title came a plot synopsis that does give us a lot more to go on. Apparently, Mission: Impossible - Fallout will involve a "race against time" after a "mission gone wrong," and director Christopher McQuarrie recently revealed that the subtitle has a dual meaning. Not only will the threat of nuclear terrorism be a focus of the sixth installment in the franchise, but Ethan will also be dealing with "the fallout of all his good intentions," with the plot being driven by "the end result of choices that Ethan Hunt has made in his life."
Who Is The Mission: Impossible 6 Director?
Mission: Impossible 6 is going to take the espionage franchise into uncharted territory with its particular choice for director. Chris McQuarrie (the man behind Mission: Impossible -- Rogue Nation) will step behind the camera for the sixth installment of the series, thus making him the first filmmaker to direct more than one Mission: Impossible film. McQuarrie is a longtime collaborator with Tom Cruise (having also worked on Jack Reacher, as well as The Mummy and Edge of Tomorrow) so it's pretty clear that these two have a very strong rapport and a very comfortable working relationship. Their recent projects have currently put them on a seriously impressive hot streak, so there's no reason not to assume that the sixth Mission: Impossible movie will continue that tradition.
Tom Cruise As Ethan Hunt
Throughout two decades, five directors, and a wide variety of stories, one thing has remained consistent within the Mission: Impossible franchise: Tom Cruise and his always reliable portrayal of super spy Ethan Hunt. Despite the fact that he's one of the biggest action stars in Hollywood (not to mention one of the last real "movie stars") Mission: Impossible is Cruise's only real franchise that he has regularly returned to over the course of his career. Sure, he has returned to the role of Jack Reacher for Jack Reacher: Never Go Back, but Ethan Hunt is the franchise role that Tom Cruise will always be known for.
That said, despite the consistency, we should note that Cruise's take on Ethan has changed to match the style of the director that he has worked under. In Brian De Palma's original Mission: Impossible he had an everyman quality to him, in John Woo's Mission: Impossible 2 he was a gun-toting action hero, in J.J. Abrams' Mission: Impossible 3 he was basically a superhero, and in Brad Bird's Mission: Impossible -- Ghost Protocol he was more of a bumbling, comedic character. Under the guidance of Chris McQuarrie, Cruise seems to have consolidated all of those versions of Ethan into a single character, and as such our hope remains high that we will see the endlessly badass and equally charming Ethan from Rogue Nation in the next film.
Rebecca Ferguson As Isla Faust
I think it's safe to say that Mission: Impossible -- Rogue Nation did a lot of things right, but none of its strong creative decisions compares to the casting of Rebecca Ferguson as Isla Faust. Ferguson brought a quiet and deadly intensity to the femme fatale turned friendly agent, and the performance quickly turned her into a bonafide movie star. With that in mind, it makes absolutely perfect sense that Chris McQuarrie and Tom Cruise have tapped the actress to once again reprise the role of the badass female super spy in the upcoming sequel.
Of course, the exact way in which Rebecca Ferguson's Isla Faust will actually factor into the story for Mission: Impossible 6 remains to be seen. The character underwent a massive arc during the events of Mission: Impossible -- Rogue Nation, so it is relatively unclear exactly what the story will do with her in the upcoming sequel. With another female lead (who will be played by The Crown's Vanessa Kirby) on the horizon, it is possible that Ms. Faust might not survive the events of the film. We really hope that it will not come to that, but it can't be ruled out just yet.
Ving Rhames As Luther Stickell
Ethan Hunt never operates entirely on his own. Although he regularly goes into the field by himself, he always has someone in his ear to help him get through his missions alive. His most consistent partner has been Ving Rhames' Luther Stickell, and the stylish hacker is once again slated to return for yet another mission when M:I 6 finally debuts. We're sure he will bring his best Versace jacket and a fedora hat for the occasion.
It will be interesting to see how Luther Stickell factors into the plot of the film, because while he has appeared in every Mission: Impossible movie to date alongside Tom Cruise, the scale of his involvement has varied from movie to movie. In films like Rogue Nation and Mission: Impossible 3, he played a central role in the overarching plot. By contrast in Mission: Impossible -- Ghost Protocol, his involvement in the story was little more than a glorified cameo. Luther is unquestionably one of the most fun aspects of the Mission: Impossible series, so our hope remains high that he will play a significant role in Ethan Hunt's brand new adventure.
Simon Pegg As Benji Dunn
Mission: Impossible 3 did a lot to correct course after the sub-par Mission: Impossible 2. One of the most important things that the third film did was bring Simon Pegg on board as Benji Dunn. Initially little more than a sarcastic tech guru, Benji has grown over the course of the last three films to become one of Ethan Hunt's most trusted partners -- he has arguably even spent more time on screen with Ethan than Luther has.
Benji is a fan-favorite character, so, luckily, his presence was officially confirmed at CinemaCon in early 2017. After all, after so many life or death experiences together, it's hard to imagine that Ethan would want to go anywhere without Benji by his side.
Jeremy Renner As William Brandt
For quite a while, Jeremy Renner's William Brandt was listed as "rumored" for the project on IMDB. Unfortunately, another casting reveal to come of out CinemaCon was that Renner would, more than likely, not be part of the cast of Mission: Impossible 6, seeing as how he wasn't listed as being among those who were on board for the movie. That said, considering the characters who are returning to the fold from previous films, it wouldn't be impossible (See what I did there?) for Brandt to make a small surprise return to help out Ethan on his latest mission.
One of the more interesting aspects of Jeremy Renner's character in the Mission: Impossible franchise is the way in which the series seems to have backpedaled from his original purpose. During the events of Mission: Impossible -- Ghost Protocol, it seemed that the franchise was grooming Renner to eventually take Cruise's place as the headliner of the series. After all, this was back when Jeremy Renner appeared to be the next big action star. However, Brandt played a much smaller role in Mission: Impossible -- Rogue Nation, so as of right now it's really anyone's guess as to whether or not there's a clear vision for this character in the future of the series. And with the actor having been busy filming two Avengers films back to back in the past year, it would certainly make sense if he didn't show up in this edition of the franchise at all.
Vanessa Kirby
This is where we begin to dive into new territory when it comes to Mission: Impossible characters. Not much is currently known about who Vanessa Kirby will portray in the upcoming sixth installment of the Mission: Impossible series. The only real description of her character that has been provided is the fact that she will be somewhat reminiscent of Rebecca Ferguson's Isla Faust in the previous film. That's obviously not much to go by in terms of narrative or character motivation, but it serves as a solid indication that she will be able to kick ass and take names alongside Ethan. The Mission: Impossible series actually has a pretty strong track record when it comes to badass female action heroes, so we can't wait to see what The Crown star brings to the table for this film.
Henry Cavill
Next, we have the real life Superman himself. Henry Cavill is the most recent star added to Mission: Impossible 6, and we have to say that we think this particular casting choice is a stroke of genius. Although specific details regarding the exact nature of his character have not necessarily been revealed yet (impressive mustache notwithstanding), Cavill has proven himself quite capable in the spy genre with his work on Guy Ritchie's recent The Man From U.N.C.L.E adaptation. He was also at one point considered for the role of James Bond, so I think it's safe to say that he's been prepping to get involved in a major A-list espionage franchise for quite some time. Who knows? With William Brandt no longer the frontrunner to replace Ethan Hunt as the face of the Mission: Impossible series, it's entirely possible that the series could be grooming Cavill to take over for Cruise when he finally decides to retire -- if Cavill is playing one of the good guys, that is.
Other Casting
Oscar nominee Angela Bassett is joining the Mission: Impossible franchise for the first time with this film. The American Horror Story and 9-1-1 star will be playing the new, currently unnamed, director of the CIA. That role was previously filled by Alec Baldwin's Alan Hunley, but his character will now appear as the new IMF secretary in M:I 6. Meanwhile, Michelle Monaghan will reprise her role as Julia, and Sean Harris is back on board as bad guy Solomon Lane.
Originally from Connecticut, Conner grew up in San Diego and graduated from Chapman University in 2014. He now lives in Los Angeles working in and around the entertainment industry and can mostly be found binging horror movies and chugging coffee.
Your Daily Blend of Entertainment News
Thank you for signing up to CinemaBlend. You will receive a verification email shortly.
There was a problem. Please refresh the page and try again.