Tomb Raider: What We Know So Far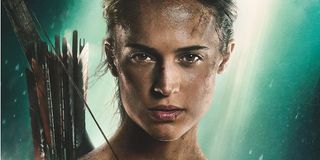 A little over two decades have passed since Lara Croft first made her way to home video game consoles, courtesy of the Tomb Raider series of games. And, it's only been a couple years short of that same mark since we've seen her first take to the silver screen, thanks to Angelina Jolie and Paramount's series of two successful films. But now, just as a new age of the Tomb Raider has dawned in the game series, a new raider will rise in the realm of the cinematic!
This March, Tomb Raider reboots the journey that started with Lara Croft: Tomb Raider in 2001, and with that reboot comes a slew of new faces and even fresher adventures ahead of the heiress turned rogue archaeologist. So, now it's time to look at what's to be expected of this new Croft-y adventure, and go over what we know so far. But before we do, get acquainted with the new world of Lara Croft by watching the Tomb Raider trailer below.
Well, it looks like this Tomb Raider is going to be something we can really look forward to, so let's get into what we know about the new movie!
What Is Tomb Raider's Release Date?
Taking full advantage of the new niche that's been carved out for action / adventure start-ups, Tomb Raider is set to be released on March 16th, 2018. It will have an IMAX 3D and RealD 3D release, in addition to the conventional theatrical release. This puts the film in a bit of a rough patch competition wise, as the week it hits theaters, the film will be pitted against Love, Simon. Meanwhile, the week before Tomb Raider is released, A Wrinkle In Time debuts, and the week after has Pacific Rim: Uprising stomping into the arena.
What Is Tomb Raider's Rating?
Tomb Raider has been rated PG-13 by the Motion Picture Association of America, for "sequences of violence and action, and some language." Looking at the film's trailer, and even the promo art for the film, it definitely looks like Lara Croft is going to get more than a bit banged up. Thankfully, the official rating gives the impression that teenagers without parental guidance won't see anything too gruesome, or hear anything too sweary. This rating is in line with the original franchise, as both Lara Croft: Tomb Raider and Lara Croft Tomb Raider: The Cradle of Life were also handed PG-13 ratings themselves.
Who Is Tomb Raider's Director?
Bringing Tomb Raider into the modern era is Norwegian director Roar Uthaug, who is best known for his 2015 dramatic disaster film The Wave. Previous to that film gaining Uthaug the attention of the folks in Hollywood, he had made other short films such as DX13036 and The Martian Administration, with this being Roar Uthaug's first big budget blockbuster for mainstream audiences. Though Uthaug isn't forgetting his roots just yet, as he's also working on a sequel to The Wave, entitled, The Quake.
Who Are Tomb Raider's Writers?
The new Tomb Raider film has three different writers credited as contributing to the film's script. The story was crafted by writers Geneva Robertson-Dworet and Evan Daughterty, while the screenplay was a collaboration between Robertson-Dworet and writer Alastair Siddons. The mixed pedigree of this bunch is worth paying attention to, as they've all got some interesting projects to their credit.
Daughterty himself is known for blockbusters such as Snow White and The Huntsman and its sequel, the first Divergent film, as well the first Teenage Mutant Ninja Turtles reboot for Michael Bay. Meanwhile, Siddons comes from a more indie background, with his major credit being the film Trespass Against Us, which starred Alicia Vikander's husband, Michael Fassbender. But, most interesting is the resume that Geneva Robertson-Dworet holds, which has her as a writer for the third Guy Richie Sherlock Holmes film, as well as the upcoming Marvel Studios film, Captain Marvel.
The Previous Tomb Raider Franchise
The Tomb Raider series is certainly no stranger to the world of the cinematic, as two previous films were made that committed Lara Croft's adventures to the big screen. Both films saw Angelina Jolie bring Lara to life, and in June 2001 Lara Croft: Tomb Raider debuted at the top of the box office - starting its eventual $274.5 million run against a $115 million budget, and giving the world an early glimpse at two future talents. Those up and comers were Game of Thrones' Iain Glen and future James Bond himself, Daniel Craig.
With a pretty solid first time out, a sequel was obviously going to happen, and it did in 2003 with Lara Croft Tomb Raider: The Cradle of Life. The follow-up wasn't as well received as its predecessor, as it opened fourth at the box office during the summer that saw Pirates of the Caribbean: The Curse of the Black Pearl making massive waves. The film had a $95 million budget, and yielded a $156.5 million box office draw worldwide, with Gerard Butler co-starring against Jolie's returning rogue archaeologist. Paramount saw this as an encouraging enough sign to continue, but Angelina Jolie was through with the character, and she felt no inclination for a planned third film in a potential trilogy. And so, for the time being, the series went into the Croft family crypt, waiting to be revived.
What Is The Tomb Raider Reboot About?
Fifteen years after Lara Croft Tomb Raider: The Cradle of Life, a reboot will take us to an earlier era of Lara Croft, one where she's just starting to become the woman we all know and love. This new film, much like the video game franchise it's based off of, starts its story with material from the 2013 video game Tomb Raider: A Survivor Is Born. After losing her father under mysterious circumstances, Lara Croft uncovers a startling truth: the well respected businessman the world knew as Lord Richard Croft was secretly a rogue archeologist. In the process of investigating her father's disappearance, she's lead to the Dragon's Triangle - his last known location, and current location of a survivor of that expedition, Mattias Vogel. While Lara's out to uncover the secrets her father sought out, Mattias has an agenda all on his own, and both will collide after Lara finds herself shipwrecked in that very same region.
Lara Croft
The character of Lara Croft, and her origins, have changed throughout the three eras of storytelling that Tomb Raider's video game equivalent has evolved through. In the third era, which was started with the 2013 game this film has based itself on, Lara has had experience on archaeological digs since she was a child, but ended after her mother disappeared during one expedition, leading her father to allegedly take his own life years after that fact. We can already see how the film will start to re-write this history, as Lord Richard Croft will disappear during an expedition of his own, which spurs Ms. Croft to undertake this film's adventure. This time out, Lara will be played by Academy Award winner Alicia Vikander, who is best known for her role as Ava in Ex Machina, and for her award-winning turn in The Danish Girl.
Lord Richard Croft
Born into nobility, Lord Richard Croft has primarily been known as an archaeologist throughout the three eras of Tomb Raider lore. That has changed, as Lord Richard now also has a thriving corporate presence in his company, Croft Holdings, thanks to the latest film. While the latest video games depict Lord Richard Croft as someone who was not around much for Lara, the version of the role played by Dominic West looks like it retcons that in favor of a warm man that Lara has many fond memories of. This character was previously played by Jon Voight in Lara Croft: Tomb Raider, back when his real life daughter, Angelina Jolie, held the role of Lara.
The Croft Family History
On the outside, Lord Richard Croft and his family looked like the usual success story. Richard was born into nobility, and eventually built up a business empire with Croft Holdings. But Tomb Raider's third age plotline also tells a story about family, more specifically that of Richard and his wife Amelia, whom he'd met while studying at Oxford University. The two hit it off, and soon they were married and had their daughter Lara, completing their family of archaeologists. However, the family would be torn apart, as the game series saw Amelia die in a plane crash, which led to Richard searching for her in the mountains. There's no indication in the film's marketing materials if we'll see Amelia in the film, but Richard and Lara's relationship is still pretty strong by what we've seen so far.
Trinity
An organization known to trade in artifacts of great power, Trinity looks forward to a world where they are the true leaders and prophets of the word of God. Dating back to 978 A.D., the organization has been known to have ties to the Vatican, and they even crossed paths with the Nazis on Yamatai, the country where the Tomb Raider reboot takes place. Their aim is to resurrect the Sun Queen Himiko, who had the power to jump from body to body in order to maintain her rule over Yamatai, and their organization is similar in scope, power, and resources to that of the Illuminati.
Mattias Vogel
Trapped on an island in the Devil's Sea for seven years, Mattias Vogel seems to have been planning, and plotting, revenge against the man who he says put him there: Lord Richard Croft. So, naturally, this villain played by Walton Goggins is going to want to lash out against young Lara, when she arrives in search of Lord Richard herself. In third age game lore, the closest counterpart to this character is Father Mattias - a member of the Solarii Brotherhood who ran afoul of Trinity, as he was obsessed with unlocking the powers of a local deity. However, the film looks to have possibly made him a part of the Trinity ranks, as a way of conflating the two groups together into one unified adversary. Much like the video game incarnation, Mattias looks to be searching for an artifact of power that'll help him get home, and conquer civilization in the process.
Ana Miller
Played by Kristen Scott-Thomas, Ana Miller is a friend of Lord Richard Croft and currently works for his company, Croft Holdings. Not much else is known about her character at this point, but looking back at the games, we may have an idea where she's heading. Ms. Miller may be a reinterpretation of Ana, a former associate / lover of Lord Richard Croft in the third age Tomb Raider reboot game. Should this be the case, Ana Miller might be a surprise villain in either this film, or a future sequel, as she is a member of Trinity in the 2013 game. Not only that, she's the assassin tasked with killing Lord Richard, but given the re-write Mattias seems to have been given, he might have gained the more negative aspects of this character, leaving Scott-Thomas's Ana to be a positive role model / supporter for Lara.
Lu Ren
Throughout the Tomb Raider franchise, Lara Croft has had various friends and allies that have helped her make her way through whatever adventures cropped up throughout her life. In the case of the 2018 reboot film though, it looks like a totally new character has been invented to assist her. Lu Ren, the captain of the boat that takes Lara to the Devil's Sea, is her sidekick this time out, and he's played by Daniel Wu. Wu is best known from AMC's Into The Badlands, but has also recently been spotted in Warcraft and Geostorm, so it looks like Lu will be more than able to keep up with Lara's chaotic and adventurous lifestyle.
Your Daily Blend of Entertainment News
Senior Movies Contributor
CinemaBlend's James Bond (expert). Also versed in Large Scale Aggressors, time travel, and Guillermo del Toro. He fights for The User.