5 Big Questions We Have After Seeing The Deadpool 2 Trailer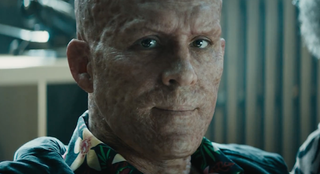 Aside from that hilarious Bob Ross spoof, this is the first real footage fans have received from Deadpool 2 (a sequel that still needs a proper title), and as it turns out, there was a lot to unpack. The first trailer -- watch it here -- ticked off a few boxes of which we already were aware. Ryan Reynolds is back as the Merc With a Mouth, and he's joined by Negasonic Teenage Warhead (Brianna Hildebrand), Weasel (T.J. Miller), Vanessa (Morena Baccarin) and Blind Al (Leslie Uggams).
As for the new characters, we knew Cable was from the future, born and bred into combat, as he explains in this trailer. And we knew that Domino (Zazie Beetz) would make her presence known. But the new trailer raised a bunch of interesting questions about Deadpool 2 as we start to figure out what this movie actually will be about. Let's start with a major one:
What Is The DMC?
Pause the Deadpool 2 trailer at virtually any point and you will find a reference to these dudes. The DMC. They are coming at Cable (Josh Brolin) pretty hard in what we assume are the futuristic scenes. And we later see them piloting a massive truck through a downtown area. Sites like MovieWeb have speculated that the DMC will be this movie's version of the Mutant Response Division from the comic books. The original Deadpool movie existed in a world where mutants were present (Colossus and the X-Men were part of the story, loosely), but the movie didn't lean too hard into mutants, and what they mean.
If the DMC stands for some type of "Mutant Containment" or "Mutant Control," this is a giant step toward connecting Deadpool and his movies to the existing X-Men film franchise. And that's exciting.
What Does 'Purity, Humanity, Infinity' Represent?
This first full trailer spends a lot of time on Cable (Josh Brolin) and his futuristic origin, but barely contains Domino (Zazie Beetz) at all. She and Julian Dennison each essentially get one or two shots, and both seem to have to do with a breakout from a group we saw mentioned in earlier marketing materials, though we don't know what they are doing. There are strong suggestions that the plot of this movie might involve some type of mutant suppression -- at least, that's what I'm taking from the militant presence of the DMC. The slogan "Purity, Humanity, Infinity" reeks of the ongoing effort in the X-Men movies to remove mutants who have different genes from us normal human folks. Will that theme continue in Deadpool 2, or are we reading into that logo the wrong way?
Who Are The Members Of This Crew?
This was a blink-and-you-missed it reference, but it looks like Deadpool (Ryan Reynolds) is getting a team. This is odd, because he's the ultimate loner who really doesn't play well with others. Except Dopinder, his favorite taxi cab driver. He has stayed away from teaming with the X-Men, and slams their camaraderie and chemistry at every chance he gets. And yet, he and a dope-ass looking Domino look like they are riding an X-Men cargo ship, transporting a team into action. Is that Terry Crews on Deadpool's left? Is Terry Crews in this movie?!
What's Happening On This Massive Rig?
We've addressed the DMC. And we see them in the future. But this also looks like the fight against he forces of the DMC will bleed over into Deadpool's contemporary existence, because we find our hero battling yellow-suited thugs on board this rolling convoy through Vancouver (which is standing in for another city, I'm sure). In the trailer, we also see Cable (Josh Brolin) trying to infiltrate the rig, and he shows up later to confront Deadpool and Blind Al, so we can confirm that Cable makes his way to our present day. But what is so important on that ship?
Is Deadpool In Prison?
This one blurs the lines of what we think we know. It looks like a DMC facility. But it also looks like a prison, with a leaping Deadpool pulling off a prison break. However, this scene could also belong to the futuristic-looking fight scene from earlier in the trailer, where Cable single-handedly faces down the armed DMC goons. So, was that scene set in our time all along? Or will Deadpool time-travel to Cable's future? With this time of comic-book franchise, still in its infancy, anything is truly possible. So we will have to wait and see exactly what is going on in this sequence, and what mission Deadpool and Cable think that they are on in Deadpool 2.
Want to see that full Deadpool 2 trailer again? Of course you do. Peep it here.
Deadpool 2, directed by David Leitch (Atomic Blonde, John Wick), will be in theaters on May 18. For a rundown on all of the Upcoming X-Men Movies, be sure to check out our complete guide.
Sean O'Connell is a journalist and CinemaBlend's Managing Editor. He's frequently found on Twitter at @Sean_OConnell. ReelBlend cohost. A movie junkie who's Infatuated with comic-book films. Helped get the Snyder Cut released, then wrote a book about it.
Your Daily Blend of Entertainment News
Thank you for signing up to CinemaBlend. You will receive a verification email shortly.
There was a problem. Please refresh the page and try again.