What Danny McBride Actually Thought About The Fake Dundee Movie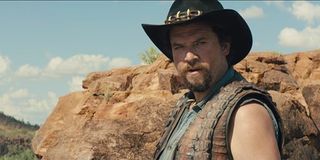 The fake Crocodile Dundee movie by Tourism Australia was one of the more fun and memorable promotions in recent memory. The prospect of a sequel/reboot of a well-known property arriving seemingly out of the blue was intriguing. It also had to be exciting for the all-star cast of Dundee: The Son of a Legend Returns Home to be a part of something that was secretive and would have people talking, knowing all along that this was really an elaborate marketing campaign. For the star of the ad, Danny McBride, who played Brian Dundee, the response to the ad took him by surprise, as he explained:
When the first trailer debuted, those in the film community suspected right away that something might be up, but I imagine the reaction was much different for the average person who doesn't follow movie news or read sites like this one. With all the reboots and nostalgia-mining taking place in Hollywood right now, it would be easy to believe that many thought this looked like a real movie, and a bad one at that. But perhaps the trailers did their job too well; with all the star power, humor and cinematic presentation, people took this as a real movie and one they'd like to see. As Danny McBride told Business Insider, not everyone thought Dundee looked terrible. In fact, a lot of folks were excited to see it and are still championing for it to become a reality.
I have never seen the original Crocodile Dundee films, but just based on the trailers for Dundee, you could see why people think this should become a real thing. Danny McBride was perfect playing his quintessentially Danny McBride character as a fish out of water who was the last person you would imagine to be the son of the legendary Mick Dundee. We get plenty of action and blockbuster films with doses of comedy thrown in these days, but adventure comedies that really lean into the funny elements are rarer. Perhaps that's part of the reason for Jumanji: Welcome to the Jungle's success.
So while on the surface if someone were to pitch you a new Crocodile Dundee movie, you might think it looks stupid, but the trailers actually sold something that looks like fun. Sadly, it does not look like Dundee: The Son of a Legend Returns Home will become a real movie, at least not now. But that doesn't mean Danny McBride isn't interested in teaming up with Chris Hemsworth. He even has an idea of what project they can work together on, saying:
Yes please! Danny McBride excels when he has another fun actor to play off of, a la Walton Goggins in Vice Principals. Chris Hemsworth has continued to prove in Thor: Ragnarok and even this tourism ad that he can do comedy just as well as he does action. So if he and Danny McBride were to pair up for an action-comedy adventure, be it a post-apocalyptic Mad Max type film, a buddy cop film or just about anything else, I'm there. If they were to actually team up for a Dundee reboot, even better. And hey, Chris Hemsworth already sounds like he's on board for it.
Nick grew up in Maryland has degrees in Film Studies and Communications. His life goal is to walk the earth, meet people and get into adventures. He's also still looking for The Adventures of Pete and Pete season 3 on DVD if anyone has a lead.
Your Daily Blend of Entertainment News
Thank you for signing up to CinemaBlend. You will receive a verification email shortly.
There was a problem. Please refresh the page and try again.