One Reason Prince William And Harry May Have Been Cut From Star Wars: The Last Jedi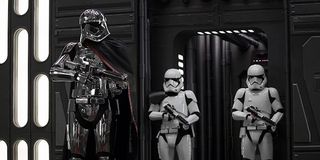 Much like Star Wars: The Force Awakens, Rian Johnson's Star Wars: The Last Jedi was chock full of fun celebrity cameos. Some of those who made cameos in the film were director Edgar Wright, actor Justin Theroux and Rian Johnson's lucky charm, Joseph Gordon-Levitt. But one cameo was more royal than the rest, as English Princes William and Harry played Stormtroopers in the film. However, the royal cameo was left on the cutting room floor, and now we may have some idea why. It turns out that the princes may have simply been too tall.
According to the Daily Mail, William and Harry, who are 6'2" and 6'1" respectively, were too tall as stormtroopers, who are supposed to be exactly 5'11". It sounds like it was expected that the shot would make it into the movie, but ultimately it did not. The scene the two were supposed to appear in would have taken place in the latter half of the film aboard the Supremacy. While Finn, Rose, BB-8 and DJ are infiltrating the First Order ship they would have found themselves inside an elevator, along with some stormtroopers who were being played by the princes. In the scene one of the stormtroopers would have slapped DJ on the butt, for reasons that remain unclear. Apparently the scene did not work for the final film, so it was cut.
What is not immediately clear is why the height was an issue if the princes were already in stormtrooper uniforms. Clearly they fit into the costumes if a scene was filmed, and it doesn't take a ton of movie magic to make someone appear taller or shorter. I would imagine it's especially easy in a scene in an elevator like this one, where the characters are basically standing still. But it appears that another celebrity cameo in the scene may have proven problematic.
Tom Hardy was also supposed to cameo in The Last Jedi as a Stormtrooper, and was supposed to cross paths on an elevator with the Resistance heroes who were in disguise on Snoke's ship. Tom Hardy is a whopping 5'9", so if his stormtrooper was standing next to Harry and William's in the shot, the height disparity could certainly have looked weird on film. And perhaps the way the shot was supposed to be composed didn't allow for Tom Hardy to just stand on an apple box or something. Unfortunately it sounds like the two cameos essentially cancelled each other out. These celebrity cameos are fun, but they should never be forced. It seems that's what happened regarding the royal cameos, as well as Tom Hardy.
There was plenty left on the cutting room floor for this film, which was originally three plus hours. And as such, there will be plenty of deleted scenes on the eventual Blu-ray. I don't know if this cameo or any footage of the princes will be on there, but hopefully there is some fun behind the scenes stuff to dig in to. While the two princes missed out on being canonized in Star Wars history this time around, something tells me they could still make an appearance in Episode IX if they are so inclined. For everything Star Wars and all the latest movie news, stay tuned to CinemaBlend.
Nick grew up in Maryland has degrees in Film Studies and Communications. His life goal is to walk the earth, meet people and get into adventures. He's also still looking for The Adventures of Pete and Pete season 3 on DVD if anyone has a lead.
Your Daily Blend of Entertainment News
Thank you for signing up to CinemaBlend. You will receive a verification email shortly.
There was a problem. Please refresh the page and try again.