The 10 Most Anticipated Movie Trailers Of 2018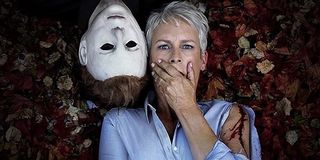 This was always going to be a crowded year at the box office. Avengers: Infinity War, Ocean's Eight, and Fantastic Beasts: The Crimes of Grindelwald are just a few pf the blockbusters on our radar. But there are some who are on our watch list that still haven't given us a proper trailer, or even a single look into what's going on with their production. It's those films we're here to discuss, and the following 10 pictures are ones we're really looking forward to scoping out, yet we'd be even more excited about them if we could see some actual footage. (Hint hint, Hollywood.)
The First Purge
While we've gotten an announcement trailer for The First Purge, there was no real footage on display in the riff on a standard political ad. With the prequel nature of the project in play, as well as the surprise unveiling of cast member Marisa Tomei in the film's cast, it'd be nice to see both of those aspects at work in a longer form trailer.
The Equalizer 2
For as steadily as The Equalizer 2 has progressed in its production, we haven't even been given a look at the film's poster, much less any footage. Considering Antoine Fuqua and Denzel Washington's latest reunion was shifted to the rather bullish release date of July 20th, you would have thought a small teaser would have been in the can, at least. Here's hoping we see something soon, otherwise we might start to worry about this one.
The Meg
A giant prehistoric shark versus Jason Statham and a team of experts. That's what The Meg is promising movie-goers who may not be familiar with the Steve Alten authored series of sci-fi adventure novels. But to those who have read the books, there's the typical anxiety of how the world of these stories will be brought to live in cinematic color. Both camps are waiting to see a trailer in action, and both have really good reasons to do so.
The Predator
There's still plenty of time for The Predator to start its engines and tease its fans into an absolute frenzy, as September 14th will see the film's debut. But when your fans are a strong and long line of devotees that find themselves excited for the return of Shane Black's writing to the franchise, you can bet that the sooner you show off some action and dialogue from The Predator to the public, the stronger the buzz will begin to grow.
The Nun
For as young as The Conjuring franchise is, it's certainly wasted no time putting out two different spin-offs into the world. While Annabelle is two films strong at the moment, The Nun is just starting with this summer's offering. With an extremely profitable franchise still in action, the excitement for a glimpse at Corin Hardy's follow-up centered around the titular menace featured in The Conjuring 2 only needs some tangible visuals to deliver this film into a rather lucrative debut.
Goosebumps 2
The jury is kinda still out on Goosebumps 2. We don't know whether or not Jack Black's R.L. Stine will be back for the ride. We're still waiting for confirmation that the film's new subtitle is Goosebumps: Slappy's Revenge (or the rumored: Goosebumps: Horrorland). And since news has been a bit scarce as of late, we're wondering if the film's still on course for an October 12th release.
Halloween (2018)
If director David Gordon Green's Halloween sequel were just another entry in the canon's continuing adventures, we'd still be pretty interested. That said, it's the fact that Green and co-writer Danny McBride have wiped the slate clean and crafted a direct sequel to the original film that really has folks talking about this new return to Haddonfield. Seeing Jamie Lee Curtis's Laurie Strode alive and well again in a movie theater, even if it's just for a sneak peek, is something that is also all the more exciting because of this daring decision. Now, let's see a teaser!
First Man
About this time last year, Damian Chazelle and Ryan Gosling were among those who saw La La Land's dreams of taking home the prize for Best Picture both become realized, and ultimately dashed. So naturally, with their Neil Armstrong biopic First Man slated for release this October, they're going to want to leave as best of an impression on the future awards voters as they can. Putting out a killer teaser in the next couple of weeks could be the thing that does the trick, as they'd be getting ahead of most of the competition by doing so.
Creed 2
While we're still shaky on whether or not Creed 2 will make its 2018 release date, we're still amped to see the son of Apollo Creed face off against the son of Ivan Drago in the ring. As Michael B. Jordan is currently blazing a trail on screens as the sympathetic villain Killmonger in Black Panther, you can bet fans thoughts will turn to when the first look at this flick will be hitting our screens.
Holmes & Watson
A decade ago, Will Ferrell and John C. Reilly last wowed audiences with their anarchic brand of comedy in Step Brothers - a movie still held in good regard to this day. And yet, it's taken them so long to make another film together, with the drought ending in the release of Holmes & Watson this Christmas. Obviously, the sooner this trailer debuts, the sooner you can stop people from blasting "Boats N' Hoes" on repeat ad infinitum.
CinemaBlend's James Bond (expert). Also versed in Large Scale Aggressors, time travel, and Guillermo del Toro. He fights for The User.
Your Daily Blend of Entertainment News
Thank you for signing up to CinemaBlend. You will receive a verification email shortly.
There was a problem. Please refresh the page and try again.