Jennifer Lawrence's Top 5 Roles So Far, Ranked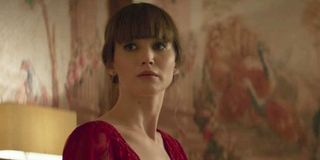 After a brief stint on television and a few supporting roles in small films, Jennifer Lawrence hit it big in 2010, and has ascended to become one of the biggest actresses in Hollywood. Not only is she regularly appearing in major blockbusters and franchises, but still also appearing in award-contending dramas. It's been an incredible eight years, and in this feature we will celebrate the best of the best.
With Jennifer Lawrence's new movie, Red Sparrow, set to arrive in theaters this Friday, we've taken the opportunity to look back at her body of work, and single out her five best performances. Which movie has the top spot? Click through and find out!
5. The Hunger Games
Following Jennifer Lawrence's big break-out, everyone knew that she would wind up in a major franchise - the big question was simply which one it would be. It wound up being that the answer was Gary Ross' The Hunger Games - the hotly-anticipated adaptation of Suzanne Collins' beloved book series, in which the Academy Award-nominated actress would play heroine Katniss Everdeen. It was expected that the movie would be a hit and launch a whole series of films, which it did, but what many did not see coming was just how crazy good Lawrence would be in the protagonist role. It may have been her first time as the lead in a big Hollywood production, but Lawrence handled it like a pro, and put in what will ultimately be seen as an iconic performance in pop culture history.
It's tricky to be able to portray both elegance and ruggedness in a single performance, but that's exactly what's required in Jennifer Lawrence's performance, and she is absolutely fantastic. As a result of her hard upbringing in the impoverished District 12, she has a certain powerful stoicness to her, creating a type of surprising gravitas, but at the same time she handily wields the intelligence and charm that winds up making her beloved in the nation of Panem. Lawrence was an actress on the rise before The Hunger Games, but this was the film that made her a superstar.
4. mother!
Darren Aronofsky's mother! is certainly the most controversial film on this list. Despite being appreciated by critics, the film is famous for being one of the few to earn an "F" CinemaScore - with mass audiences failing to at all appreciate Aronofsky's commentary about climate change, religion, and the modern world. It's admittedly a tough watch as a movie-goer, as its an ever-escalating descent into madness of sorts that gets extremely brutal by the end, but one thing that most can probably still agree on is that Jennifer Lawrence's performance seriously packs a punch.
Things start off peacefully enough at the start of the story, with Lawrence's unnamed character expecting a child and living a quiet life with her poet husband (Javier Bardem) in an incredible house. Unfortunately, things start totally spiraling out of control following the arrival of some unexpected houseguests, and before long the whole thing turns into a madhouse of chaos and insanity. We watch all of these events unfold through the eyes of Lawrence's character, and it's a deeply affecting trip that you don't soon forget, as you truly feel the weight of the events pressing down on her shoulders as things continue to grow worse and worse. Say what you will about the film on the whole, but one thing that can't be denied is her intensity and realness.
3. American Hustle
Jennifer Lawrence became one of Hollywood's best leading ladies almost immediately after her big breakout, but that's part of what makes her role in David O. Russell's American Hustle just a bit extra special. Rather than taking the showy lead in the story, which is instead played by the wonderful Amy Adams, Lawrence is instead given the much more character-actor-y part of Rosalyn Rosenfeld, and while it's easily the smallest role featured on this list, it still remains one of the most memorable (which goes a long way in explaining how it earned the young actress her third Academy Award nomination).
Despite being surrounded by the star-power of Amy Adams, Christian Bale, Jeremy Renner and Bradley Cooper, Jennifer Lawrence still manages to be a fantastic scene-stealer in American Hustle - popping into the story as a wonderful fly in the ointment stirring up trouble. From the very beginning she is a thorn poking in the side of Bale's Irving Rosenfeld - refusing to divorce him and regularly threatening to get him arrested - but it's paired with an excellent escalation that starts with her dating a mobster and sharing information she really shouldn't be sharing. It was a performance unlike anything we'd seen from Lawrence before, and the truth is that we haven't seen anything like it since.
2. Winter's Bone
As alluded to earlier, before 2010 nobody knew who Jennifer Lawrence was. She had done 30-plus episodes of The Bill Engvall Show, and was featured in some smaller movies, but was otherwise a complete unknown. Of course, Debra Granik's Winter's Bone totally changed that. The movie debuted at the Sundance Film Festival eight years ago, and audiences were not only treated to a special, thrilling, tight mystery set in the Ozark Mountains, but the emergence of an actress who would wind up taking the film industry by storm. Lawrence earned her first Academy Award nomination for the part, and nothing has been the same since.
In the film, based on the novel by Daniel Woodrell, Jennifer Lawrence stars as Ree - a young woman doing what she can to help the survival of her family, including her mentally-ill mother and two young siblings. The only way that she can keep a roof over her head is to make sure that her meth-cooking father makes an upcoming court date, but because she has no idea where he is, she begins a search that turns out to be an intense chase down a rabbit hole. It's a part that requires serious intensity and passion, but Lawrence has all that and much more in the film, making the role ultimately a total game-changer. She has come a long way in the last eight years, but everything will ultimately tie back to her turn in Winter's Bone.
1. Silver Linings Playbook
If you couldn't predict this one, you probably haven't been paying very close attention to Jennifer Lawrence's career. After all, her performance in David O. Russell's Silver Linings Playbook is what led to her winning her first Academy Award. In a film that is just as sharp as it is funny, Lawrence is totally magnetic, unhinged, and wonderful as Tiffany Maxwell - a recently-widowed young woman who is a bit of a head-case, but finds a special outlet in ballroom dancing. Her chemistry with Bradley Cooper is wonderful (the actor putting on the best performance of his own career), and she just commands the screen every time she appears.
In the larger context of Jennifer Lawrence's career, Winter's Bone was the film that put her on the map, but it was Silver Linings Playbook that established her as the true star that she is. It's a challenging part, as Tiffany is as rough around the edges as they come and requires a magnetic personality to bring home, but Russell absolutely nailed the casting. It's one of the most well-earned Academy Awards in recent memory, and every time you watch the performance you realize not only just how good Lawrence really is, but that she has the chance to become one of the all-time greats. It's a tremendous turn in a tremendous movie, and the best we've seen from the actress yet.
NJ native who calls LA home; lives in a Dreamatorium. A decade-plus CinemaBlend veteran; endlessly enthusiastic about the career he's dreamt of since seventh grade.
Your Daily Blend of Entertainment News
Thank you for signing up to CinemaBlend. You will receive a verification email shortly.
There was a problem. Please refresh the page and try again.