The Ridiculous Rampage Premise Brad Peyton Instantly Turned Down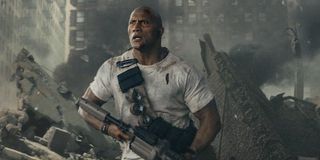 Rampage is yet another attempt by Hollywood to finally solve the supposed video game curse that has seen the likes of Warcraft, Silent Hill, Resident Evil, Hitman, House Of The Dead, Doom, and Max Payne roundly chastised by critics instead of embraced. But while there's no denying that the Dwayne Johnson-led Rampage is an adaptation of the 1986 arcade game that saw players taking control of gigantic monsters that reduced cities to rubble while trying to survive the constant attacks from military forces, the movie version does deviate from the source material quite a bit.
Last year, CinemaBlend had the opportunity to visit the vast and impressive set for Rampage in Atlanta alongside a group of other journalists. During our trip we sat down to talk to Rampage's director Brad Peyton, who has previously directed Dwayne Johnson in the likes of Journey 2: The Mysterious Island and San Andreas. When Peyton was asked if there was ever a point in the development process of the film that they considered sticking with the premise of the game, and making one of the monsters both human and the main protagonist, the filmmaker immediately insisted that was "a solid no" from the get out. Peyton then added:
The first trailer for Rampage certainly suggests that the film has the same blend of comedy, action, sci-fi and destruction that has served Marvel so well in recent years. While the sight of Dwayne Johnson trying to subdue a giant and rampaging gorilla, werewolf and lizard should be preposterously entertaining. You can check out the trailer for Rampage below for proof.
Rampage is released into cinemas on April 13. to keep track of all the movies opening in theaters this year, bookmark our handy 2018 Movie Release calendar.
Your Daily Blend of Entertainment News
Thank you for signing up to CinemaBlend. You will receive a verification email shortly.
There was a problem. Please refresh the page and try again.