8 Great Movies Coming To Netflix In April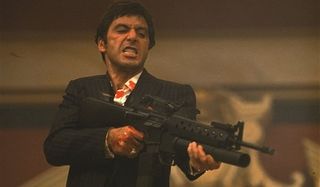 Sunrise, sunset. Incoming, outgoing. Much like the cycles of life, Netflix brings in new content just as it's saying goodbye to older films leaving its ranks. So since we already mourned the dearly departed heading out the door in April, it's time to celebrate those who will be joining us in April.
And celebrate we will, as there's some pretty impressive new additions coming our way. If you're curious about the notable titles leaving Netflix in April, you can read about those in another list. Right now, we're about to look into the future, and greet our new guests with open arms, and a fresh bowl of popcorn.
Bad Boys
Back in the golden age of Michael Bay, the well-known blockbuster auteur was a hungry young man with something to prove. With that fire in his belly, he made some of the best action movies of the mid to late '90s, and helped redefine a genre with works such as Bad Boys. Will Smith and Martin Lawrence are in their prime with this frenetic police procedural / comedy, and they'd go on to re-team with Bay for one more round in 2002 with Bad Boys II. If you ever wanted to remind yourself what prime Michael Bay action felt like, this is the place to go.
Friday Night Lights
Before it was a hit NBC hour-long drama, Friday Night Lights found life as a 2004 film directed by Peter Berg. With Billy Bob Thornton playing real life Coach Gary Gaines, the film is based off of the true to life story covered in the book of the same name, rather than the fictitious team and town that the Kyle Chandler-led version focused on. But the clear eyes and full hearts are still present, as the real events that inspired the adventures in Dillon, Texas is just as captivating as the fiction ever could be.
Scarface
Earlier, we mentioned that Michael Bay's career as an action director taking off in the mid to late 90's. With that fact in mind, you have to figure that as a young man, Bay saw Brian De Palma's Scarface and loved the film so much, he wanted to make something comparable - at least when it came to the action and narcotics flying around on the screen. Al Pacino's legendary outing as Tony Montana is actually a remake, but it updated Howard Hawks' original film into something a 1983 audience. It's almost three hours of tragedy, violence, and action - and it's worth every frame it was printed on.
Sin City
Someone at Netflix must have had a hankering for gritty crime films, as Sin City is heading into the streaming library in April as well. Based on co-director Frank Miller's well-known graphic novels, the film assembles an all-star cast for an anthology of noir-ish proportions. Along for the ride is director Robert Rodriguez, who helped assemble the likes of Bruce Willis, Elijah Wood, Mickey Rourke, Jessica Alba, and Benicio Del Toro as part of his dream team of actors for this film. And should you be interested, the sequel, Sin City: A Dame To Kill For, is also available on Netflix's instant library, in case you're thirsty for more.
Speed Racer
2008 gave us a hell of a year at the movies, one that included a film that's become a well-respected cult favorite, The Wachowski's Speed Racer. Operating in a reality that exists in a living, breathing anime film, the adaptation of the classic 1960's cartoon of the same name is a dizzying spectacle that warms the heart as much as it raises your adrenaline. While it may not have been the blockbuster it deserved to be, perhaps this family friendly treasure will find even more of a following on Netflix's (opens in new tab) streaming library.
The Iron Giant
Speaking of family blockbusters that flopped at the box office, only to gain a bigger following later on, The Iron Giant. That's all you pretty much need to say, as Brad Bird's directorial debut in beautiful hand-drawn animation performed so poorly, it closed Warner Bros' feature animation division at the time. But now, with its classic status assured by the internet, The Giant is heading to Netflix - and just in time to compliment his cameo as an avatar in Ready Player One. So enjoy the original appearance of The Iron Giant, and prepare to discuss with friends why using him as a weapon in a Steven Spielberg movie just doesn't make sense, at least from the point of view of the original character.
The Lost Boys
'80s nostalgia paints some movies in a better light than they deserve. The Lost Boys is sure as hell not one of them, as Joel Schumacher's horror-comedy involving teenage bloodsuckers who sleep all day, party all night, and never grow old. Don't let anyone spoil the last act for you though, as this movie ends with one of the best final lines in '80s history. And a note to Ready Player One author Ernest Cline: maybe you could include vampire Kiefer Sutherland as an OASIS avatar in the sequel? Pretty please?
The Week Of
Yes, this is an Adam Sandler / Chris Rock Netflix project. But before you go off on The Week Of looking like another Happy Madison vacation club trip, the story of two fathers trying to give their kids the best wedding possible actually looks pretty funny. Compare to the likes of their other films, Rock and Sandler look like they're entering Father of the Bride territory, and if they can pull a double Steve Martin with this one, their continued involvement with the streaming giant could be more fruitful for us, the audience, as we'd hoped.
CinemaBlend's James Bond (expert). Also versed in Large Scale Aggressors, time travel, and Guillermo del Toro. He fights for The User.
Your Daily Blend of Entertainment News
Thank you for signing up to CinemaBlend. You will receive a verification email shortly.
There was a problem. Please refresh the page and try again.