Elizabeth Olsen Has An Awesome Idea For A Scarlet Witch Movie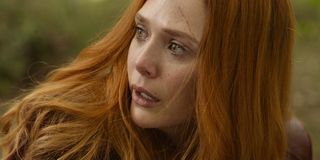 Thus far, the Marvel Cinematic Universe has built eight separate franchises around solo hero adventures, but thus far none of them have specifically focused on Elizabeth Olsen's Scarlet Witch. The character has appeared two times on the big screen -- originally in Joss Whedon's The Avengers: Age of Ultron, and a second time in Joe and Anthony Russo's Captain America: Civil War -- but there does not yet exist a specific Scarlet Witch film. Of course, with many titles yet to be announced for Phase Four, there's always hope for the future... and Olsen today revealed her own awesome thoughts about the potential project:
Along with 20 of her co-stars, Elizabeth Olsen participated in a press conference during the Los Angeles junket for The Avengers: Infinity War this afternoon, and it was during the Jeff Goldblum-hosted proceedings that she was asked about a Scarlet Witch movie. While she clearly wasn't making any kind of big announcement about an in-development project, she made it clear that she has real ideas about what that film could be. Specifically, it would be a twist on the popular House of M story from Marvel Comics -- a crossover event that was published in 1995 and orchestrated by writer Brian Michael Bendis.
As we've recently discussed on the site, Scarlet Witch's gifts in the comics are slightly different than they are in the movies, as the hero on the page actually has the ability to change reality. She usually does this in minor ways, but House of M was a different story. She suffers a serious breakdown after losing her two children (kind of a long story), and when the Avengers and the X-Men question whether or not she needs to be killed because of her unstable powers, she winds up creating a completely different and idyllic reality -- one where mutants are the dominant species, and humans the minority. Fortunately, Hawkeye, Wolverine, and Cloak remember what things were like before the change, and set out to change things back.
In the House of M reality, every hero lives their most desired version of their own life, and this in part lets Scarlet Witch and Vision have a domesticated existence living with their children. It's seemingly this idea that Elizabeth Olsen would love to springboard from, and specifically make the movie more like an indie drama rather than an action-packed blockbuster.
Personally, I love the idea, in part because I am a big fan of seeing comic book adaptations try new things and different ideas (it's the only way the "genre" can really survive). Adding to Elizabeth Olsen's thought, it would be further be amazing if they could also incorporate elements from writer Tom King's recent Vision miniseries, as that book has an absolutely fantastic and dark twist on the concept of domesticity that would be perfect for exploration in feature format. The two stories could mesh very well, and it would be wonderful to see a fantastic "hard sci-fi" director like Alex Garland approach the material.
It is worth mentioning that there are a couple of obstacles here. For starters, one has to wonder if Marvel Studios even has the rights to adapt House Of M because it's such a mutant/X-Men-centric storyline (which would more likely put it in the hands of 20th Century Fox). This issue would be admittedly obliterated if the Disney/Fox deal ultimately goes through, but for right now it would probably prove an issue.
Secondly, there's the issue of time. There's only so many movies that can be released in one year (it's hard to imagine them going over three), and already they have a ton of different plates spinning. Because of these projects, not to mention the unknown events that occur in The Avengers: Infinity War and Avengers 4, it's hard to know exactly when Marvel Studios might get around to making a Scarlet Witch movie.
What do you think about Elizabeth Olsen's idea of doing a House of M movie as a domestic indie feature with Paul Bettany co-starring? Answer the poll below, hit the comments section with your thoughts, and be sure to stay tuned here on CinemaBlend for a whole lot more of our Avengers: Infinity War junket coverage!
Your Daily Blend of Entertainment News
Assistant Managing Editor
NJ native who calls LA home and lives in a Dreamatorium. A decade-plus CinemaBlend veteran who is endlessly enthusiastic about the career he's dreamt of since seventh grade.